Industry leaders within the construction world know how to get things done. In fact, given that buildings and structures have been around as long as we have as a species, it could be safe to assume that we have discovered everything that is worth knowing about construction and its manifold uses. For instance, recent archaeological developments show that concrete, while the exact dates are difficult to deduce, has been used for building purposes for somewhere between 9,000 and 12,000 years. During that time, advances have continuously been made in relation to tools, uses, design and procedures, enabling us to reach a point where cutting edge technology and scientific discovery is simply a part of what we do. However, given that this is an industry that is forever moving forward, striving to reach the next level of skill and service, it begs the question; where do we go next?
Augmented Reality is a piece of technology that has been spoken about for many years. From its inception, the potential for it to change the world we live in immeasurably has been both feared and anticipated in equal measure. It is a highly speculative area that few have been able to tap into effectively. The longer the world watches and waits to see how Virtual Reality and Augmented Reality (AR/VR) will be used, the louder the voices are dismissing it as a fad with no real benefit. However, given that the global spending on Augmented Reality for 2020 was somewhere in the region of $19B, an 80% increase on the previous year, perhaps it is time that the world, and the construction industry in particular, started taking notice. In fact, developments in the area are already becoming commonplace in some aspects of construction work.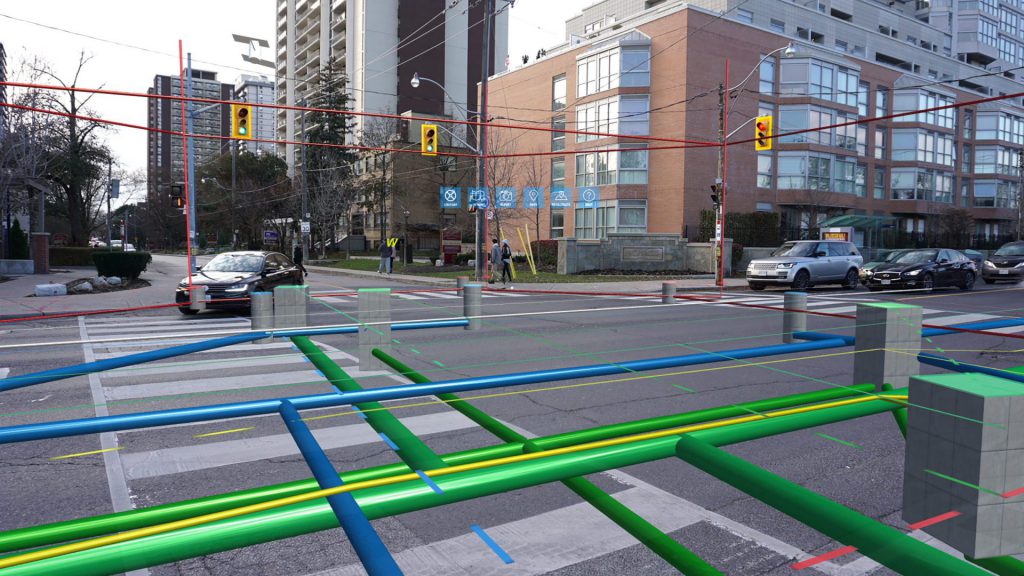 The story of how Augmented Reality started to become a tool within the industry goes back a number of years. In April, 2017, vGIS Inc., a Canadian company specializing in collaboration software designed technology for the Tom's River Municipal Utilities Authority (TRMUA) in New Jersey to quite literally see through the ground. TRMUA became the first municipality in the world to utilize this technology that, at the time, was still in its infancy. Using holographic GIS (Geographic Information Systems), vGIS Inc. used the Microsoft Hololens glasses as the platform for their vGIS software. This combination, along with the robust mapping work that the municipality had completed, allowed the wearer to see any subterranean utility lines. Incredibly, the workers on any public project had access to real-time in-field visuals of any water, electricity, drain or sewer lines and pipes without breaking stride.
Notwithstanding the time saving benefits of such technology, the ability to work in a safe and secure manner was revolutionary. At the time, Len Bundra, IT/GIS Director of Toms River MUA said, "The TRMUA has built a robust Geographic Information System (GIS) using ESRI's ArcGIS Online Services. With our utility infrastructure and data now online, we can have real-time collaboration with our field crews. Field workers can now literally 'see' utility lines beneath their feet, when viewed through the Microsoft HoloLens. This takes GIS to a whole new dimension of dynamic mapping and data retrieval."
"Current utility-locating equipment doesn't take advantage of the wealth of data that already exists in municipal databases."
Additionally, the creators of the software, vGIS Inc., believed that the venture was evidence of the positive effects of taking a collaborative approach, combining cutting edge technology with pre-existing information. On launching the project, Alec Pestov, CEO of vGIS Inc. said, "Current utility-locating equipment doesn't take advantage of the wealth of data that already exists in municipal databases. Toms River MUA has a vision of how utility systems management should evolve, and we're pleased to be their technology partner to bring their vision to life. Working together, vGIS Inc. and TRMUA have been able to create a completely new type of utilities-management platform by leveraging ESRI's ArcGIS, Microsoft HoloLens and Microsoft Azure technologies."
Since that ground-breaking foray into the industry, there has been steady progress and incremental improvements to the technology on offer. The insight that this project offered, primarily the opportunity to use existing maps and documents to give construction workers a fascinating advantage when navigating the job site, has grown to be a popular one. Virtual tours of existing spaces, allowing for remote understanding of the location, has been adopted throughout the industry. While alongside these advancements, architectural work has also begun reaping the benefits of these products; virtually touring buildings that are yet to be built being of huge benefit to a project. It seems that visualization, in each of these cases, is a key factor in the success of the products and tech. It is at this juncture, that VisualLive comes in.
VisualLive is a Tempe, AZ, company behind HoloLive, the first platform available to the AEC market that ''allows real-time 3D visualization, collaboration and field to office communication.'' The company describes its product offering as ''off-the-shelf augmented reality software on Microsoft HoloLens, Android, and iOS for design, engineering, and construction companies.'' What this means is that the company has designed an interface that is compatible with over 70 3D file formats, allowing the user to push large BIM/CAD files to a range of devices in one click. The opportunities that this software now offers is both astounding and thrilling. At every stage of the project, from planning and design through to verification and inspection, VisualLive's technology can enhance the experience and create a fluid and intuitive experience for the worker. The data is cloud-based, ensuring that it can be accessed quickly in the field and, according to VisualLive themselves, the software ''quickly converts … files, keeping all geometries, textures, and materials, so that they are optimized while maintaining the critical information and data.''
While the company is not the sole provider of this type of product, it is clear that the platform it has developed is proving to be incredibly successful throughout the construction industry. VisualLive now provides its services to over 1,500 commercial clients. From a macro perspective, it would seem that, since the pioneering use of this tech in Tom's River Municipality, the scope and opportunity to provide tangible benefits has hugely increased. By enabling private companies to push designs and relevant data to devices in addition to utilizing multiple devices and platforms, the reach of this software is now far greater than it was.
"VisualLive now provides its services to over 1,500 commercial clients."
Though the use of augmented reality is still most comfortable in the gaming and sales industries, it is becoming apparent that this technology is not something to be feared in construction. Reports suggest that the use of AR globally will again increase by a staggering 77% in the next two years. While these figures are speculative and may be subject to revision given the difficulties faced around the world, they provide hope nonetheless. Benefits to the construction industry, from training and planning through to real-time collaboration and on-site safety issues, show that the potential for a technological revolution is already here. While construction may well have been around for 12,000 years, it would seem that our learning journey is far from over.