Modern markets, particularly those within the construction industry, move at their own pace. Each one dances to its own specific beat, reacting and evolving when necessary. Through a combination of industry and innovation, they are driven forward and it is only when the time is right that demands are made and questions are asked of those that service the industry. While certain sectors of the construction world may experience rapid growth as new technology emerges, most examples of this are in niche areas with fine margins of development. In many cases in fact, the opposite is true. Given that materials such as concrete and cast iron have been used as a key element in the construction of buildings for thousands of years, it is safe to say that change doesn't necessarily come easy in the infrastructure market.
"I think a better question, instead of why now, is, why only now?" These are the words of Iris Jancik, VP of Business Development and Sales at Plasson USA. The question relates to the timing of HDPE (High Density Polyethylene) becoming a leading choice of material in the piping sector and, given the growth that the company has experienced in recent years, it is appropriate that she is leading this discussion. Since its emergence in the piping sector, HDPE products have had to work twice as hard in order to prove detractors wrong and face down unfounded criticism in relation to its strength and efficacy. With the ever emerging need to modernize the North American infrastructure network, questions are once more being asked about the suitability of materials and the benefits of each. It now seems as though these years of research and education are resulting in an increased acceptance and dependence on HDPE as a reliable and credible material with unique benefits .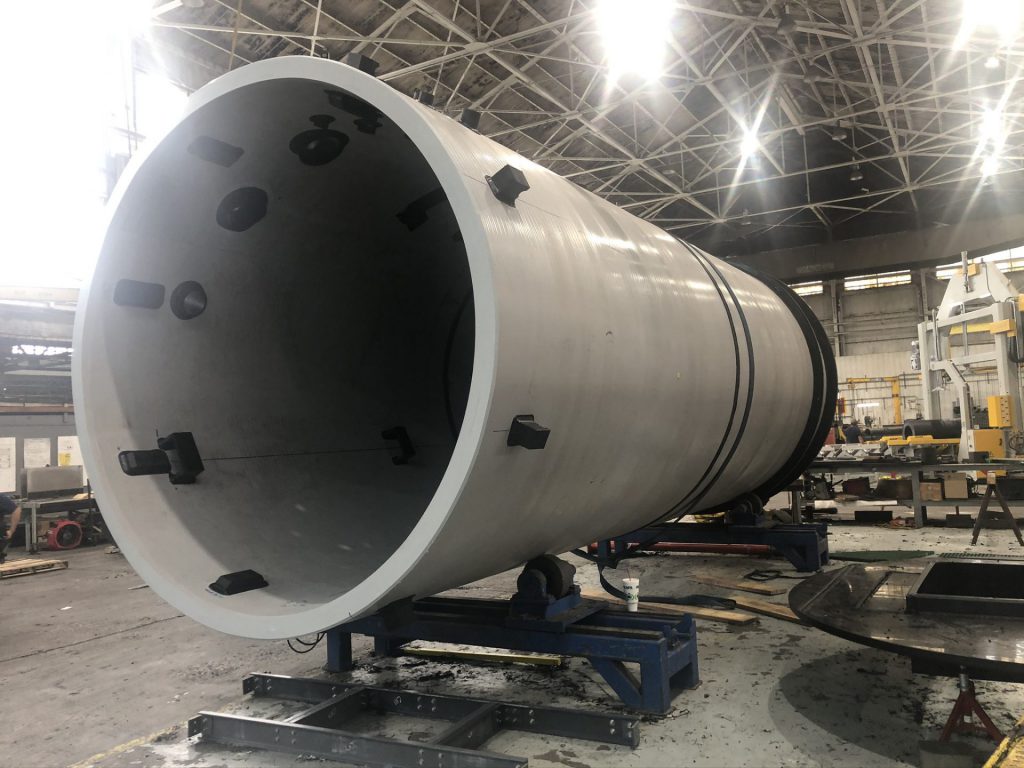 Plasson USA is the North American subsidiary of Plasson LTD., a leading manufacturer of polyethylene fittings for polyethylene pipes with a truly global reach. Plasson has approximately 2,000 employees and operates in over 100 international markets and it is within this context that the success of Plasson USA needs to be viewed. The company differs from many of the twenty-five subsidiaries worldwide in that it operates in a sort of hybrid manner; manufacturing products in its own right while accessing the support and experience that comes from the Plasson Headquarters in Ma'agan Michael, Israel. Many of the products are manufactured in these headquarters, in close alignment with the US subsidiary, creating a seamless network that can cater to the needs of any potential customer. Iris explains how this solid relationship works to serve the needs of the American market. "Most of the Plasson subsidiaries are marketing companies that are selling the fittings to their respective markets. At Plasson USA we do sell these fittings, of course. In fact, we also have some unique fittings that were specifically developed for the US market. These stem from the needs of our customers and we have several patents on them. Plasson global and the Research and Development department services all of the subsidiaries by trying to help meet customer needs in that specific location. That is something that we are all very proud of. We have new products coming out every year, new developments as the market changes and as the customer needs change."
"Plasson global and the Research and Development department services all of the subsidiaries by trying to help meet customer needs in that specific location."
This sentiment is echoed by Jeremy Harris, Business Leader, Fittings Group. Jeremy sees the link with the Plasson headquarters as being of huge benefit to the company as it allows for a bidirectional sharing of ideas and views which, inevitably, results in a more intuitive product line for customers. "Plasson does a really good job of responding to feedback around what products our customers need. We try to be innovative, where it makes sense. You can't make everything that everybody wants but Plasson certainly likes to be on the lead edge when it comes to developing new technology or new products within that technology. We try to do a really good job of listening to the customers and what their needs are, and then we take those needs back to the headquarters to develop it, if it is a viable option for that particular market."
Given the global reach and product versatility within Plasson USA, it seems as though the company is well placed to take advantage of the steady foothold that polyethylene is gaining within the piping industry. The road to this point has, however, been a slow one. It seems as though the markets were not ready to accept polyethylene into the fold. However, Jeremy believes that the changing mindset of providers, combined with a greater understanding around the long term benefits of polyethylene, are beginning to reap rewards within the industry. "In the nineties, the use of polyethylene was more geared towards gas utility. There were certainly other applications, other markets, but really the bulk of polyethylene in the nineties was more geared towards gas and maybe even some telecom. Over the past twenty years, we've really seen a major growth into the water markets. That is the market with the greatest potential."
The reason for this, Jeremy believes, is a combination of necessity and education. Given the need to operate in an ever more sustainable manner, infrastructure decisions are becoming increasingly high-stakes. "I think it's that we're finally to the point where we're treating water as a precious resource. Other piping materials will leak or corrode over time whereas polyethylene has a life of over 100 years. It doesn't corrode the way that steel pipe will and concrete pipe could crack and break over time. Polyethylene is a very strong, elastic material and once it's fused and bonded together, it's a completely monolithic system. There is no weak spot meaning there is no potentials for leaks."
One aspect of Plasson USA that stands out from other subsidiaries worldwide is its US production operation. Made in Corsicana, TX, the company is the sole provider of Spirolite, a specialized HDPE fluid network conveyance system encompassing pipe, fittings, manholes and structures made from spirally wound HDPE pipe in open, closed or solid wall profiles up to 120" diameter, or larger. The product is a leading piece of innovation that is used in large diameter thermoplastic pipes and fits into the industry as the necessary continuation of HDPE piping for low pressure systems. The subset in the market was identified and, through this advanced technology, the company is able to meet exact client specifications. Iris explains that, simply put, the product is available because it is exactly what the industry needs. "What we manufacture here in Texas is very industry focused. The Spirolite pipe systems are a homogeneous solution to the project's needs. It is a 100%, pressure grade resin HDPE pipe system for low pressure applications up to 120 inches." Where other pipe materials have an allowable leak percentage within their specifications, Spirolite is committed to zero leakage at every application.
"It is a system that offers zero infiltration and exfiltration and there's absolutely no other type that can say that."
This, Iris explains, is a piping system that offers the flexibility and strength of HDPE while also being able to operate from pipe, right through to manhole. With water solutions, each joint, corner and junction has the potential for leaks. Plasson USA's Spirolite system can negate these challenges by creating a secure, complete system. "Spirolite gives all the benefits of HDPE, which is the long lifespan, the flexibility, the durability and corrosion resistance and because we provide a complete system; pipe, fitting, elbow and the manhole, it is the only pipe system that can guarantee that it will be leak proof. Whenever you connect, even a concrete pipe with a concrete manhole, it will leak because the connection between the two depends on a third material between those two structures. HDPE is a continuous system. No material will fail before another, no material will be affected differently from the external factors than the other; it is a system that offers zero infiltration and exfiltration and there's absolutely no other type that can say that."
When an industry is ready for change, the companies within the industry need to be ready to react. This change can be unexpected or long overdue. With a creaking and failing infrastructure, it seems as though the US piping industry may be experiencing both. The current administration has plans to invest hugely in the area and, for Plasson USA, this will bring up key growth opportunities. Iris and Jeremy both feel that these opportunities are emerging because previous materials are failing prematurely, thus offering the HDPE industries the opportunity to show their benefits. However, one key aspect of this change, as Iris explains, is the people within the industry. Engineers are now willing to explore alternatives. Faced with an ever changing landscape, innovative solutions, such as those being produced by Plasson USA, are offering a viable answer. "Younger engineers are coming in that are a lot more open and willing to listen. It is not just a matter of budget or billions being poured into infrastructure. It's also the industry becoming younger, again, from the natural cycle of how these things work. They are looking for more economical solutions, looking for a smaller carbon footprint, looking for a more environmentally safe product. What has been done in the past is not necessarily the best way. It could have been the best way for that time but today there are much better solutions. We call it an evolution not a revolution, just because it's going to take time. But eventually, the US will have to catch up with the rest of the world and make HDPE their best practice."