Barsplice Products Inc. is a company built on simple but effective values – treat others with respect, never intentionally lie or mislead customers, and maintain a family-feel in both its ownership structure and its approach to doing business. While the company is committed to upholding these values equally, the third is one that comes easy. Barsplice is a family-owned company that has been in business for 40 years. In December 1983, Frank Casella acquired Dayton Barsplice from Dayton Sure Grip & Shore Company. This acquisition saw a team of 10 people operating out of a 20,000 square foot building, introducing new products, one by one, to the Dayton area. Since these formative years, Barsplice has upgraded to a 330,000 square foot building that is considerably better suited to the 150 plus employees it now has on board.
One of the five companies under parent company FC Industries Inc., Barsplice Products is a designer and manufacturer of mechanical splices and anchoring systems for reinforcing steel. It's a company with a footprint that extends far beyond its headquarters in Dayton Ohio. Barsplice serves customers across all 50 states, as well as internationally. "It's the true American dream," says David Casella, Regional Sales Manager of Barsplice Products, and part of the tightly woven fabric that awards the company it's true, family-owned status. The significant growth Barsplice has experienced over time is what has propelled it forward to 2023, celebrating its 40th year in business.
Reflecting on the last 40 years and the milestones achieved along the way, Casella talks proudly of a company that holds high the value of sustainable growth, which it has been fortunate to experience in tandem with the growth of the steel reinforcement industry. "We are really proud of our growth in the Dayton area. It has allowed us to give our employees the opportunity to have a better life." For Casella, talk of company success does not come without mention of the employees at Barsplice, establishing clearly from the outset a 'shared-success' mindset. He tells me of a quote from Frank Casella, the man responsible for setting things in motion: "You cannot have good customers without good employees, and we have both." As Casella explains, this belief is something that Barsplice Products still lives by today.
With a product list that is ever-evolving in line with new technology and innovations, Barsplice offers a wide variety of solutions to its customers. As Casella explains, this is due to the varied nature and demands of the concrete reinforcing industry. "There is not one coupler or anchorage system that fits all," he says, "so it depends on the project and the application its being used in." Barsplice prides itself on its ability to adapt and customize its offering depending on the intricate details of the project at hand. "We really try to be at the forefront so we can understand what our customers' needs are, and what the industries needs are."
Casella talks me through some of Barsplice's most popular products, a mix of old reliables and newer innovations. This list, resonant and far-reaching, is a testament to the company's vast wealth of experience in delivering mechanical splicing solutions. "The ZAP Screwlok® is one of our most popular products," Casella says, speaking of the shear screw mechanical splice designed for connecting existing bars or patch and repair applications. "It's widely used in the field."
"The NC-PC system helps customers with freight because they are not shipping longer or heavier rebar and that way it's less weight, so in this way we can help from a cost-savings standpoint."
Problem solvers by nature, Barsplice also offers solutions to freight concerns that inevitably come with supplying the global market. "We've recently come out with a new system called the NC-PC BPI Precast NC Panel Connector which is used in the precast industry when putting one panel of a parking garage onto another." This system eliminates risks associated with protruding rebar and is therefore safer in transit. "It's safer on the job site too because nothing is sticking out. When you set another panel down our rebar can be screwed into it and it is then flush with the panel. It's a much safer method. The NC-PC system helps customers with freight because they are not shipping longer or heavier rebar and that way it's less weight, so in this way we can help from a cost-savings standpoint."
What is evident from speaking to Casella, is the wide impact that Barsplice has had on the industry. He references products that are now considered to be industry standards, giving an insight into the continuous innovation and skill that the company has demonstrated for decades. "Another is the BPI Barsplicer threaded rebar splicing system which has been used for decades. It's called a 'form saver' and it is a simple concept where customers can nail the flange of the coupler onto the form when they're doing a street or a bridge. This allows them to pour one lane, pull the wood form away, and repeat the process when pouring the 2nd lane. That way, they don't take out a whole entire bridge. With this system we can do roughly up to 140,000 threads in a month. Having the capability to do multiple sizes and high volumes really helps us to service our customers and keep their projects on time," Casella says. "That product is one of the most versatile with all the different grades of rebar that are offered; Grade 60, Grade 75, Grade 80, Grade 100. The product is available uncoated, epoxy coated, galvanized or stainless steel. Like all of our products, it is very versatile, probably the most versatile of them all."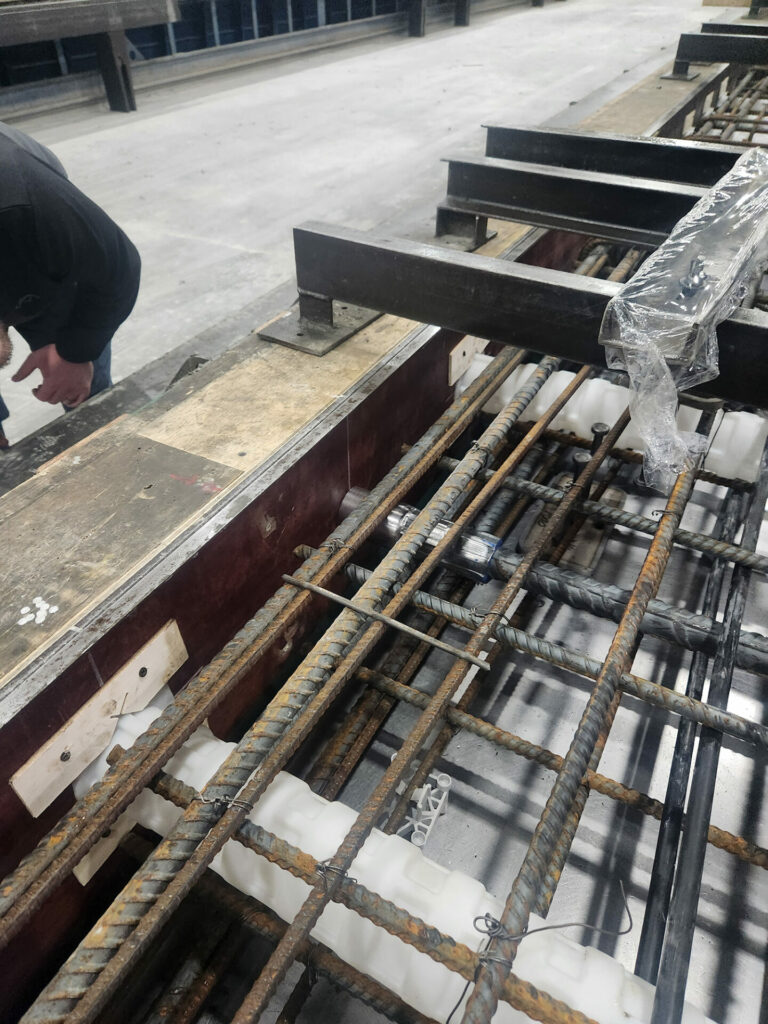 When discussing headed reinforcement, Barsplice offers a headed bar product known as the BPI FITT®. As Casella explains, the product is highly beneficial in the field and is something that demonstrates Barsplice's ability to listen to the needs of its industry, then react appropriately. "In a column or a structure where rebar is coming straight up, a lot of the time they'll have a 90-degree bend or 180-degree hook. With the BPI FITT, we can eliminate the hooks by taking our coupler which just slides over the straight bar end and tightens down onto the rebar to terminate the end of the column. Not only does this help with congestion, but also with the Design Build phase of the industry which is the direction things are going. Customers can put the product onto the rebar and then cut it where they need it, which allows them to continue on track and to keep progressing with their projects."
When Casella gets to talking about the projects Barsplice has been involved with over the years, I think back to the company's humble beginning as a small, Dayton based operation. As big names like the Allegiant Stadium for the Las Vegas Raiders and the Hard Rock Hotel in Miami are casually mentioned, it is evident that the American dream –in the context of construction industry success—is alive and well. Further afield, Barsplice has also provided mechanical splicing and anchoring solutions for the Butterfly high-rise in Vancouver, and the Intel Manufacturing Center in Israel. "It's remarkable to see the endless projects we work on every day," he says. "To think a small, family-owned company has grown into what it is now, and to be trusted on these projects that are known around the world."
Casella wraps things up by driving home the values of Barsplice Products and its plans for future growth. Employee, customer, vendor, or supplier – the golden rule applies across the board when it comes to the company's commitment to its people. "We treat everyone with the same Gold Star standard. It's not always about a business transaction." In theme with the previous forty years, Barsplice is remaining focused on international growth and has big plans to extend its reach into new corners of the globe. "The industry is looking good and things are coming down the pipeline." What things these are, exactly, we can't be sure. What is clear is that by keeping a firm focus on the values that have helped it achieve an incredible four decades in business, Barsplice Products Inc. has garnered a reputation that will see it well into the next few decades too. In keeping with the calm, measured approach that comes with running a family-owned business, Casella is more prosaic in his assessment. "We're very proud of the reputation we have," he says, "and we have been very blessed and fortunate along the way too."