While developments are being made across many sectors, heavy construction can sometimes seem like the odd one out. By its nature, it uses materials. With the onus being on creating things, it stands to reason that on projects with the industry, materials will be used and unfortunately in many cases, wasted. Despite the best of intentions, opportunities for sustainable practice are not easily found. Natural wastage will always occur but, with the spiraling costs of materials currently hampering the bounce back from COVID, project managers can be reluctant to invest in unproven stock. Beneath the surface, however, the picture is not as binary and certainly not as pessimistic. There is a developing movement occurring. For now, it may be a quiet revolution, but nonetheless, it is out there, and it is growing.
In an effort to create more sustainable practices, companies have options. Some are looking for ways to reuse materials or, in other cases, to use more sustainably sourced ones. Not to be outdone by our scientific and engineering counterparts however, there are some innovative companies in our sector that, impressively, are attempting to combine both. In fact, there is a Los Angeles based start-up that has created a process that can repurpose and reuse plastic in a highly imaginative and innovative way. When you look at the figures around plastic use in the U.S. alone, it is clear that this approach is becoming ever more necessary. Americans produce around 42 million tons of single-use plastic each year. Given the inability of the recycling infrastructure to keep up with this enormous figure and the fact that much of it is unrecyclable, only 9% of this plastic actually gets recycled. The simple fact is that this cannot continue.
Imagine a construction-grade building material made entirely from recycled (and often the aforementioned unrecyclable) plastic waste. With its "zero waste process," ByFusion Global has created the ByBlock. According to the company, one ton of plastic provides one ton of ByBlock, and the product has the potential to meet any number of needs. "ByBlock helps you build faster, cleaner, and greener than any construction block on the market. Made of recycled and often unrecyclable plastic waste, ByBlock gives builders, architects, weekend warriors, and DIY'ers alike a sustainable, high-performing construction material usable for anything from walls to sheds and furniture to fencing."
According to the company, there is now potential to completely reframe the way plastic is viewed on a global level. In fact, the strengths that the material has is a contributing factor to the core features of ByBlocks. "The qualities that make plastic such a valuable material for packaging are exactly what make it one of the most powerful building materials around: it's malleable, insulative, and doesn't degrade easily. Using our proprietary system which uses only steam and compression, ByFusion's clean technology maximizes these traits by processing recovered plastic waste of any sort into ready-made building materials, thus offering builders around the world an easy-to-use, eco-friendly, and inexpensive product to use in residential or commercial settings."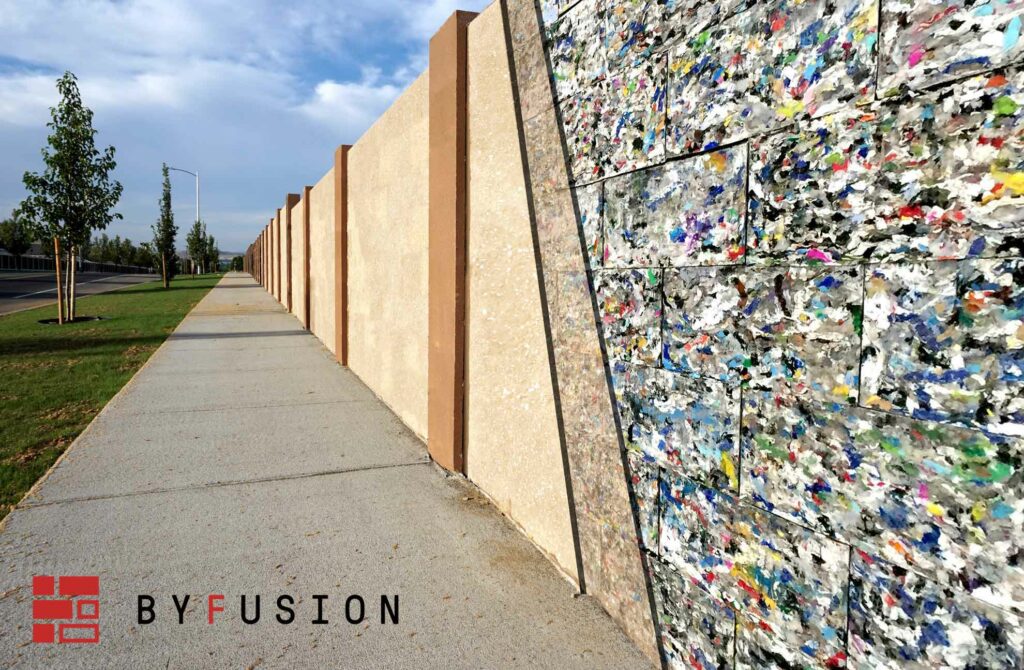 So far, so intriguing. While the idea sounds good in theory, how is recycled plastic converted into a viable building material that can withstand the requirements associated with concrete. Remarkably, this process seems almost too straightforward to be true. Using a patented "Blocker System," ByBlocks can be created with all types of post-consumer and post-industrial waste. Discarded plastic is first collected and then shredded. Once this has been done, the material is simply superheated and fused into blocks. The process does not require any chemicals, additives, adhesives, or fillers and, by using a closed-loop system, any water used throughout the process is reclaimed and reused. While the amount of plastic that can be processed is dependent on the size of the waste stream, an Industrial Blocker system can produce enough ByBlocks to build a single-family home in one day.
With evidence mounting that this is a product that could make serious contributions in the goal for a sustainability-focused industry, there is the small issue of costs and benefits to construction companies and builders themselves. While people have been aware of the need to work sustainably for quite some time, profit margins and rising costs simply do not allow for it. To that end, there is more positive news. ByBlocks have a range of additional benefits that will be welcome news to those throughout the industry. "As a building material, ByBlock is intended to work in parallel with standard building products. Unlike concrete block, ByBlock will not crack or crumble, reducing material waste. Additionally, building with ByBlock does not require specialized skills, curing time or mixing of binding agents. This reduces project cost by approx. 54% and reduces time of installation by approximately 65% when compared to concrete block."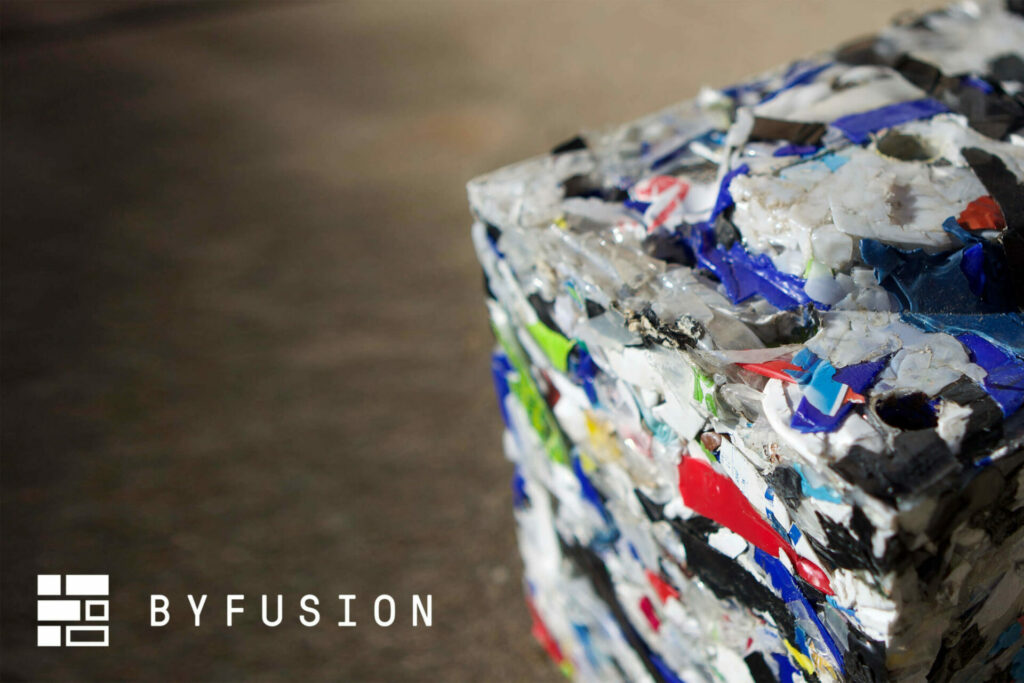 Despite the positive outlook, there will undoubtedly be questions throughout the industry on whether blocks made from recycled materials can compete with traditional ones in terms of strength and longevity. With dimensions most similar to those of cinder blocks, comparisons will invariably be made. To ensure transparency, ByFusion has had the blocks independently tested for Compression, Thermal, Acoustic, Fastener Withdrawal and Shear Strength. The blocks, incredibly, stand up to traditional materials across the board and meets all National and International building standards. As a way of allaying any fears that may remain, ByFusion held a live build at Boise Towne Square in Boise, Idaho, to showcase how cities can put their hard-to-recycle and unrecyclable materials to better use. Each ByBlock was produced using the materials collected from the Boise Hefty® EnergyBag® program in which the residents of Boise worked alongside ByFusion to make significant changes to their recycling habits. "ByFusion is excited to be part of this collaboration with Dow and the Hefty® EnergyBag® program that collectively empowers the residents of the Greater Boise area to take control of their plastic waste and use it to support their growing, environmentally-conscious community," said Heidi Kujawa, CEO, ByFusion. "We are confident that the area's implementation of ByBlocks will show other cities how they can repurpose their plastic waste and transform it into an alternative building material that helps support their infrastructure needs, instead of being an ongoing burden." The 3-day event that took place in March of this year was an opportunity for industry leaders to watch a building take shape and get answers to any questions they may have had.
It would be simplistic to suggest that ByBlocks are a sort of magic bullet in the battle against single-use plastics. The issue is far too nuanced and complex, involving social disadvantage, education, and various lobby groups, to wave it away so simply. However, what does appear to be the case is that ByFusion has created a genuinely innovative material capable of making positive change in both the construction and recycling worlds. ByBlocks, with its multitude of uses; from retaining walls to landscaping and furniture, is a possible game-changer. This multi-use material is beginning to make waves in the industry, and, for ByFusion, it is just the beginning. With an aim to recycle 100 million tons of plastic by 2030, ByFusion has created a product that can be customized to specific densities and creates 41% fewer greenhouse emissions than concrete blocks. The only question that now remains is, when will the industry accept ByBlocks as standard?