As funding becomes available to modernize the infrastructure network across the United States, the public needs to sit up and take note. Every taxpayer's dollar will, quite rightly, be made to go as far as it can and that is why project managers across the country will look to sustainable practices and materials. Infrastructure, as we are well aware, can be a resource heavy sector. Given that it, by its very nature, needs to be updated and replaced over time, it makes sense that it may not be the most sustainable type of construction work. When public money is being spent, however, the onus is on the industry to go as far as it can. From green practices to environmentally sound materials, much is already being done in the sector. Innovation and effort are combining impressively, and it feels as though genuine change is happening. For one sector of the industry, there are questions, however. Roadways and asphalt have a bad reputation. The material conjures up images of work that is messy, hot, and not exactly the most environmentally friendly. So, what if there was a way to lower the impact of asphalt and to change the narrative in a positive way?
In the U.S. alone, there is approximately 160,000 miles of roadway. This is a staggering number and that is before we include local streets, roads, and parking lots. Basically, this makes for a lot of asphalt. On a positive note, and something that is even more shocking than this, however, is the fact that asphalt pavement is the most recycled material in the United States. According to the Federal Highway Administration, 73 million tons, which is more than 80% of the reclaimed asphalt pavement removed each year during widening and resurfacing projects is reused in pavement. By comparison, this figure is substantially higher than the percentages for recycled newspaper, glass, plastic, and aluminum cans and magazines. Remarkably, this mixture of stone, gravel, or sand and viscous liquid tar is, when extracted from worn-down city streets, both sustainable and recyclable. In New York City, the roadway resurfacing program works to use recycled asphalt pavement and repurpose it throughout the five boroughs. In an effort to reach the mayor's goals to become a sustainable city, it seems as though recycled asphalt could be a game changer.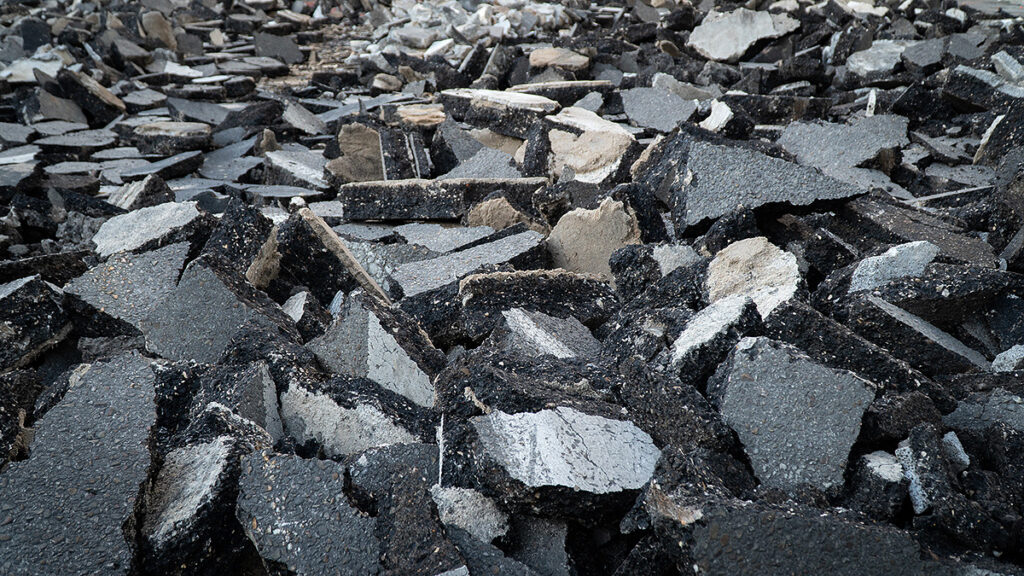 According to the Department of Design and Construction NYC, recycled asphalt is of huge importance in the city's sustainability goals. The Department sees the material as a huge benefit from both an environmental and financial standpoint. "Recycled asphalt is another method DDC employs to meet Mayor de Blasio's goals for a more sustainable City, reducing landfill use and helping to meet the City's target of reducing greenhouse gas emissions by 80 percent by the year 2050. With thousands of miles of streets in the five boroughs, there's great potential for this to have a substantial effect on the environment while reducing infrastructure costs." In terms of maintenance and upkeep, asphalt is used to resurface New York City's 6,000 miles of roadway. The process is both technical and wonderfully simplistic. "We first mill the streets using razor-sharp claws that dig up the surface layer of the asphalt. That layer is then filtered, ground to a specific gradation, and mixed with a glue-like rejuvenating agent – perfect for making the new mix stick together in the streets."
So, with this amount of asphalt usage in NYC alone, how can the industry use the most recycled material in the country to benefit end users, providers, and taxpayers? The answer is simple. Recycled asphalt benefits a project on a number of levels. From eliminating the need for further quarry excavation or transportation, to lower usage of petroleum and heat, it is clear that this material has a very long life expectancy. Currently, NYC uses a minimum of 30% recycled asphalt pavement (RAP) to create new asphalt but, according to a Long Island producer, this figure can be increased dramatically.
"By using 'Reclaimed Asphalt Pavement (RAP)' the company is the first 100% green asphalt provider in the country and the only one currently in New York City."
Green Asphalt is a provider of asphalt pavement materials. What makes this particular company stand out, however, is that every square inch of asphalt it produces is recycled. By using 'Reclaimed Asphalt Pavement (RAP)' the company is the first 100% green asphalt provider in the country and the only one currently in New York City. According to those at the company, the benefits of 100% recycled asphalt are immeasurable. Tested to extreme temperatures and with the ability to be recycled numerous times, the product can be of enormous value to the public sector. ""We call it black gold. All the money in asphalt is in rocks, bitumen, and liquid asphalt – or petroleum, which is the most expensive part of the mixture. Our material is completely green, cost effective, and locally sourced."
Financial considerations aside, the material also has huge benefits environmentally. At every step of the process, CO2 gases are being emitted. By removing these processes, the outcome is a net positive. According to Nima Roohi Sefidmazgi, Ph.D., Quality Control Manager at Green Asphalt, 100% recycled asphalt is clearly the most environmentally profitable choice. "The whole process of making asphalt pavement – the excavating, trucking, crushing, refining – all of this makes a lot of CO and CO2 gases. Thirty percent is good, but we can do better. By making 100% recycled asphalt, we are saving lots of units of pollution. We have an unlimited source of material in the city streets. This means we have so much RAP and we need to use it. The best part is you're not damaging the environment; you're not putting excess material in the landfill."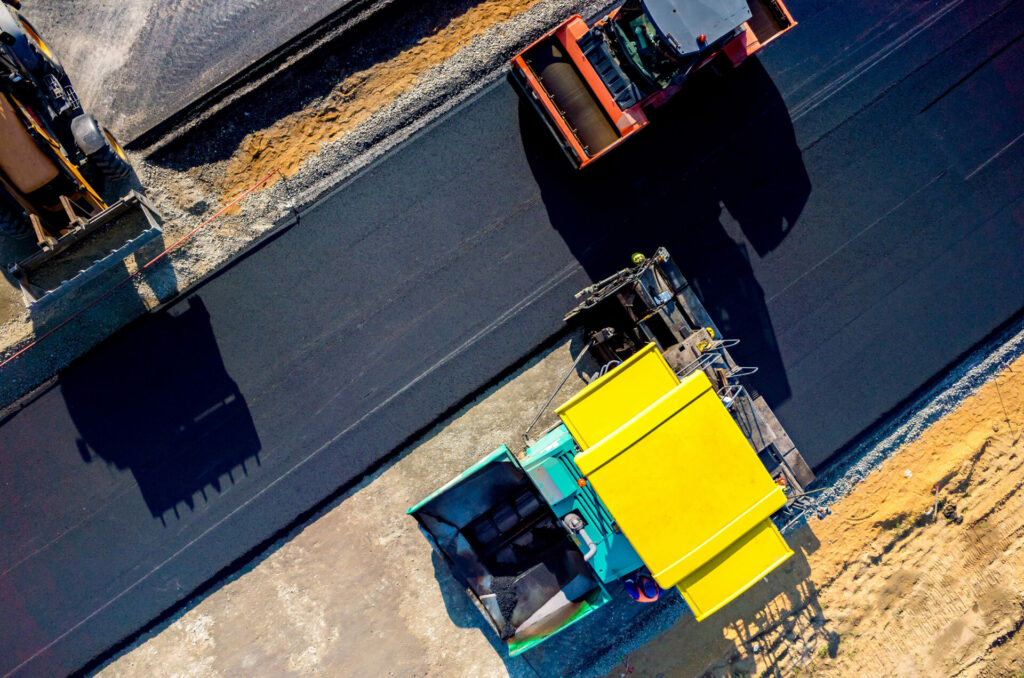 With such potential to be recycled, it will come as no surprise that the industry itself is doing much of the heavy lifting when it comes to recycling. Obviously, extraction and production can be an expensive endeavor and it makes perfect sense that reusing existing materials is a much most cost-effective strategy. The asphalt industry recycles almost 100 million tons of its own product each year. This saves the U.S. taxpayer an incredible $1.8 billion annually. According to Green Asphalt and DDC, New York City alone could save around $5M in annual costs by migrating to 100% RAP.
With an ever increasing need to think smart both financially and sustainably, it is always a good thing when ready-made solutions are found. By creating a circular economy, the asphalt industry is doing what it can to change the narrative. Asphalt can be seen as something that creates mess, heat, and waste. The facts tell a different story though. If we scratch the surface, it turns out that asphalt is a remarkably effective material over long periods of time. We are in a place where every dollar counts and, with an infrastructure network in bad need of repair, Green Asphalt could be the solution. "When choosing recycled asphalt, there are many environmental benefits, such as preventing valuable materials from going into landfills and reducing the transport of materials in and out of the city. By using RAP, both our company and customers are protecting the future of our environment by reducing the carbon footprint one ton at a time."