"KIRCO is a national commercial real estate development, investment, construction and facilities management firm," says Quinn Kiriluk, offering a worthy attempt at describing all that KIRCO is in just one short sentence. "We are primarily focused on two industry verticals," says Quinn. "One being senior living and healthcare and the second being corporate real estate, which covers any type of facility from industrial, manufacturing, R&D, laboratories, offices and headquarters."
Quinn is the Executive Vice President and Chief Marketing Officer of the family owned and family operated company, and he joins me today alongside Adam and A.J. to tell me all about its four- decade long journey towards nationwide success. " KIRCO was born and raised in Michigan," he tells me. "An overweight portion of our business has been in Michigan State and the Midwest." KIRCO was founded in 1974 and is a partner company of KIRCO MANIX, the construction side of the organization providing the highest quality pre-construction, design build, and construction management expertise. With over 100 years of experience and $4 billion of successfully delivered projects across the country, KIRCO MANIX have truly played their part in the resurgence of the Midwest.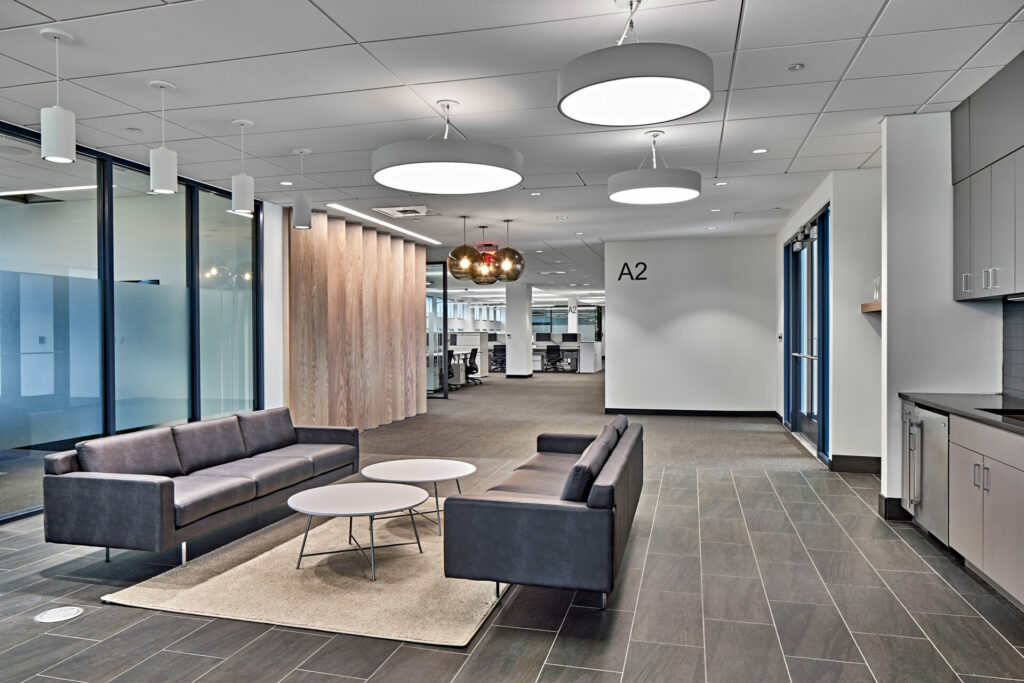 "Obviously, being in the Detroit area, a lot of our work and our history is with the automotive industry." This insight comes from AJ Washeleski, head of Business Development at KIRCO MANIX. "We've ridden the waves of a lot of the Japanese companies coming in the eighties and the European companies coming in the nineties and early noughties." This leads us nicely on to a recent project of KIRCO's: Webasto's North American Automotive HQ. Adam Manix, Director of Corporate Real Estate, delves deep into the project which all three agree, KIRCO are extremely proud of. "The project itself was a renovation and expansion of a building that was originally built by our company thirty years ago," he says. "It was originally designed by an Architect based down in Mexico, so it's got some unique features and design elements compared to other buildings you see today." The Webasto HQ building represents KIRCO's forty-sixth building in Auburn Hills, a suburb of Detroit where a lot of the automotive companies are based and in Adam's words "a prime location for them."
Working out of North America's automotive hub, KIRCO and KIRCO MANIX have come to specialize in projects of this nature. They recently completed the Mercedes-Benz North American Headquarters, a two-thousand square foot facility in Farmington Hills. The project, on which they worked alongside renowned architectural and design firm Gensler, started just six weeks before the COVID-fueled shut down of Michigan. "Imagine it," says Quinn, "everyone is excited to get going and to hit schedules, and then all of a sudden the site is shut down." During that time the team at KIRCO didn't take their foot off the pedal and instead put their heads together – virtually – to figure out how to navigate the unknown territory that was a global pandemic. Six weeks later, when the State of Michigan finally recognized construction as the essential industry that it is, they hit the ground running. "We had a great team who all worked together to make sure lead times of materials were being handled in an appropriate manner," Quinn says. "It took an extra level of discipline and focus by everyone to get it done." To alleviate some of the supply chain issues that continue to haunt the industry today, KIRCO purchased materials up front and stored them in containers on site. "With all that," Quinn says, "we were able to maintain the schedule."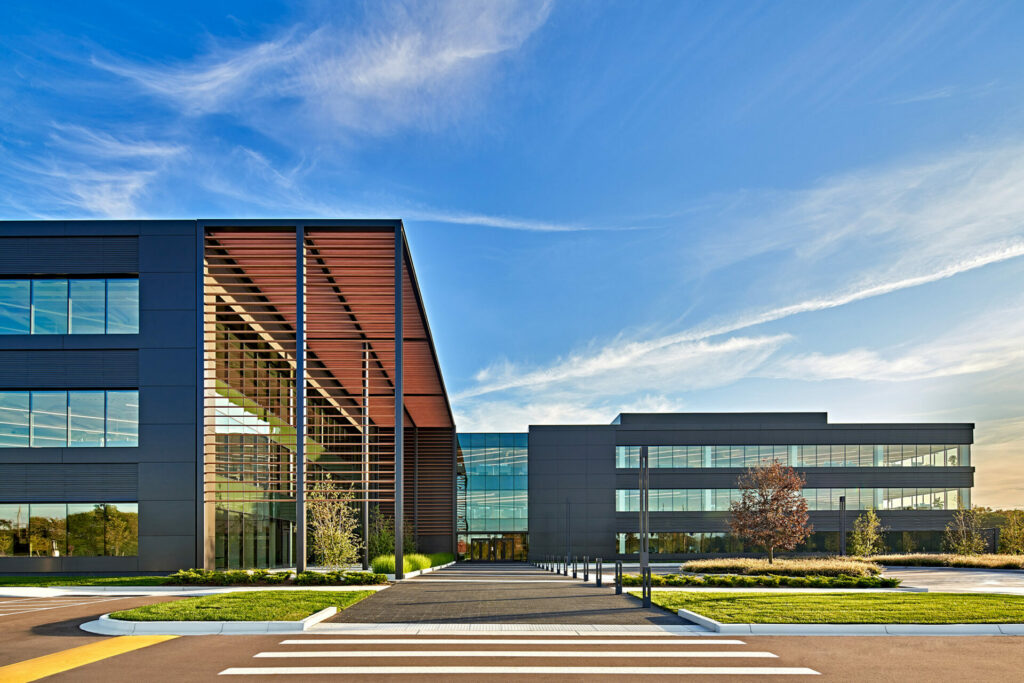 Much of KIRCO's portfolio falls within the well-known automotive sector, but an industry vertical of theirs that we may be less familiar with is laboratories. Ann Arbor, a suburb of Detroit in the University of Michigan area, is home to Wacker Chemicals North American Headquarters. The 140,000 square feet of lab and R&D space handles the most volatile and abrasive chemicals on the planet and was expertly developed by KIRCO to that effect. Wacker Chemicals are originally headquartered in Germany and so the new development required a lot of lab and custom equipment, including an onsite nitrogen generator, to be imported. "A lot of that equipment fell victim to the supply chain issues," Quinn says, "so we had to work around them. We used a helicopter to hoist the Nitrogen Generator into the penthouse because we had to enclose the building so we could finish the interiors." AJ picks up where Quinn leaves off and tells me that "when we couldn't get roofing materials in the proper sequence, we worked with a roof manufacturer and designed an alternative insulation method, and we still got them to honor the warranty." Quinn, Adam, and AJ all agree that this particular project is a great example of KIRCO's ability to, as AJ puts it, "improvise and think things out on the fly with our subcontractors, designers, and clients."
Another project that started deep in the throes of lockdown, Wacker Chemicals HQ was completed without a face-to-face meeting ever taking place. "We got through the design development phase and got site plan approvals and construction contracts, all virtually," says Quinn. "We broke ground on the project in October of 2020 and, believe it or not, we just completed it last week within one week of our original schedule." It is clear from such success stories that the team at KIRCO place a great deal of importance on getting the job done on time, and this speaks to their collaborative approach to doing business. Quinn says: "One overreaching theme that's emerged in this post-COVID era is that clients should no longer look at construction and development teams as commodities, but as partnerships. All of us working together instead of saying force majeure or not my problem – that is what's required now."
Speaking more on the pandemic, Quinn tells me about how KIRCO managed through the past two years that were unlike any they had ever seen before. "It was a struggle trying to run a real estate and construction company remotely without being able to collaborate in a room together," he says, "but we managed through it well and didn't lose a single employee." While all of their job sites lay idle during those uncertain weeks in early 2020, the KIRCO team themselves did not. "We put all of our focus into the community. We had Project Managers helping the healthcare system by getting kiosks and booths together for COVID testing. Our local healthcare system was part of a clinical trial for early COVID treatment, and they were desperately in need of funds, so we stepped up and contributed towards those." As well as that, KIRCO took part in the development of COVID treatment centers for homeless people in the city of Detroit. "It was unchartered waters for everybody," says Quinn, and we certainly didn't just look inwards."
"Another project that started deep in the throes of lockdown, Wacker Chemicals HQ was completed without a face-to-face meeting ever taking place."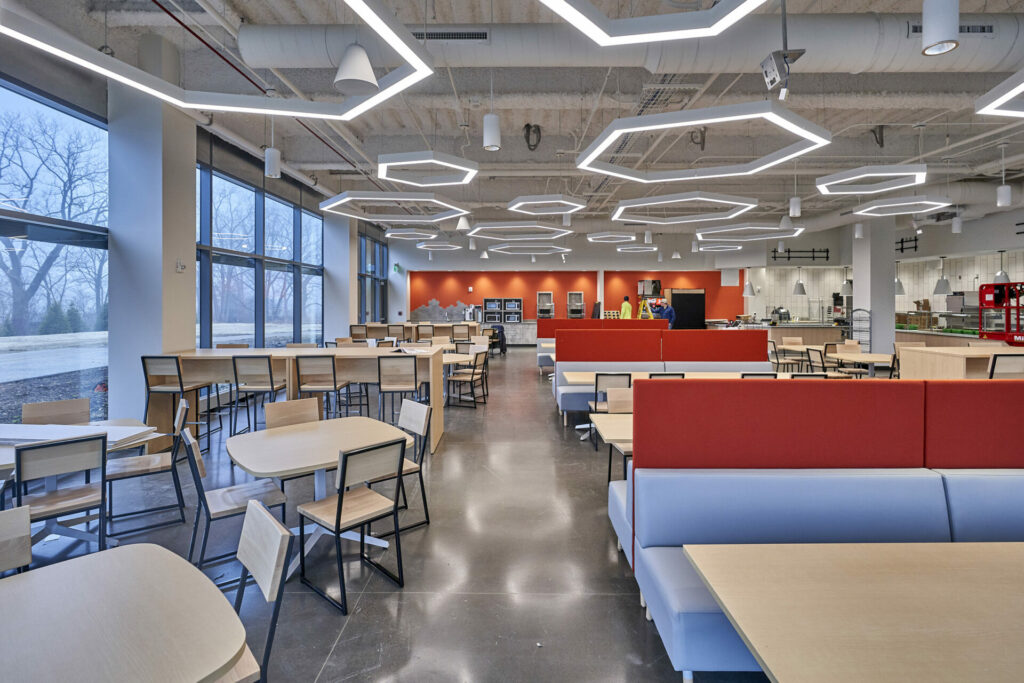 Adam goes on to talk about how KIRCO's handling of the pandemic ultimately speaks to the positive culture embedded deep within the company. He says that "when your back is against the wall with something so unexpected and everyone steps up, comes together, puts their heads down and gets the job done – I couldn't be prouder.
Because development, construction, and facilities management all fall under the KIRCO umbrella, it makes sense for them to gear their focus towards long-term ownership. "Whether it's an asset we're going to own and lease or one we're just building for a client like Webasto and Mercedes, we're doing everything through the eyes of an owner. We have the rallied, brainstorming and coming up with solutions and thinking outside the box." This approach will lead KIRCO into the future and the next stage of their journey, in which they plan to focus on their main disciple for which they are confident there will always be a demand. "Despite all the challenges we're seeing globally and economically," says Quinn, "there's always going to be that demand for corporate real estate and senior housing. The product types we focus on may differ, for example we may look into more mission critical type facilities, but we will remain focused on those demands." In terms of growth projection, Quinn says that KIRCO are committed to the national growth they are already experiencing. "We've got a project in a new state almost monthly," he says. "We're active in seventeen states today, and we only hope that we continue to see that number grow."
To close out our conversation which was insightful and informative in equal measure, Quinn says: "We're not perfect, there's still challenges ahead, and we haven't got it all figured out yet, but we feel pretty good about where we're at."