"Luck is what happens when preparation meets opportunity." The Roman Stoic philosopher Seneca was purported to have coined that adage roughly 2000 years ago. That's an idea with staying power. Another way of thinking about it is that you make your own luck. A large-scale construction project is an immensely complicated, multi-faceted Rubik's cube of processes that requires unwavering focus over a long time span. It's easy to talk about planning things in advance, but very quickly plans can go awry due to the vagaries of industry. Vendors are late, sub-contractors change tack, prices fluctuate. A million and one variables to juggle with potentially millions of dollars in the air. Ideally you get those plans right. Planning things down to the last nail and screw is how Callahan Construction Managers keeps the balls in the air, flowing smoothly until the job is completed. It's a company that strives to make its own luck. And you had better believe they are prepared.
John T. Callahan & Sons was originally founded in 1954 by Jack and Marie Callahan. Fast forward to today and three generations of the family have their fingerprints on the company. Operating under the aegis of umbrella company Callahan Inc, Callahan Construction Managers is one of the leaders of the industry operating across the Northeast. The company has seen steady growth in the last 5-10 years, a success found through the breadth of its services and flexibility in the market. Callahan works on projects in nearly every sector, from education to hospitality and all aspects of residential building. In answer to the growing need for housing throughout the last decade, Callahan has become well-known for its work on multi-family housing.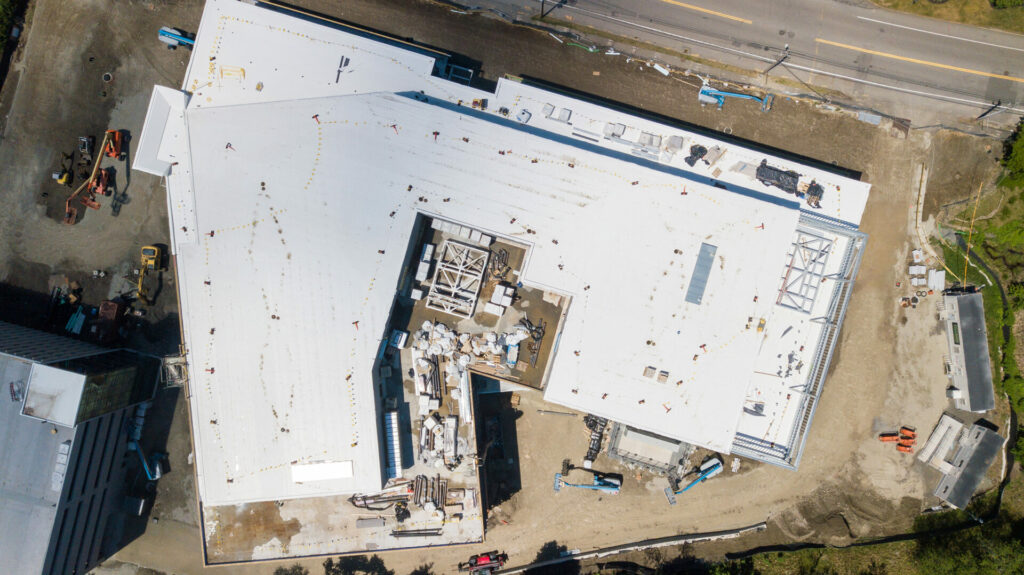 More recently the outfit has waded seriously into the Life Sciences laboratory building market, which has been a real positive for the company's standing. The backbone of its ability to thrive across a variety of markets comes down to one thing, however – preparation. According to VP of Business development, Stephen Callahan, "I think where we certainly try to differentiate ourselves is on the pre-construction services side. We've got a deep bench of people that includes an in-house architect, multiple civil engineers. There's QA, QC, a whole BIM team, six safety officers. Part of the reason we built that bench is because most of our work is negotiated and we're brought on early in the process. We have the benefit of working with the client and the design team through a robust pre-construction process and we inform the design along the way. We check the budget for our customers along the way and we make sure that at the end of the day when we're ready to put shovels in the ground, we've got a tightly coordinated set of documents and it's not a finger pointing contest at that point. And that's really why we believe so heartily in that delivery method. Everyone is accountable, right?" It's not just the rigorous approach to pre-construction and accountability that gives the company a leg up, either.
Callahan prides itself on the ability to self-perform sitework for the client, should it be deemed the best route for everyone involved. It doesn't handle sitework for every client, but when it's required it has the people and the skills to do so, which can be incredibly beneficial to all parties. Callahan explained, "Where we excel, and I think differentiate ourselves against most competition, is that we self-perform site work. We self-perform maybe 15% of what we manage as a company. We don't throw it at the customer. We look at it as an advantage, but it always has to be bid out and our numbers have to work for the customer. And then on the other side, when it's a job that we don't self-perform, we've got that expertise in-house to make sure we're buying it right, scoping it right, and eliminating change for the client down the road when it's under construction." There is a secondary value proposition in being able to self-perform sitework for a project as well. Bidding out the sitework adds more variables – in the form of more coordination requirements with more contractors – to an already complicated process.
By keeping the sitework in-house, Callahan can also offer greater speed. Time, as everyone knows, is money. As Project Executive George Malakidis described it, "I think the speed-to-market aspect of having that ability in-house also can help, especially in the laboratory jobs. That's always the number one factor for the landlord, speed-to-market. Who can get out there right away, provide manpower, set up erosion control. I see it as a huge advantage for our internal teams, but I think it's an advantage for the client as well."
Callahan's expansion into the Life Science laboratory market has been an exciting and positive move for the third-generation company. It's a rapidly expanding sector and Callahan is quickly establishing itself as a leader there. One project of note is the Revolution Labs building in Lexington, Massachusetts. Due to be completed later this year, the 180,000 square foot building will be a mixture of offices and labs, with state-of-the-art infrastructure. Callahan said, "Kevin Sheehan and Phil Dorman, they both spun out of Boston Properties, who Callahan has a long-storied relationship with, and this is their first project as Greatland Realty Partners and you know we're so happy for them, they're going to hit it out of the park with this project." At 300 dollars per square foot, Callahan was able to bring the project in for the clients at "an extremely tight number in a great market. They're signing tenants left and right. They're going to fill it quickly."
This project perfectly illustrates the advantage Callahan brings to its clients. It's meticulous pre-construction process brings huge efficiency to large projects and prevents runaway spending that comes from messy systems management. Malakidis elucidated this clearly, "All along, we generated a plan to create flow throughout the building process so that we're actually starting the tenant fit early, which allows them to get income in the door faster and get fully leased up. Those tenants come online within a couple months after we're done, which is a huge advantage to the development team."
It is, of course, not merely honey and roses for Callahan Construction Managers. These are challenging times for every industry. Supply chain issues remain a difficulty and labor availability can be fickle. Stable growth is the name of the game for the company. It doesn't want to, as Callahan put it, "get out over its ski tips". With conditions very changeable, that stability will be a huge asset. Callahan is tackling a wide array of projects as well, even working on some retrofits. Converting an existing office building into a lab building and dealing with all the complexities that involves. "Along with that opportunity comes risks for the developers because of the specificity of what you need for a lab building. We've gained some key in-house experience there, and I think, certainly it's an advantage for the developers and with that knowledge we can help keep them out of trouble." Which is really the name of the game for Callahan Construction Managers. Through its Enhanced Preconstruction Services, Callahan skillfully guides clients through the quagmire of large-scale construction work, avoiding the pitfalls that can lead to serious project difficulties. A methodical, experienced approach to planning helps ensure everyone wins in the end.
And with preparation like that, who needs luck?