Branch Civil is a general contractor that specializes in earthmoving, performing primarily in Virginia and North Carolina. The company is one of three business units within the Branch Group, which operates as an ESOP.
In an Employee Stock Ownership Plan (ESOP), the company's employees are also the owners. The President at Branch Civil, Brian Quinlan, explains that the company is unusual in that it is 100% employee-owned, meaning there is no other partial ownership involved. With close to 900 employee owners, and a "couple hundred" more ex-employees who still own stock, the company is hugely valuable to local communities. Quinlan explains, "Our owners [are] just everyday folks that live in Virginia and North Carolina and are invested in the company and in the markets in which we work."
The history of Branch Civil is similar to that of many other general contractors. The difference, however, is that upon his retirement in 1982, the founder Billy Branch decided to sell the company to the employees. This decision led to a company ethos of accountability that permeates through every aspect of the business, including safety. According to Quinlan, Branch Civil has an "Absolute commitment to safety." With this in mind, it is no surprise that the company has received over 40 safety awards in the past five years. Quinlan explains, "You always care about your employees, but in this case, our employees are also our owners." He says that the experience of being on a job where a serious accident has occurred acts as a driving force in his safety-led focus. It informs, says Quinlan, "an underlying philosophy where everybody goes home the way they came to work." To this end, the company promotes a culture of safety rather than a dictatorial approach. According to Quinlan, Branch Civil does not police safety because it believes it is not the most effective approach. Instead, the company believes that "everybody has to be committed."
The safety department is a corporate function of the Branch Group. Safety representatives cover geographic areas by inspecting on a weekly basis all jobs in that area regardless of the business unit, but "the trick is when the safety guys come on-site, they don't come on and start writing people up or threatening. They come on and they conduct inspections, do a joint review of the inspection results and talk about what can be improved."
According to Quinlan, the company's safety results are a testament to this approach, with projects getting very good scores from these inspections. Quinlan believes this is a "leading indicator," explaining that "If you can improve your leading indicators then your results always come out better."
Branch Civil typically works on large roadway projects for the DOTs in North Carolina and Virginia. On the private side, it also specializes in large site development jobs. The reason for this is that Branch's earthwork and pipe-laying skillsets easily transfer back and forth between the two markets."
In order to ensure the smooth delivery of services and timely execution on projects, the company owns approximately 300 major pieces of equipment. All the company's newer equipment is fitted with telematics that both helps the company track and manage the equipment and allows for proper maintenance. According to Quinlan, "Almost all dozers, excavators and graders are also fitted with GPS grade control systems."
"Branch Civil is currently working on a $300 million progressive design-build for VDOT on Route 58 near Lover's Leap in Stuart, VA."
Due to equipment being of such importance to the earthmoving business, Quinlan explains that the company made a conscious decision a number of years ago to augment its equipment fleet as a means of enhancing the service it could offer. "We committed to having quality equipment and taking care of the equipment we have so that we could put it to the most efficient use we could." This, according to Quinlan, ties back to the telematics of the machines. "The machines are so smart now that if you just listen to them, they will tell you where they are, how many hours they work, what shape they are in, when they need maintenance, and if they're being abused." This has led to the company setting up their Situational Awareness Room, gathering all the incoming information from the equipment and putting it into readable reports, which facilitates effective management of the equipment fleet. Quinlan believes that this approach to equipment management has given Branch Civil a significant competitive advantage. He adds, "We also do all stringless grading, relying on in-house electronic modeling and equipment equipped with GPS controls, which another factor in the success of Branch Civil as an earthmoving company."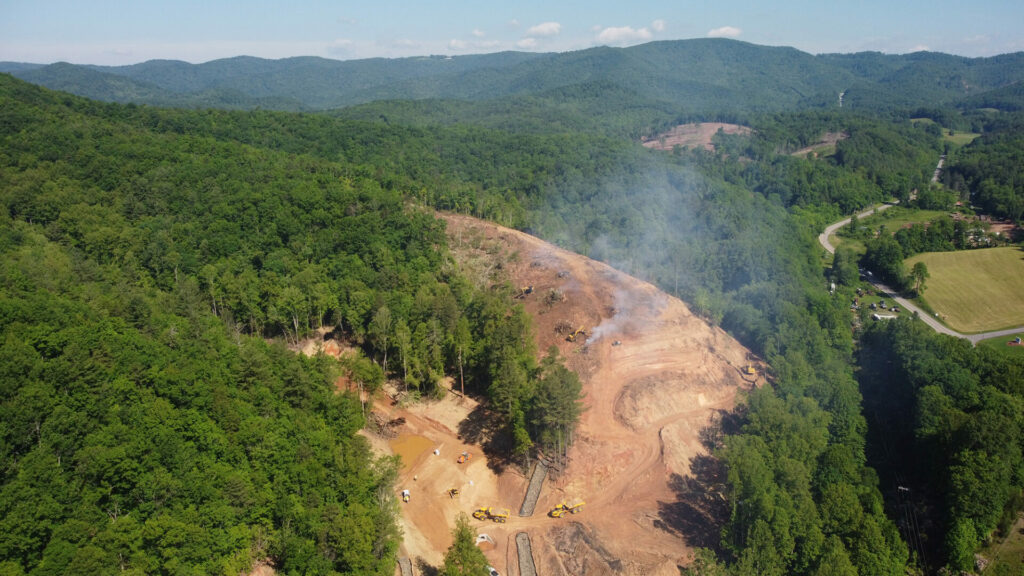 Branch Civil is currently working on a $300 million progressive design-build for VDOT on Route 58 near Lover's Leap in Stuart, VA. Despite the area having a somewhat tragic and romantic folklore surrounding a scenic area where lovers leapt off the side of a mountain, the project will be strictly business for Branch Civil. Branch Civil has a long history of working on Route 58, but this section in particular, according to Quinlan, gives the company the opportunity for the company to showcase the full range of its capabilities. "It's a little bit different for us because it's primarily a rock job, whereas most of our work in Virginia has been in Eastern parts of the state that tend to be more sand and clay moving." With design nearing completion, Branch Civil is mobilizing multiple equipment spreads to start work on the project in the coming weeks.
Given the difficulties facing many across the industry, where is Branch Civil sitting currently? The answer, unsurprisingly, is in a very good place. Quinlan describes the outlook for Branch Civil as "great," with about twenty active projects and one of the largest backlogs in the company's 60-year history. According to Quinlan, the market is looking good in keeping with the Infrastructure Bill uptick, which is a welcome change from previous years where projects were delayed due to capital concerns.
While supply chain issues have certainly been a challenge to the company, when asked about the main difficulties facing Branch Civil, Quinlan identifies another, more omnipresent issue. He explains that there has been a trend in America that portrays "sitting behind a desk as a more admirable career than working with your hands." Quinlan believes that this has "made it very tough for construction companies to attract and retain skilled labor." By way of a solution, Quinlan believes that education is key, particularly at the high school level. He cannot stress how important it is to spread the message that construction "..really is a great career. It's got good pay, even for entry-level personnel." He goes on to explain that he has "worked with amazing people that have made it all the way to the top of the profession; general superintendents, project managers, presidents, and company owners, and some accomplished that without graduating from high school. It is one of the few careers that provide that opportunity."
For those considering construction as a career, Quinlan adds the best thing about construction is that when a project has been completed, you can point to something and say "Hey, I helped to build that."