To say yes is to make things move. To this end, Clearway deploys a comprehensive array of infrastructure solutions across sectors and models to get communities connected: wet utilities, shoring, vertical trenching, energy pipelines, electrical distribution, telecommunications, transportation, fleet management, treatment plants, soil remediation, stormwater and floodplain management. "We really have a hard time saying no," says Mark Meyer, Vice-President of the Ontario-based company. "We never turned anything down. We really don't. We have a lot of confidence in our abilities and we consider ourselves very good at managing risk."
"We look for the most difficult projects from a constructability, but also from a contractual standpoint," he explains, going on to describe the company's approach to "difficult", which involves breaking it down into various categories. Primarily operating as an underground contractor, early undertakings in the Toronto region meant navigating challenging local ground conditions, which led to honing a specific set of skills in that area of expertise. While there is obvious satisfaction to be derived from successfully executing projects with tricky technical issues, the Clearway team also takes pride in demonstrating the ability to perform at the exacting levels required by high pressure environments, such as when it renewed the infrastructure of the Darlington nuclear facility, which entailed myriad protocols of all kinds.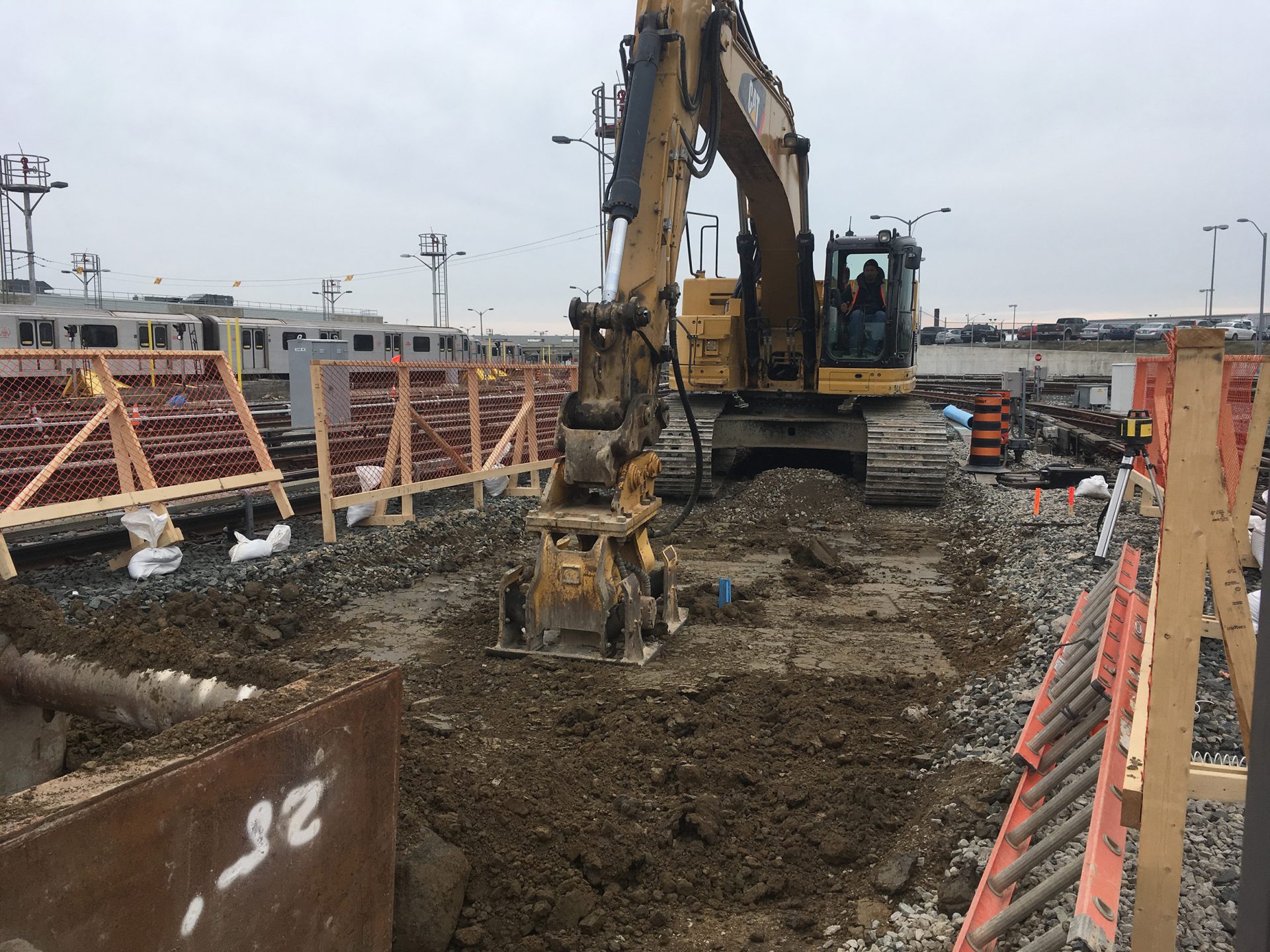 "The confidence that we have to tackle these types of projects has really been ingrained in the company by the founders," says Meyer of the company culture, which evolved from the inspiring trajectory of the Di Battista brothers, who essentially manifested the emigrant's dream come true, through a combination of self assurance, solid work and forward thinking. The four young men departed Italy for Canada together in the early 1970s, seeking opportunity and adventure, like so many others before and after them. Only one member of the family had any previous experience in the construction industry. Yet within less than three years of arrival in their new homeland, they had transitioned from beginner jobs with a small local company to establishing their own business.
Meyer credits Nick Di Battista especially, current CEO, for setting the tone and direction for the journey to come. When Di Battista was recently asked from what moment in the early days he felt secure enough about the fledgling enterprise to sleep soundly at night, he replied serenely: "From day one. There was never a doubt in my mind that we were going to be able to start a business and be successful at it." For Meyer, this sense of calm self-assurance is characteristic of the company's progression over almost 50 years in the industry, "organically grown" as he describes the overall growth strategy to date. Shifting gears for the next decades, leadership wants to make sure it is well positioned to capitalize on the rapidly expanding market in Ontario, which means exploring more strategic acquisitions and partnerships, as well as some outsourcing. Through recognizing the importance of strategic growth, the company investment in programs for the development of people will also be key. The target is ambitious: to double in size within 10 years. While it may be an ambitious target, current President of Clearway, Anthony DiBattista, continues to embrace strategic growth as a means of achieving these goals. Clearly, this growth and development, while evidenced by the companies longevity and continued success, can also be found on a leadership level.
"We never turn anything down. We really don't. We have a lot of confidence in our abilities and we consider ourselves very good at managing risk."
Things are moving and will continue to do so. Clearway recently took on a pivotal part in the construction of the largest transit expansion in the history of Toronto. The new Eglinton Crosstown Light Rail Transit, due for completion in 2022, spans 25 stops and 19 kilometers from east to west across the city, with a significant portion of the line running underground. Clearway was responsible for the majority of the wet utilities throughout the project, including relocations, as well as concrete and roadworks, traction, duct bank work for the light rail itself, and almost all the miscellaneous civil components in between. The team also participated in constructability review and permit obtainment processes. Despite some setbacks, construction continued throughout the pandemic period, as it was deemed essential work in Ontario. Mindful of the overall situation and particularly within the municipal context, Meyer felt it was important to proactively lead by example, to reassure the wider community about the safety and benefits of keeping the work ongoing.
"We wanted to prove to the regulators and to the authorities, that we could work safely, that we could adjust our techniques and adjust our workforce, so that we could continue to be an essential service, and not pose a risk to the public or to our employees. We took that very seriously, and that was from all standpoints," he says. "We invited our clients to our job sites to see the protocols that we had put in place, we collaborated with the local unions, and with the Ministry of Labor and Public Health as well, to make sure that the things that we were putting in place were appropriate, and were going to help us protect our people."
For those not employed in the work itself, active construction projects are often viewed as sources of dust, noise and disruption. With this in mind, Meyer is keen to emphasise the value of good conduct on every site, with the hope of leaving a positive impression on the various communities that Clearway comes into contact with. Taking the commitment to community further, President Anthony Di Batista oversees company support for local charity and social initiatives, as a way to give something back to the area. He is very actively involved with Caritas, a community-led initiative to assist individuals struggling with addiction and associated mental health problems. Its stated values are based on a holistic approach to people and to life, and while based in Toronto, it maintains strong affiliations and regular exchanges with similar communities in the Di Batista's motherland, Italy.
"From day one. There was never a doubt in my mind that we weren't going to be able to start a business and be successful at it."
Alongside a duty of kindness for people, there is a parallel responsibility of care for the environment. On the subject of sustainability, Meyer brings it back to the company culture and what he calls "the business of doing things right". Clearway is open to investing in research and development on many aspects of its work, particularly where there could be a double-sided opportunity to do something that could simultaneously increase sustainability and provide a return. As he explains, sustainable options are now mandated by law, forward thinking, the future of the market. Furthermore: "It's really hard to argue with the fact that if there's a sustainable option to any aspect of our work, the right thing to do is to look at it."
While much of the legacy projects done by companies such as Clearway will remain underground for the duration of their functional lives, it is clearly still important that they are developed and constructed with integrity. "I think it means everything," says Meyer when asked for his opinion on this. "You know, if we're operating as a construction company, truly to our ethics, to our morals, and we're really out to do better for the public, for the people that work for us, and just for the community in general, that's something that I don't think is lost on people, right?"