Sometimes, like in the case of Illinois's Federal Steel & Erection Co., the meaning of a family business goes much deeper than just a handful of family members taking part in an organizations key decision making and overall vision. Federal Steel & Erection Co. is a collective of many different families, spanning over four generations with roots in the company as far back as World War 2. Christopher Darr, a fourth-generation Federal Steel employee and current company President, talks with pride about the history that underlies the most efficient fabrication company in the St. Louis area.
"Arthur Isringhausen founded the company in 1948 when he came back from the war," Christopher says. "My great-grandfather was with him at the time, he was the acting secretary and general manager. My family have been in the company ever since. There are more families too who've been with us for three generations. It's still a family business today across the board and in every department, and that's something to be proud of."
Federal Steel & Erection Co. is a full-service steel contractor specializing in design, detailing, CNC, fabrications, coding and erection. The company found their home in East Alton-Wood River back in 1953 and have been expanding and modernizing from there ever since. They specialize in industrial and commercial structural steel as well as pre-engineered metal buildings and petro-chemical work. "Pretty much anything steel," Christopher says of their scope of work. "Whether we're erecting a project or not we're always looking at how it goes together and offering the best solutions for the client." Federal Steel & Erection Co. are fully outfitted with a conveyor-driven CNC band saw and a modern drill line, as well as a robotic thermal processor, a blaster for paint preparation, an angle line and plate processor. They've also got an in-house Certified Weld Inspector who Christopher says "keeps all our welders and fitters qualified to complete the task right the first time."
Of his own role as company president, Christopher says his job is to make sure everyone has all the tools they need to do their part safely and efficiently. "There is a lot of passion and satisfaction in what we do," Christopher says, "and the fun part is coming up with solutions for our clients that they might not have thought about."
In recent years Federal Steel's workforce has become younger with much of the older generation reaching retirement age. The result is a varied workforce that achieves a perfect blend of valuable experience and a fresh new outlook on the industry. It is this fresh outlook that has made Federal Steel the technology-forward company they are today, embracing things like robotics and staying on top of the latest industry advancements. "We used to drill the holes ourselves," says Christopher, "and now a robot does it."
Introducing modern technology into their practice has allowed Federal Steel to perform their work efficiently and always to the highest standard. "We draw everything in three dimensions now," says Christopher, reminding us of how far the industry has come since the days of sketching plans with pen and paper. "We program those drawings into the CNC where they can be transferred directly to the machines out on the shop floor. Everything's built right and efficiently the first time, and there's very little opportunity for human error."
"Everything's built right and efficiently the first time, and there's very little opportunity for human error."
Efficiency is a key word that comes up time and time again when it comes to Federal Steel's scope of work, along with another word that's high on their priority list – safety. "Our safety compliance programme makes us qualified to work in some of the most stringent environments," Christopher says. "We have a great safety record. We limit exposure to elements and working at heights by designing, fabricating, and assembling as much off site as possible." Federal Steel & Erection Co. are also AISC-certified for bridges, allowing them to do state work on both pedestrian and vehicle bridges. "As an AISC certified building and bridge fabricator we adhere to the latest and most stringent standards of quality and professionalism in the service we provide."
From their home in Illinois they recently completed the Pipeline Bridge, a 22,000-foot modular bridge project for a Midwest refinery client. The largest single span of the bridge was 315 feet spanning both road and levy. Federal Steel & Erection Co. have become leading experts in this scale of project during their 45+ years of experience in the field, and when asked about the Pipeline Bridge Christopher says "the picture really speaks for itself."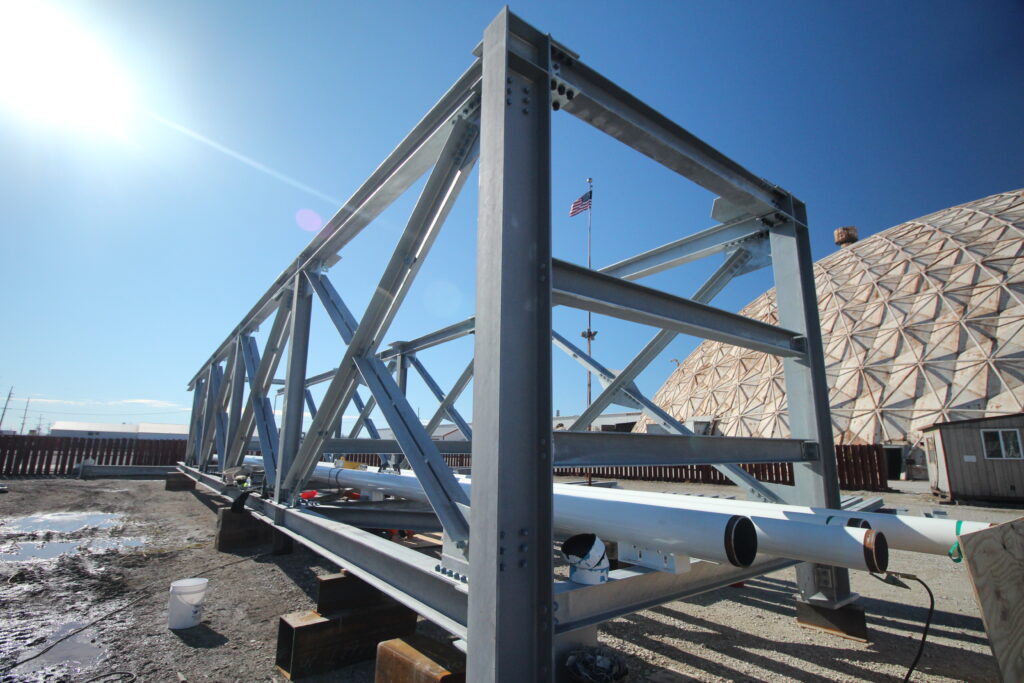 When it comes to service, Federal Steel & Erection Co. offer a one-stop-shop with a full-service philosophy. Whether it's a pre-engineered metal building or structural platform, Federal Steel consider the owner's end goal and find the most economical and efficient process to get them there. "We really want to take the stress off owners and general contractors. When it comes to steel, we want to be able to take the lead and minimize the impact on RFIs. Our full-service philosophy gives us the full gambit to coordinate the fabricating and erecting so that there's no holes in the scope, no surprises, and nothing shows up late. Having that control helps with cost, scheduling, coordination, connection designs and modulation. We can really get ahead of things and get the job done right."
Federal Steel & Erection Co. handle a wide gambit of projects "from as little as one piece of plate to thousands of tons." To accommodate such projects they've got a state-of-the-art fabrication facility that is 400,000 Square feet under roof and 7 acres, with an assembly yard where they modularize projects before they ship or store them if they're ready ahead of time. The facility is conveniently located in the Midwest with close proximity to major highways, rail terminals, and Mississippi Barge docks, which allows them to ship large structural modules all over the world. They've recently shipped projects to Ireland and the US Virgin Islands, to name a few. Of the facility Christopher says, "We're not the biggest shop in the world but we can run with the biggest shops in the world."
The scale of Federal Steel & Erection Co.'s fabrication facility is a reflection of the wider growth of the steel industry in North America, where the average warehouse size today is almost double what it was ten years ago. "These warehouses you see popping up everywhere are a big indication of where the industry is going," Christopher says. "Everything is getting bigger, schedules are getting tighter, and there's a lot more delegated design which we're perfectly outfitted for." When reflecting on what the future looks like for Federal Steel, Christopher recognizes the key role that this growth will play. He says that as a company they are very competitive and very eager to do all they can with their resources in an industry that shows no sign of slowing down.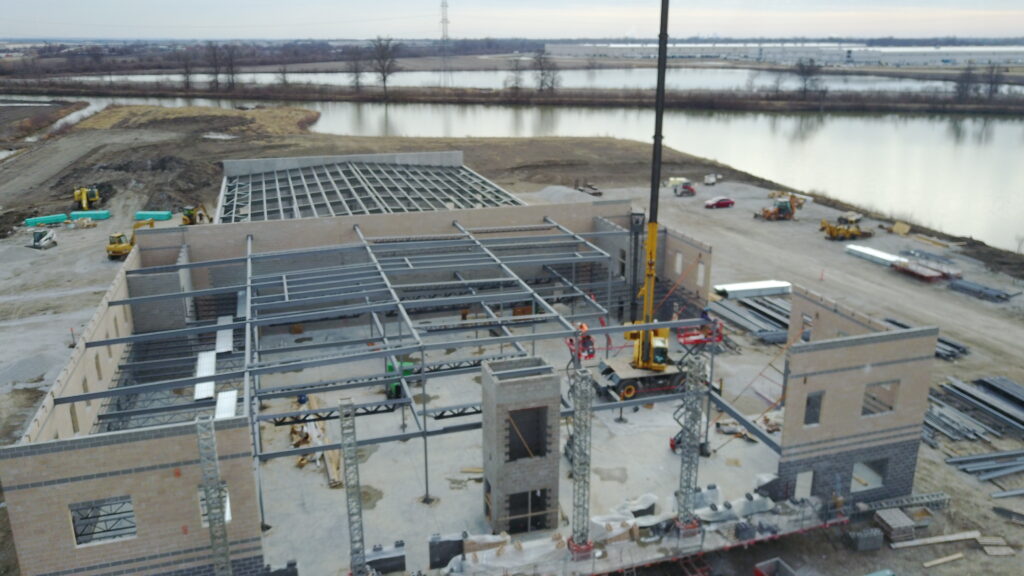 Touching on the pandemic, which no construction company has been fortunate enough to sail through unscathed, Christopher says, "the current supply chain challenges have presented plenty of opportunities to think outside the box. Some schedule sensitive projects now need to be designed around long lead items, and price hikes have us looking at alternatives to keep clients' projects within budget and often saving money."
Christopher also talks about North America's aging infrastructure, and how Federal Steel's maintenance experience in this area is invaluable. These maintenance services allow Federal Steel to refurbish existing structures, extending their life cycle and saving the owner huge costs. "We can come in where there's a corroded beam or where there's fire or storm damage and replace what's needed. We have the resources to detail out, fabricate and erect a fix for this type of job, often making an old building or platform look like new."
"We're diversifying the types of projects we pursue as the landscape of construction changes," Christopher says. "Fabrication and erection equipment never stops evolving. We'll continue to grow and develop as demands are always evolving from shop fireproofing, painting galvanized steel, delegated designs, and the ever-changing module." The future of Federal Steel & Erection Co., wrapped up in a single word by Christopher, is "bright."