Commercial Contracting Corporation (CCC) not only builds facilities but installs production machinery, tooling and other equipment for automotive and other manufacturing markets. Solid, dependable and ready to step up when needed, this is the sort of partner you want to have by your side. Over the past seven and a half decades they have continued to push the envelope when it comes to quality and reliability, safety and more, whilst retaining – and strengthening – their core values.
The company was established in 1946. Its predecessor had helped General Motors convert their automobile production to aid the US war effort. As Matt Stone, Vice President Business Development of the company explains, after the Second World War the reverse was the case; they became central to the restoration, creation and refitting of new manufacturing plants.
"The automotive industry was booming," Matt points out. And CCC "travelled the country with the customers in order to meet the insatiable demand, building the plants and installing tooling inside." In these, and subsequent years, the company forged what would become a stellar reputation as a "go-to" partner for reliable results, no matter the challenge.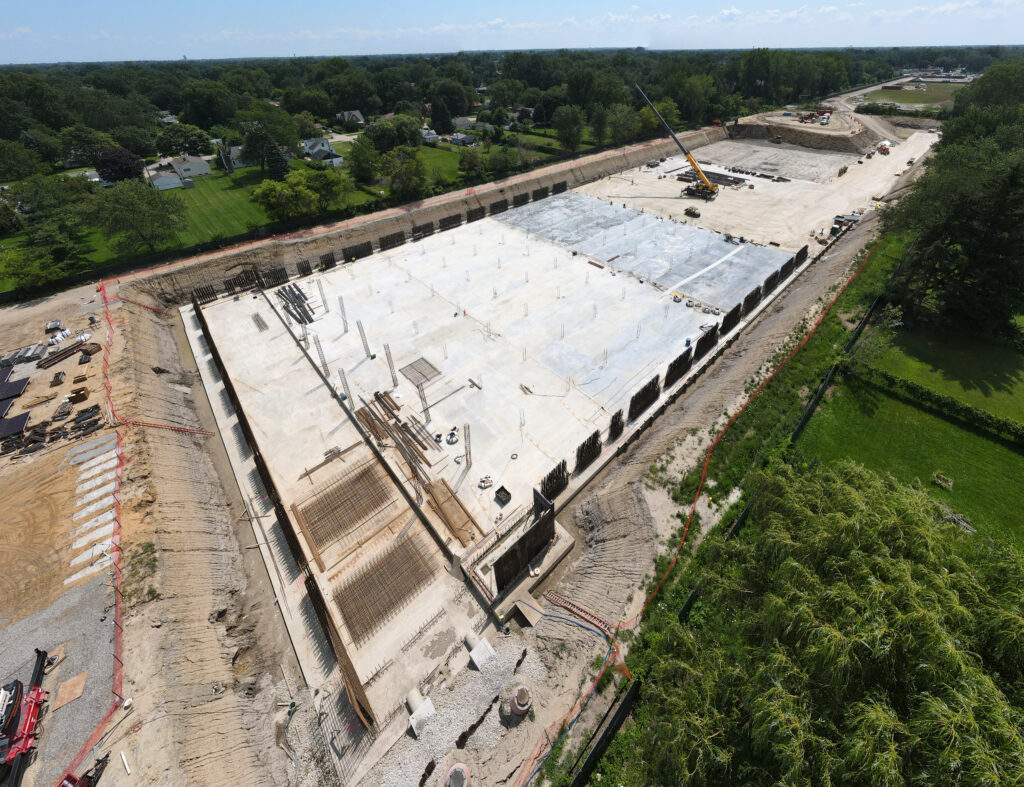 In addition to extensive expertise with automotive projects, their commitment to quality, dependability and going the extra mile has helped them become a trusted contractor within many other market segments too. Now, CCC is a full-service contractor offering a range of services that cover each step of the construction and the equipment installation process.
As with any great operators they can tend to make it all look easy. Yet, CCC is actually renowned for embracing difficult and challenging projects. Whatever it is, they will get the job done for their customers, "The 'can-do' attitude combined with being prepared to go the extra mile all ties into a lot of repeat business," agrees Executive Vice President, Joel Lewandowski.
The company works in a number of areas now: Concrete, Steel, Interiors, Construction Management, Installation and more. CCC's subject matter experts apply learnings and best practices from multiple markets to deliver the best value engineering, construction means and methods. "We self-perform concrete, steel, carpentry and the millwright and rigging activities," explains Joel. "On a greenfield project that allows us, on the building side, to control anywhere between twenty-five and forty percent of the project with our own trades."
Says Joel: "After automotive we probably do the next highest volume of work in Wastewater markets. We are branching out into Food and Beverage too. It is similar in ways to Automotive – when you are actually making something. We do a bit of refinery work as well and we are in markets that are growing – the electric battery movement in the auto world for example is positively impacting our business."
"We are based out of Michigan with a strong presence in Indiana", says Matt Stone. However, he is quick to emphasize that, like any organization that values its relationships with clients, there are no geographical binds.
Most of the work comes from the US Midwest. "We are based out of Michigan with a strong presence in Indiana", says Matt Stone. However, he is quick to emphasize that, like any organization that values its relationships with clients, there are no geographical binds. "We go into Ohio, Illinois, Kentucky, Missouri. Of course, having said that, we travel – with the customer – beyond this region. Customers bring us to other markets; we are in California right now, for example, and North Carolina too. Our customers are there. We also have a large operation in Mexico as well. It is mostly auto work there and lately we have been getting more into civil construction there too."
"We also work in the higher education and university market," adds Matt Stone. "It is more on the building side – as generally, they don't really manufacture anything. And so, a major project here has seen Commercial Contracting Corporation selected by the University of Michigan to provide General Contracting Services for the William R. Murchie Science Building Expansion."
This success was a considerable feather for the company. It is the largest on-campus investment at the University of Michigan Flint, in quite some time. As a result, and quite unsurprisingly, the project had "a lot of attention on it," says Joel. "We worked through a number of Covid challenges and were able to successfully add onto that building and tie into the existing structure." The project allowed the University of Michigan's Flint campus to greatly expand by adding more than 61,000 square feet and a third wing to the Murchie building which houses the majority of STEM programs for the campus.
Never ones to shy away from a challenge, the project consisted of a 4-storey building expansion. Matt Stone further explains: "Our scope of work included small modifications to the existing building, new building expansion including classrooms, offices, laboratories, new substation, AHU's, chiller and generator. Exterior site upgrades included site concrete, landscaping, pavers and water features."
CCC was able to self-perform the concrete foundations, structural steel, SOG, SOD, and carpentry, including installation of exterior structural panels, metal stud/drywall, doors/hardware and millwork. They utilized many LEAN Construction techniques driven by their Innovation Committee.
A LEAN Construction technique utilized here was prefabricated exterior wall panels. By utilizing prefabricated, offsite-manufactured, exterior wall panels, they were able to reduce their schedule by a deeply impressive 55 days. While foundations were being installed, they were building 210 exterior panels in a factory. The walls were delivered to the site and required less time to install than conventional framing, improved site logistics and allowed for safer work conditions.
Not surprisingly, the long-standing relationships that have been fostered down through the years play a central role at CCC. "GM started us in business, and we are loyal to them to this day," says Matt. "When Covid hit and GM went into manufacturing ventilators they tapped on our shoulder to help transform a facility in Kokomo Indiana." CCC mobilized its construction team to renovate over 100,000 square feet of facilities spread over three floors.
Construction of these clean room environments involved demolition of the existing area's flooring, walls, ceilings, HVAC and electrical systems. New construction included plank flooring, walls, new process piping, new ductwork and diffusers, new ceiling grid, new electrical infrastructure including +1,000 CAT5 poles, installation of +600 tables and steel hitching posts. CCC self-performed all concrete, selective demolition, interior trades, millwright / rigging and equipment installation. In addition to this already impressive list of tasks the company managed to execute, it also had oversight on subcontractors for mechanical, electrical, fire protection, painting, signage and flooring. The work was completed with evolving safety procedures and protocols to safely work amidst the COVID-19 pandemic.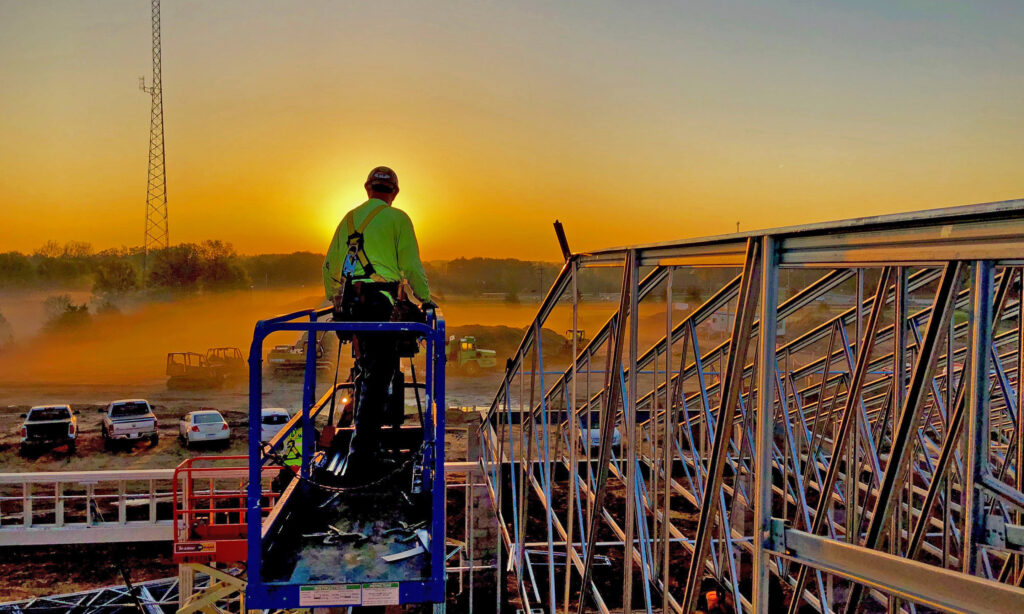 On the subject of the pandemic, Joel says that "roughly ninety percent" of projects were shut down. "We could carry on with the handful that were considered essential, such as GM's Kokomo project. Meanwhile, there was a core group of us that never left this building and never let our guard down – always working to stay ahead of requirements."
One of that core group was Steve Wall. Steve is Corporate Safety Director. "Safety has always been hugely significant here", he says. "Michigan OSHA is your bare minimum requirement – but we do a lot above and beyond the bare minimum."
As anyone that had attempted to stay in business over the past two years can attest to, finding and maintaining a balance between safety and remaining financially viable is an enormous difficulty. By focusing on the wellbeing and safety of staff, CCC managed to do both. "The challenge during the pandemic was to keep people working", Steve says. "We put a response plan together and sent it out to all so that everyone got the same information. We had a health questionnaire and that meant everyone had to take stock of their own condition before entering the job site. To track that it was a simple scan of a QR code, and they entered their information each day, so we had an electronic record of it. We handled sub-contractors as well.
"We had a safety observation card program already in existence; so, we developed new cards that dealt with covid-specific areas. All people on the job site had eyes on the covid sensitive areas to make sure we could control that.
"While, traditionally, an orientation is face-to-face on a construction site, we were able to develop orientations electronically," adds Steve. "This minimized that interface dramatically and helped with productivity too. We also developed some inspections for cleaning – people use common tools, so when someone used a tool there was a disinfecting process. In break areas we spread out where people could sit. A cleaning crew would come through after a break and we staggered breaks and lunches.
"Among the biggest things were our electronic orientations and the health questionnaire. That streamlined getting people onto site with the knowledge they still needed, and we were able to manage it."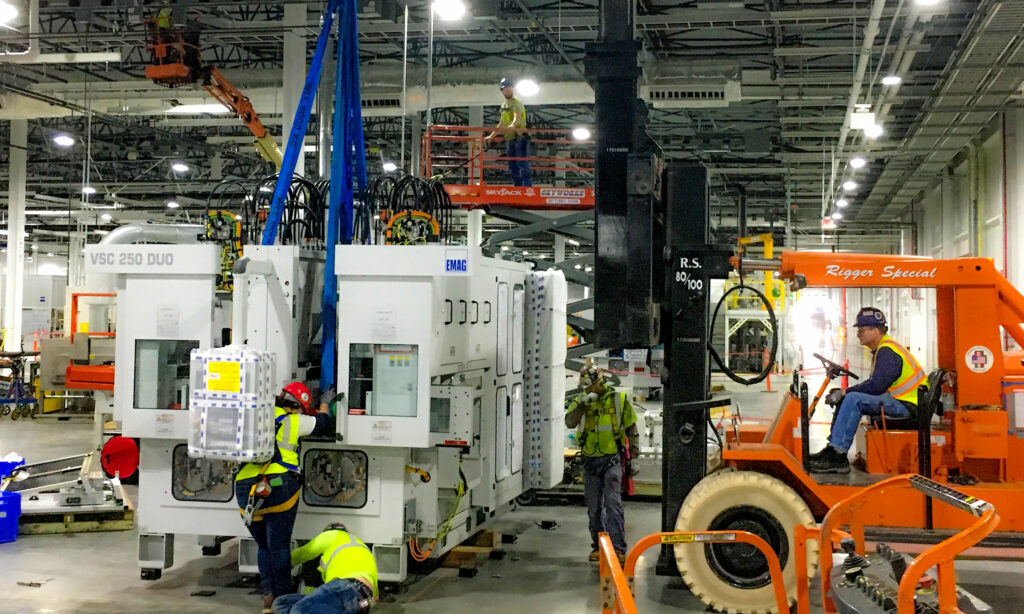 Clearly, managing things is something that they do well here at CCC – and right now they are looking forward to a solid and exciting future. That's partly because CCC stands upon a really strong foundation – and yet it's never been prepared to simply rest upon that. The goal, growth-wise, is to be a 500m dollar contactor by 2025. "We looked at diversification and at acquiring other contractors, but we figured out that we want to do this organically," says Matt. "So, we are looking at opening up a couple of satellite offices outside of Michigan where we are already strong and have good relationships."
"The construction side of the business is doing great," says Joel. "I see the construction side as the one that will really get us to where we want to go. Along with the Mexican operation too. They started taking on more traditional construction work a few years ago and I definitely see growth there too."
Another aspect of the company that sets it apart from its competitors is the community spirit that permeates everything that CCC does. The company is now an ESOP, Matt points out. "It helps a lot of folks financially down the road." CCC also tweaked its mission statement "to focus on people", Matt explains. Further proof of this focus is to be seen in a slew of local top workplace awards – and for 2022, a top Workplaces USA award, in its size category, issued by Energage. "People like working here," says Matt. "It is a family environment with a traditional ethos and traditional values."
These are among the central tenets that will not change here and are an illuminating example of the work that CCC does internally. Happily, Joel clarifies that this is not limited to those within the organization, however. In fact, something the company is incredibly proud of is going further for the client also. To conclude, Joel Lewandowski sums up: "We are a customer-based contractor that is into loyal relationships and will go anywhere with our customers to do the work.
'We have a great portfolio and great teams. We are positioned well to ride the upswing.'