It takes a village to raise a child is a phrase that has taken on many different meanings over the years. Used in the context of construction, the phrase refers to the collaborative effort involved in taking a project from design to completion. Easling Construction recognizes the many different skills and expertise it takes to build a home, and as such have built a business model that allows them to do most of their work in-house. A whole village under one roof, in a sense. From concrete work and carpentry to painting and insulation, Easling Construction offer a 'full package' service that achieves efficiency and consistency across the board. "It's pretty seamless," says Marty Easling, President and Director of the Northern Michigan based company. "There's higher quality, better scheduling, efficient problem solving, and we're not relying on subcontractors." That's the Easling difference.
Marty Easling started Easling Construction in 1976 as a one-man team specializing in commercial building. About two years later and in search of a more challenging line of work, Easling Construction made the move to custom residential and have been specializing in that ever since. Today, Easling Construction is 100% employee owned through an Employee Stock Ownership Program (ESOP) and is one of Leelanau County's largest private employers. With a team of almost one hundred people, Easling Construction are responsible for many of the custom builds on the Northern Michigan Peninsula.
Northern Michigan is an area in which vacation homes have always been a hot topic. "It's a different market," Marty says. "90% of the homes we build are second homes, not year-round." It is this type of housing market that has Easling Construction's employees at their busiest during the winter months, when they're on the ground working hard to get remodels and new-builds completed by Spring. As Marty says, "They don't want to see us in the summertime."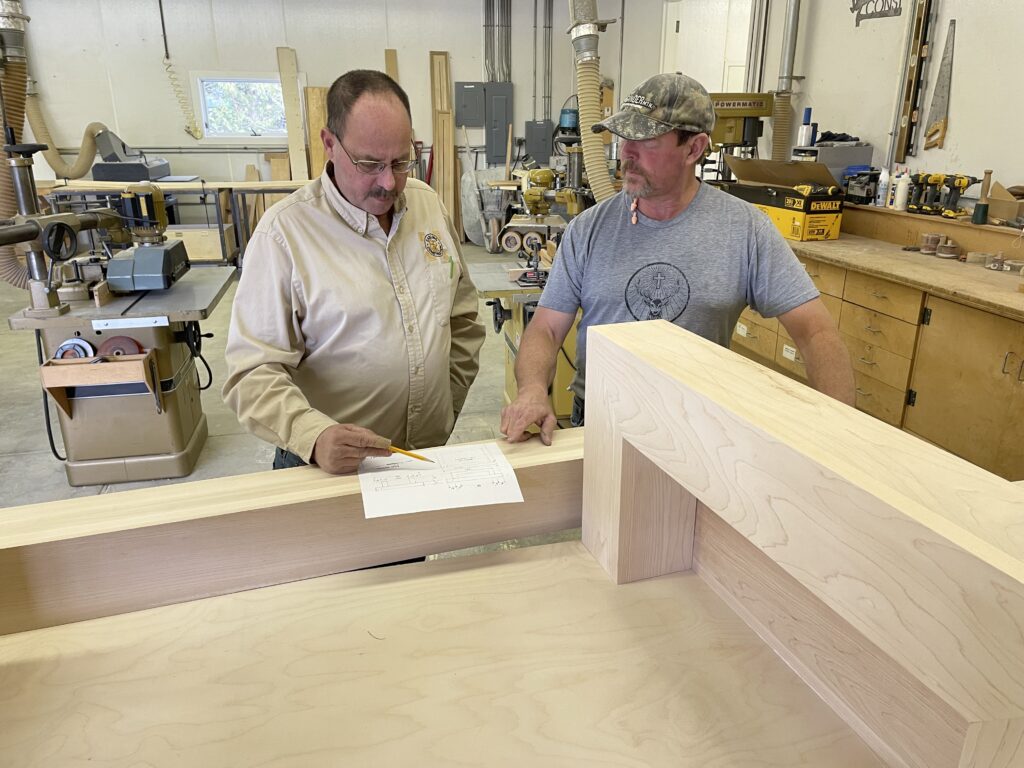 Now that they've been in business for over forty-five years, Easling Construction strive to keep things interesting by finding challenging projects to add to their portfolio. They recently completed a cottage-style home on Lake Michigan that is unlike any of the other lake-front homes by which it is surrounded. "Typically, the homes there are more Lake Michigan style with white painted trim and shingle siding. This was all timbers. Every wall was log siding or barnwood panelling, all wood. The beams were reclaimed from the salvaged material from barns we tore down. There was a lot of stone too – not native stone but stone from Idaho and Montana." The build was a refreshing change for the Easling Construction team as well as the architects, all of whom specialize in lake-front homes with painted trim. "It was a different avenue for us all," says Marty. "And challenge that turned out very well."
"Now that they've been in business for over forty-five years, Easling Construction strive to keep things interesting by finding challenging projects to add to their portfolio."
Working with wood is something that Easling Construction have mastered throughout the years, and that mastery was the catalyst in the opening of their own in-house cabinet shop. The Easling Wood Shop, which is operated by highly experienced craftsmen, is capable of making virtually anything you can imagine. If your dream home calls for a hand-crafted staircase or a unique coffee-table, the same company that are doing your concrete work and insulation or fitting your hardwood floors, have got you covered. It's a service that's rarely offered by your run-of-the-mill construction company, and another element of Easling Construction's make-up that drives their success in Northern Michigan.
In the construction industry there are some challenges that are embraced, like taking part in offbeat projects and operating an in-house cabinet shop, and some that are a little harder to swallow, like the challenges that come with a global pandemic. This has been especially true for companies operating in Michigan, where construction work was not awarded the 'essential' status it was in most other North American regions. "At first we thought we were essential and then the Governor shut us down for seven weeks, and that hurt," says Marty. Seven weeks may seem insignificant in the grand scheme of a two-year pandemic, but in the construction industry where projects are made up of so many moving parts, it's enough to stir operational chaos.
Easling Construction have experienced first-hand the difficulty in completing projects as seamlessly as they once could. Not least of the challenges inflicted on the construction industry by the pandemic is the supply chain, which Marty says is "completely crippled." He gives the example of windows and how their delivery time has moved from four weeks to eighteen, "And even that gets extended," he says. "We're just trying to order as soon as we get a decision, and we're pushing for decisions more so than ever before so we don't have these hold ups." Where before the pandemic fixed-price contracts were commonplace, Marty says that now "it's impossible to enter into a fixed- price contract if you don't know what materials are going to cost or when you're going to get them."
Aside from the supply chain, the pandemic has also presented major staffing issues to overcome. Marty speaks of a new normal in which during the waves of covid infections it became common that "every time we go into the office there's at least five or six employees calling in to say they've been exposed." With an employee count of around one hundred employees this equates to five or six percent of the Easling Construction workforce, a significant number when it comes to delivering projects efficiently.
While it's business as usual for some industries after a period of closure, in construction it takes a great deal of time, effort, and resources to get all of those moving parts that make a successful project to once again align. "It's something we're still trying to catch up with," says Marty, echoing the shared struggle of an industry that appears from the outside to be booming.
And it is booming, in a sense. While Easling Construction are doing all they can to pick up the pieces post-pandemic, they are simultaneously reaping the rewards of new lifestyle trends in North West Lower Michigan. "People are moving away from urban areas into rural areas where we are," says Marty says. "They're either operating from home or have changed their whole occupation. A lot of the people we build for have offspring who are moving to these areas with their parents, so we're putting up second cottages to main cottages or additions to homes to accommodate extended families." Marty speaks of how Michigan is an area that has always treated Easling Construction well while also recognizing these new trends as a definite boom – one that's keeping them busier than ever. "It's a trend that's not going away," he says, "and one that could change the whole environment."
It is these trends that give Marty an overall positive outlook for the future of Easling Construction, despite the challenges they've faced over the past two years. "It's possible that the homes surrounding us, which are mostly seasonal villages, will become more year-round when people start to spend longer in them." The positive impact that this may have, not just on the construction industry but also on the tourist industry and the wider economy, is unheard of in our time. As one of the finest custom construction companies in the area, Easling Construction have no small part to play in accommodating these ever-changing demands and redefining the infrastructure of the Northern Michigan landscape.