Power and Construction Group (PCG) is a "vertically integrated" utility construction company according to Executive Vice President and Owner, Pete Wierzba. Pete explains how the utility industry in New York State is heavily unionized, but PCG is different; it is a merit shop, and its employees have a steady payroll. The company do not take on a lot of large projects, focusing instead on choosing smaller ones that are more suited to the size of the company.
The company states that it –and many other merit shop companies—will not bid on any projects with a PLA on it, feeling it is unfair to win work on a project and be "forced to use a percentage union labor that we don't know and keep our own employees home." According to Vice President at PCG, Thomas Murphy, all this achieves is a reduction in bids which ultimately drives the cost of the project up for the taxpayers.
Through multiple divisions, PCG "provide a complete solution" and can do everything for the customer. The company can also provide aggregates, with Pete explaining that PCG can "work with the customer for concrete or other considerations" such as gravel or sand products that suit their needs. PCG make its own specialty products as opposed to going out to the market and finding them, with Pete stating that the company "try to provide that integrated solution that we can handle so a project manager can deal with just us rather than 5 subcontractors – we can provide that complete solution."
PCG has multiple divisions within the company, including:
Electric
Traffic (handles intelligent traffic systems such as sensors)
Gas
Civil
'Subway' (focusing on conduit systems (manholes, underground wiring))
Transportation (delivers and stores material for customers and can implement a railroad sitting next to the Jobsite or customers bunks at service centres for ease.)
Inspection
Environmental (supporting not only the crews but also customers with small scale environmental needs)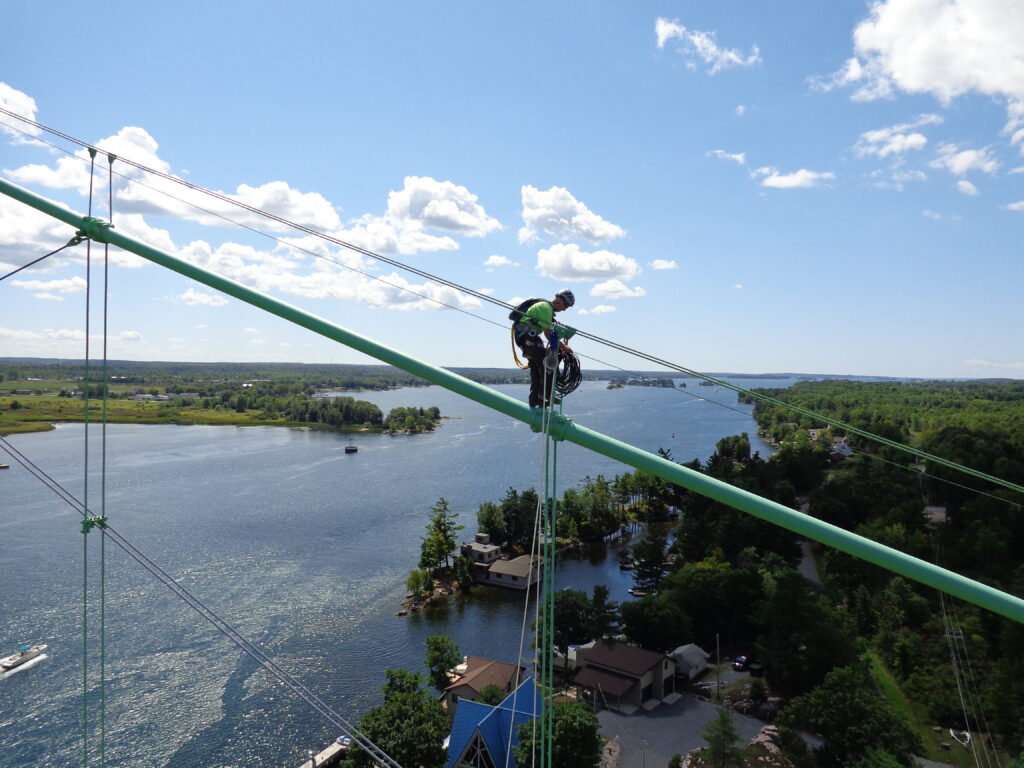 In addition to all of this, PCG has an aggregate division which it acquired in 1983 called Valley Sand and Gravel. Valley Sand and Gravel produce New York State DOT material for concrete and asphalt plants while also supplying materials for gas and water mains and storm sewer pipes. Thomas describes it as a diverse plant with a variety of products, with its focus being a support tool for the overall business. "We supply back to PCG for their needs and then to the big concrete national companies that are in the area." Valley Sand and Gravel built a new state-of-the-art PLC controlled plant five years ago, meaning the plant can be run by just five people, an advantage in its effort to supplement the divisions within PCG.
Valley Sand and Gravel also get into specialty work, having recently designed and made thermal sand (high resistance sand) of which there was none in the market. This willingness to engage in such thought-provoking projects is something that sets the company apart from its competitors with Thomas stating "like PCG, we will take on those challenges as a company that other people don't want to." Thomas goes on to state that, for the company, "our diversity is our strength." This comes from the ability PCG has to be the "one-stop-shop" for contractors and is something that sets them apart, alongside the fact that, according to Thomas, many other companies don't want to do the work they do and wouldn't take on the specialty work they do: "that's what separates us, we believe, from the other contractors."
According to Thomas, longevity, as the company's president Scott Ingle says, is about the people. With a company focus of upskilling and promotion from within its own ranks, PCG strive to hire qualified people and train them in other areas to increase their ability to move within the company. Thomas states "we look at our people as the most important part of our organization," explaining that the people the company hires are integral to its growth: "We look at how do we grow as a company, but it starts with the people. Anybody can buy the trucks and equipment we have, so it really is the people." Pete explains that PCG's philosophy focuses on being a "good place to work" providing people with opportunities to excel while focusing heavily on safety. PCG get a lot of their prospective employees through referrals or from people who have worked for other companies but have found a "home" at PCG.
"With a company focus of upskilling and promotion from within its own ranks, PCG strive to hire qualified people and train them in other areas to increase their ability to move within the company."
Pete explains that within the company there are a lot of very talented people who can think creatively, work hard and work safely – something very important to the company's ethos. With an approach to problem-solving he describes as "entrepreneurial," Pete explains that this means "putting people into a situation where they're equipped, they have the right experience." By way of example, he notes the instability of projects and how anything can change on a job at a given moment. Pete believes that, because of this, "you just have to trust people to make good decisions, and you do that by equipping them with the right tools, training and support." The company has an excellent track record for safety – providing solutions to customers without injuries, accidents and disputes, something which Pete credits to the company's "stellar" workforce.
Yearly in December, the company hold an employee appreciation luncheon where they go over PCG's safety record for the year and speak about "what is going on with ABC and other company news." The owners also give out profit-sharing checks to all employees, with Thomas explaining "as a company we believe all the employees are the reason for our success so that is why it is shared back with them."
Thomas explains that it is this community led culture at PCG that makes employees want to stay, describing it as a key component of why they continue to grow in such a progressive fashion. Pete describes an environment where it is no uncommon to see the company President in a bulldozer pushing dirt around, explaining that "there is an approachability to management – even senior management" with everyone on a first-name basis, adding that they are not big on formalities. Thomas follows up by explaining that, when in need, one division can call another division for advice or help, saying, "nobody is trying to step on somebody else to get better – everybody is helping."
Thomas said, powerfully, "We call ourselves a team because we all step forward together."
Pete explains how PCG is not a very "showy" company, and "not much" for titles, hierarchy, and structure. Recently however, the company have been named one of ABC's Top Performers after having participated in the STEP program for the past seven years. This is a proud moment for the company as, according to Thomas, the criteria for getting this honor is very strict. PCG take a lot of pride in their safety, with STEP pushing them even further, making them become a better company according to Thomas. Becoming an ABC Top Performer puts them in the top 200 of 14,000 ABC contractors rating number 76 overall and number 10 in specialty contractors. This recognition is something that the company have been striving for "all along."
Thomas explains that this achievement is very important to the company, explaining "it's something we're proud of and every single one of our employees knows that they are part of a team that's one of the best in the country," describing how their employees wear PCG branded clothing on personal days and at weekends: "that says a lot. It means you're proud of your company… we wear it with pride."
In terms of standout projects, Pete explained how for PCG, their standout projects are the day-to-day ones as opposed to the handful of larger projects that they would get yearly, saying "I'm [prouder] of all those other projects adding up to something, rather than just one here and there."
The company are constantly looking for growth opportunities through their strategic business plan, but will only expand into areas that fit with what they do, describing it as a "controlled growth." This measured approach ensures that the impeccably high standards the company sets can be maintained on every project it commits to. As Thomas explains, they are not afraid to take on challenges, but being stretched out and not being able to provide the same quality of work is something they are not willing to consider. "What we deliver to the customer is so important to us that we will not take on something unless we think we can do it right."