A long and proud history contributes to the solid foundation upon which Plattsburgh, NY's Luck Bros Inc. has been built. What's more, this fundamental tenet –the base upon which everything stands— is something that everyone connected to the company is acutely aware of. It has allowed them to scale significant heights over the past half-century and more across both the municipal and commercial construction industries.
"The company that Luck Bros Inc. grew out of was in fact started in the late 1950s by my dad James and my uncle Albert", current president, Jeff Luck tells us. Lake Champlain Development Corporation was named for a nearby geographical feature that dominates the landscape in this part of New York State. It was, as the name suggests, an integral part of its community, solidly dependable and intensely proud of the values all of this suggests, in a world where everyone knew everyone and your word was your bond. While so much has changed since then, the underlying sentiments remain resolutely the same.
A decade or so later, in 1969, Luck Bros Inc. was formed as a sister corporation. "That included my father's seven children", explains Jeff. "There were five brothers and sisters running the firm until 2018. My oldest brother retired after serving as president, and my sister retired last April." Soon it will be Jeff's turn to retire – this is his last year at the helm – and he couldn't be happier or more confident that he is leaving it all in good hands.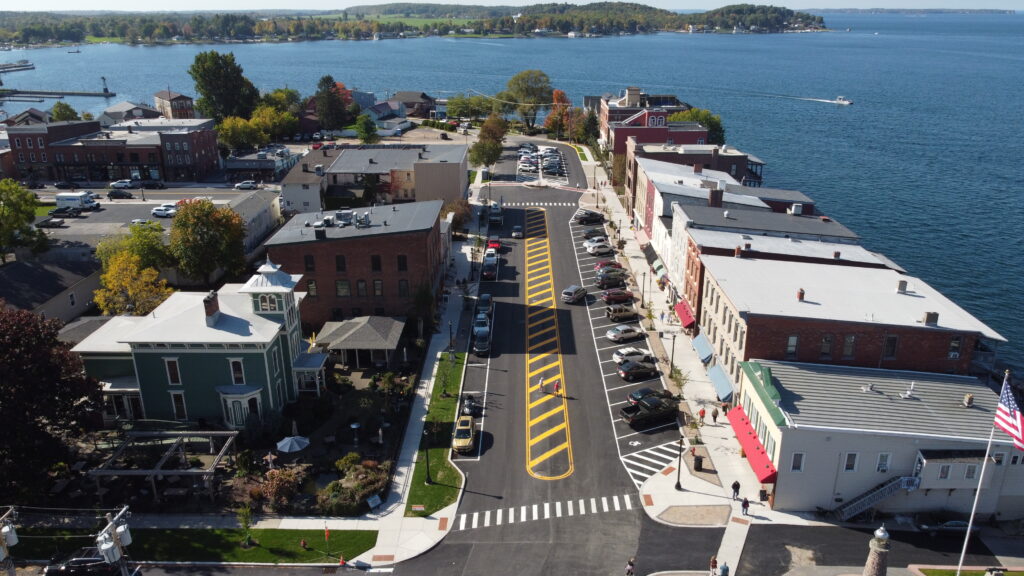 The family of course will still be a part of it all as Jeff's brother, sister, and nephew are now involved, representing the third generation. It's significant, as family values continue to play a major role here – what Jeff refers to as "old-school" values and traditions, which may be interpreted in most cases as simply, "treating people right".
It is an approach that extends to every connection the company makes – from employees to clients, through to local residents and the communities where work is carried out – of which they are often an integral part. Engagement with local residents on projects is paramount, stresses Jeff. "We really make an effort to keep the communities involved in every project, with information about what is going on, for example", he says. "You need to disrupt their lives as little as possible. Often, they are our neighbors!"
When it comes to the clients, it is perhaps little wonder that repeat business is such a factor. "Relationships are a big part of who we are", explains Jeff. "There is a trust there – built up over years." This approach, combined with consistent quality, is clearly a winning formula that has paid dividends.
"Engagement with local residents on projects is paramount."
Nowadays several complementary services are offered to clients under the family name. For starters, Luck Bros Inc. is a heavy highway-orientated general contractor. Its areas of specialization include: bridge construction, heavy concrete, utilities, paving and specialized construction. Jeff explains: "This is where we do our prevailing wage work. In essence, any work funded through taxpayers, has to pay what is called, in New York State, the "prevailing wage" which is the union-negotiated wage – whether union or not.
Luck Builders, meanwhile, is a commercial building firm. Areas of specialization include working on industrial buildings, renovations, hospital retrofitting, new construction of office buildings and multi-family housing. For over thirty years Luck Builders has been known throughout Upstate New York and Northern Vermont for its expertise in commercial building projects.
In addition, a full-service crane and rigging company is operated here for in-house and rentals. Crane operators are NYS licensed and they are, of course, fully insured. Meanwhile, concrete-specialty construction is possible, owing to the previous purchase and integration of renowned local company Corrado Concrete. Across the board the promise to clients is high quality projects, delivered on time and most of the work is completed using their own people.
"We're what you call a merit shop", explains Jeff at this point. "You come to work here and perform on your ability, not your union status." This is an area that Jeff feels passionately about.
As to the changing nature of the business, Jeff explains: "Five years ago we were doing about seventy-five percent highways, bridges and utilities, through Luck Bros, and twenty-five percent commercial vertical. This year it is probably going to be seventy percent commercial vertical, with thirty percent being heavy highway work. We go where the market is and in the last few years it's been commercial vertical construction."
Speaking of the last few years, Jeff says that Covid affected them here like everywhere but overall, it was not too bad. "I don't think we lost a lot of time on any project," he says. Employees contracted it but, fortunately, no one became seriously ill. "On one job, maybe we lost a week," he reflects. And then there were the silver linings…
Which takes us to the village of Clayton and a major project completed just last year. "Clayton, a small, tourist village on Lake Ontario is known for its quaint little shops and restaurants and renowned as an area for fishing and fishing-related tourism. The local economy centers mainly on tourism in fact. They had planned a major renovation project for a number of years that would see a revamp of central parts of the town, including around the waterfront.
"We were there as GCs," says Jeff. "It was in the region of a million-dollar job and work included all utilities with excavations – of up to fifteen feet in depth in some places; there was also landscaping, renovation of sidewalks and more." There were over ten subcontractors. The biggest concern locally of course was how it would all affect their economy – shutting such a large area down – an area that depends on providing access to visitors.
As it happened, 2020 would have been the year of greatest impact when it came to their tourist industry here. That year is, of course, synonymous now with the outbreak of Covid. "We go to work and there is no one there", recalls Jeff. "They saved money as they didn't have to do a lot of temporary asphalt paving, for example. There was a lot less traffic and pedestrian control involved.
"So, we had basically almost all of 2020 without certain obstacles. They jumped way ahead in the schedule and they saved money too in that they didn't have to spend in areas where money was originally planned to be spent due to the fact that that no one was really there."
The job ran from the Fall of 2019 and ended in October 2021. "Our crew would be seven or eight people," says Jeff. "We did the whole project with a crew to a crew-and-a-half. We had a super project manager who really made great decisions too."
That brings us neatly to the people who work here and the attracting and retention of talent. Here there are 120 field employees and another sixteen to eighteen between administration and services etc. "We are one of the larger employers in the area", says Jeff. "We have been around a long time and people are excited to come to work here."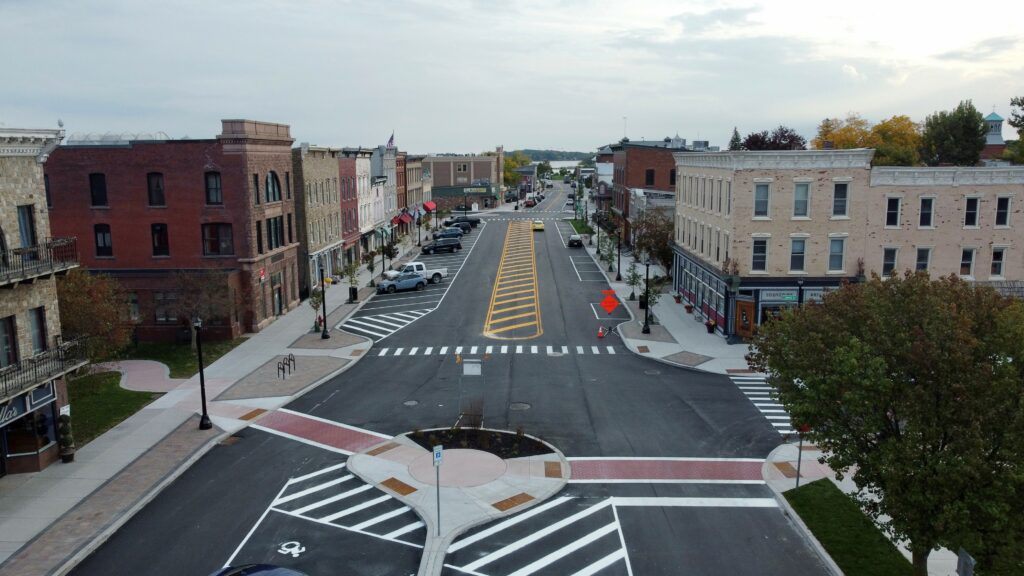 There is no doubting that this organization looks after its staff well. And this extends, naturally, to safety on jobs. This was underlined by a recent major safety award.
"We have a reputation that is impeccable – for both the work we do and the way that we treat employees", Jeff says. "We have grandchildren of former employees now working for us. We hold a bit of a niche where we are, of course. We are not the only ones here – but we have been around longest and probably are the largest."
The combination of the huge respect for tradition and an unwavering eye to the future clearly accounts for a lot of their success. Jeff knows that remaining at the cutting edge of technology is crucial. "You have to invest in it," he stresses. "The digital age revolutionized what we do," he notes, citing areas like GPS by way of example.
Nowadays, the work is varied as it is exciting. "We have a twenty-five-million-dollar building job we are going to start this Fall," says Jeff. "At eighty feet in height it's a manufacturing facility for people who make caps for pill bottles."
They are also working on two farms – this is a largely rural area of course – that Jeff describes as "mega farms". One of the farmers is converting manure to natural gas, says Jeff. "He's providing green energy – really pushing the boundaries of technology. We are doing all the concrete there – literally thousands of yards of concrete. I'd say our specialized concrete is second to none", adds Jeff. "We are really good at that here."
On the topic of green energy, Jeff notes that, for the future, a lot of the work will center on this area. "It's clearly going to be a big part of what we are working on," he says. "Meanwhile we have to pick and choose what we can bid on as we don't have all the resources…everyone is working now!"
And so it is that the future is bright for this Plattsburgh-based company which looks set to be a cornerstone of its community and the wider area for generations to come. "I am retiring as an owner at the end of the year," Jeff reminds us, though he will likely stay involved in an advisor capacity. "I couldn't' be more excited about the good hands I am leaving it in", he says. "We are developing the next leadership team. I am extremely positive for the future." The likelihood is that the firm will be "at least partially, employee-owned". Whatever form it takes it seems that the traditions and values that have underpinned Luck Bros' endeavors so far will continue to hold sway.
Again, it's about treating people right. "Work hard and give everyone the best and don't' break a promise," sums up Jeff. "That was how my dad was."
It seems the original Luck Brothers' legacy is in safe hands.