There is often a disconnect between the skills students learn in college and those they need as they enter the workforce. Architects, designers, and engineers are no exception. Who should prepare these students for the world of work? Is it the industry, or is it world of academia? While this debate is still ongoing, PCI Gulf South, which represents the precast concrete industry in the Gulf South region, has gone on a mission to actively partner with local universities in educating architecture, engineering, and construction management students on the applications and benefits of designing and building with precast, prestressed concrete.
PCI Gulf South is a chapter of the Precast/Prestressed Concrete Institute (PCI). While the national institute based in Chicago is responsible for developing and implementing specifications and standards, the ten regional associations represent and promote the precast, prestressed concrete industry in specific regions of the country. PCI Gulf South, led by its Executive Director Dan Eckenrode, connects all the precast producers, suppliers, and contractors in Alabama, Mississippi, and Louisiana. "My job is to represent the precast producers in the Gulf states. I work to spread the knowledge of what they manufacture and the benefits of using durable, sustainable precast building materials. I'm the connection between lots of moving parts and I work every day to grow a network that serves the producers today and will continue to serve them well into the future." says Eckenrode. After graduating from college in 1987, he began working in the construction industry. "I immediately went to work for a construction company on the ground level. I literally was the guy out pouring concrete, setting reinforcement, setting forms in the field. I've always been very good with my hands, and my dad was in construction, so it just kind of came naturally." After working for several engineering firms and different types of contractors, he eventually settled into a position in operations with a precast company. "I had involvement in every aspect of operations except engineering. I did the estimating, I did the sales, I did the operations. I also did project management and many times all at the same time. I had my hands on the whole bit," remembers Eckenrode. In 2017, after working in the precast field for 13 years, he transitioned to his current role at PCI Gulf South.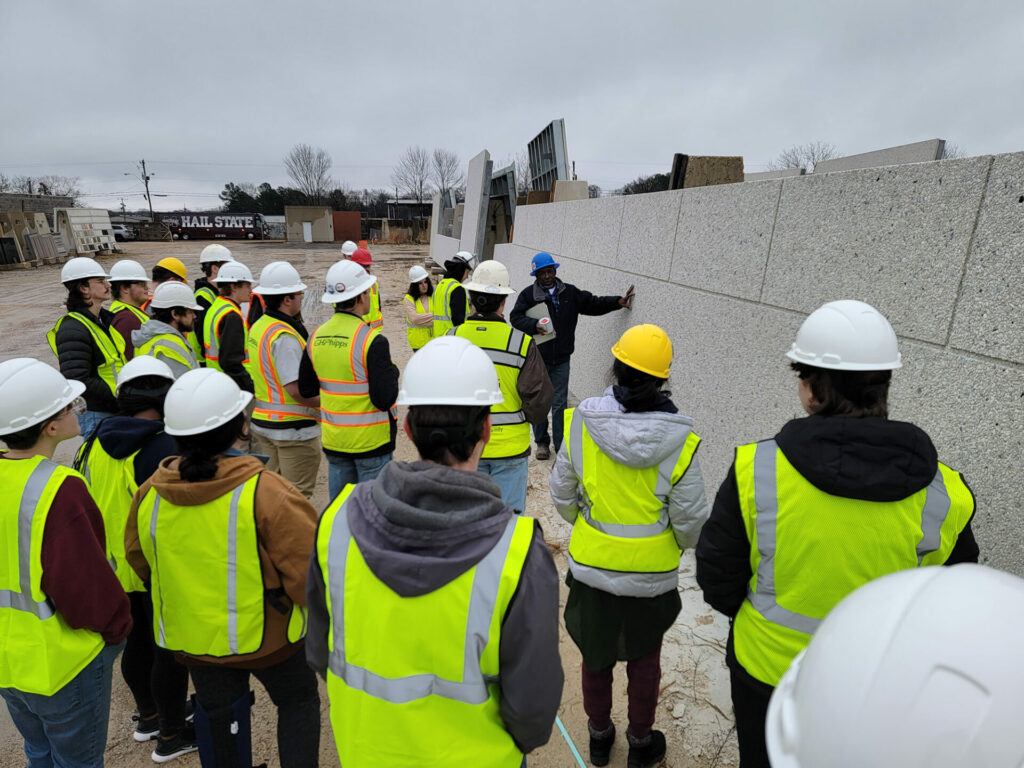 From the day-to-day running of the association to working with associate members and producers, Eckenrode adopts a hands-on approach with PCI Gulf South. Part of the association's job is liaising with the different state DOTs (Departments of Transportation), the American Institute of Architects, and the American Society of Civil Engineers. PCI Gulf South meets with each DOT in the region twice a year and regularly organizes design seminars to update DOT engineers on the latest industry developments. Facilitating relationships between the Gulf states precast producers and the DOT's was such an important goal that the association formed a dedicated transportation committee solely for the purpose of communication and streamlining interaction.
Another essential component of the association's work revolves around providing educational activities for industry professionals and students. PCI Gulf South engages with professionals through lunch and learns, producers' meetings, seminars, and networking events. In 2020, due to the COVID pandemic, PCI Gulf South, in conjunction with other regions launched a series of online webinars to keep all the industry players in the region connected. Going online presented an opportunity for local professionals to liaise with members of the precast industry nationwide. These monthly webinars became so successful that the association continues to host them on a regular basis to this day. Besides being great opportunities for professional development and networking, many of the activities organized by PCI Gulf South provide professionals within the industry with CEUs (continuous educational units).
"Through this process, the students experience what their future role will be when they enter the workforce."
At the same time, PCI Gulf South aims to involve companies in educational activities for architecture, engineering, and construction management students. "Ultimately, the students are going to become future employees of these companies. My viewpoint is, if I was a designer, I'd want to share my input in what knowledge the students are receiving at the collegiate level, so that when they graduate and come to work, they already have a solid understanding of how precast functions." says Eckenrode. This forward-thinking attitude stems from when Eckenrode himself worked as a producer and came to realize that engineers, designers, architects, and other professionals in the construction industry had little or no knowledge of precast concrete. "They had never even touched precast concrete," he says, "so when I accepted this position with PCI Gulf South, I asked my producers to think about this for a second. Is it reasonable to think that you are going to convince a designer that's been designing a certain way for years that now they need to change directions and begin designing with precast? Probably not. That would be a tough sell." With this in mind, PCI Gulf South turned its focus to university and college students and began educating them on precast concrete to prepare them before they enter the workforce.
This is, of course, a long-term project which will ultimately pay off over a number of years, maybe even decades, but Eckenrode is systematically bringing precast education to all the major universities in the Gulf South region. "If there's any failing that my industry has had over the years, it's that we have not planted the seed at a young enough age. So, I want to concentrate on engaging with professors and students." This mission is supported by the PCI Foundation, which funds four-year studio programs in universities around the country. Once a university has been awarded a studio program, PCI Gulf South and the PCI Foundation bring in industry professionals who lecture the students and guide them through all facets of precast. "At Mississippi State, we've developed a pretty healthy program that includes a combination of architecture students and construction management students. I love that dynamic because an architect thinks a certain way, an engineer thinks a certain way, and a construction manager thinks a certain way. We need to have all three valuable insights working together on a project," says Eckenrode, "As part of the studio program, the students work through a project and present a final review of a design which outlines how they're going to build it. That, to me, is the ultimate in education because through this process, the students experience what their future role will be when they enter the workforce."
To date, the PCI Gulf South region has been awarded four studio programs which include Tulane and McNeese University in Louisiana, the University of Alabama, and Mississippi State University. As some of the programs wrap up, Eckenrode is already working with Auburn University and other institutions to get new collaborations going.
In addition to the studio program, PCI Gulf South brings industry into the classroom in many other ways, educating students and professors alike on precast concrete's different applications and benefits. "Professors in the Gulf states have been wonderful. They recognize the importance and value of our collaboration and have welcomed the efforts of the precast industry with open arms."
One of the latest initiatives promoted by PCI Gulf South to bridge the gap between universities and the industry is the Mini-Beam Prestressed competition. Last year, while visiting the ASCE competition in his region, Eckenrode noticed that students were involved in all sorts of design and architecture competitions, but no competition existed for prestressed concrete. With the help of engineers and other industry professionals, Eckenrode came up with the idea of a Mini-Beam Prestressed competition and put together the rules, the judges, and the funds to run it. The proposal was then submitted to the committee of the University of South Alabama, which welcomed the idea. The first competition of this kind will take place later this spring and has already garnered the attention of ten teams who will compete to win a prize for the best designed precast, prestressed mini beam.
Ultimately, Eckenrode sees himself as a combination marketer and educator. His vision for PCI Gulf South is to keep planting seeds to improve communication and knowledge among all the players in the precast concrete industry. With a rich history and years of experience, it looks as though he, and PCI Gulf South, are on the right track.