Innovation and commitment to excellence are pre-requisites for success and sustainability. These are just a few of the traits that have contributed to Swinerton's rich, 130-year history from humble beginnings as a small construction company into one of the most well-respected commercial builders in the United States. Today, the employee-owned company boasts a 4,000-strong workforce spanning coast to coast, and a highly impressive portfolio of projects throughout multiple sectors including office, residential, industrial, education, aviation, healthcare and corporate interiors.
Swinerton is no stranger to economic ups and downs, political shifts or even pandemics. Founded in 1888, Swinerton first entered the market in a time of massive economic growth when industrialization and expansion of the railroad system defined the cultural and physical landscape. Through hard work, expertise and a focus on innovation and workforce development, the company navigated its early years and earned its footing as a leader in the field.
The ability to remain strong in an industry as unpredictable as construction is a testament to Swinerton's unwavering pursuit of superior standards for its partners as well as its workforce. The company is steadfast in its commitment to infusing everything with passion, integrity and excellence. In Charlotte, for example, a multifamily development is benefiting from new technology and sustainable practices as Swinerton builds the second phase of The Joinery. The project consists of two, seven-story mixed-use buildings totaling 360 homes and 15,000 sq. ft. of retail. According to Kevin Smith, Swinerton's Operations Manager for the Charlotte Division, the project is a prime example of the range of products and skillsets the firm has at its disposal. "Not only does this project call for hybrid, cross-laminated timber and a prefabricated structural system with Timberlab, it also features cross-laminated timber horizontal decks, high SEER-rated HVAC systems and energy efficient appliances; and is partially powered by a series of solar panels positioned on the roof of each building."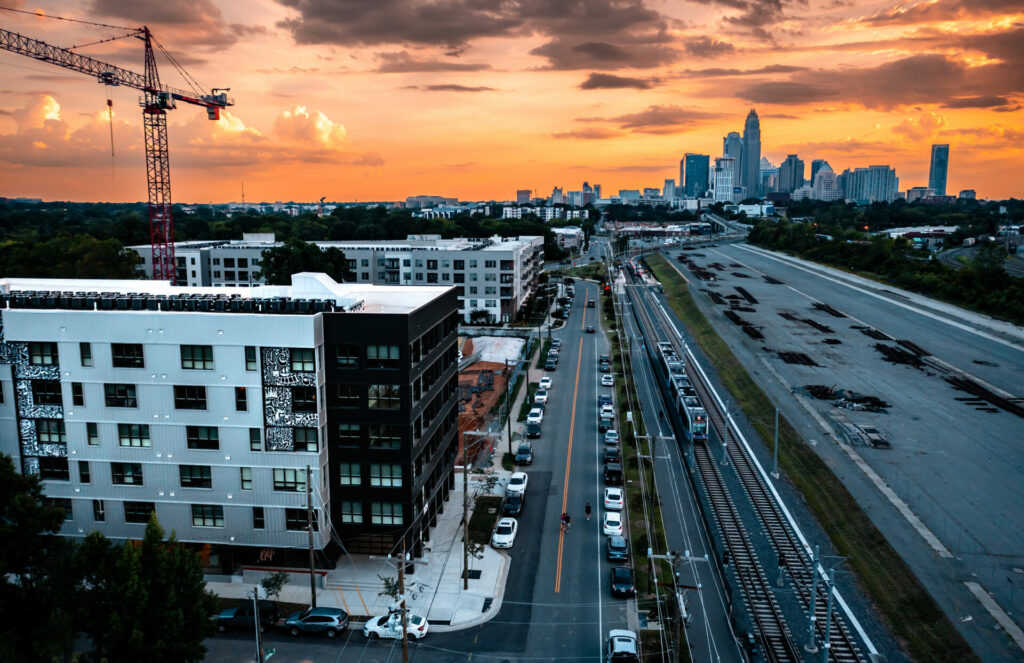 The Joinery is just one example of the Swinerton's innovative practices in the Carolinas. The commercial builder also recently completed the upfit of its regional office space in Station West, located in the FreeMoreWest neighborhood of Charlotte, to house its growing workforce of nearly 100 that includes administrative staff and craft labor who focus on commercial interiors, multi-key, office, mass timber, conditioned storage and industrial products. The new 8,500-sq. ft. office more than doubles the original workspace and features a mass timber mezzanine, skylights and demountable partitions. Smith adds, "The workspace is intended to inspire, both aesthetically and professionally, and create a space for our team that reminds them of the commitment to excellence for which Swinerton is well known."
According to Jared Hoeflich, Vice President and Division Manager, Swinerton's new Charlotte office is a direct correlation to the opportunity that Swinerton sees in the Carolinas region. For Hoeflich, the building is not just a workspace, it is an investment. "The Carolinas are a priority region where we see tremendous opportunity to support our existing partners as well as new clients, and build a talented workforce. We are committed to recruiting and retaining the region's top professionals and offering our team a state-of-the-art environment that showcases not only our investment in our people, but also the quality our company provides our clients and the community."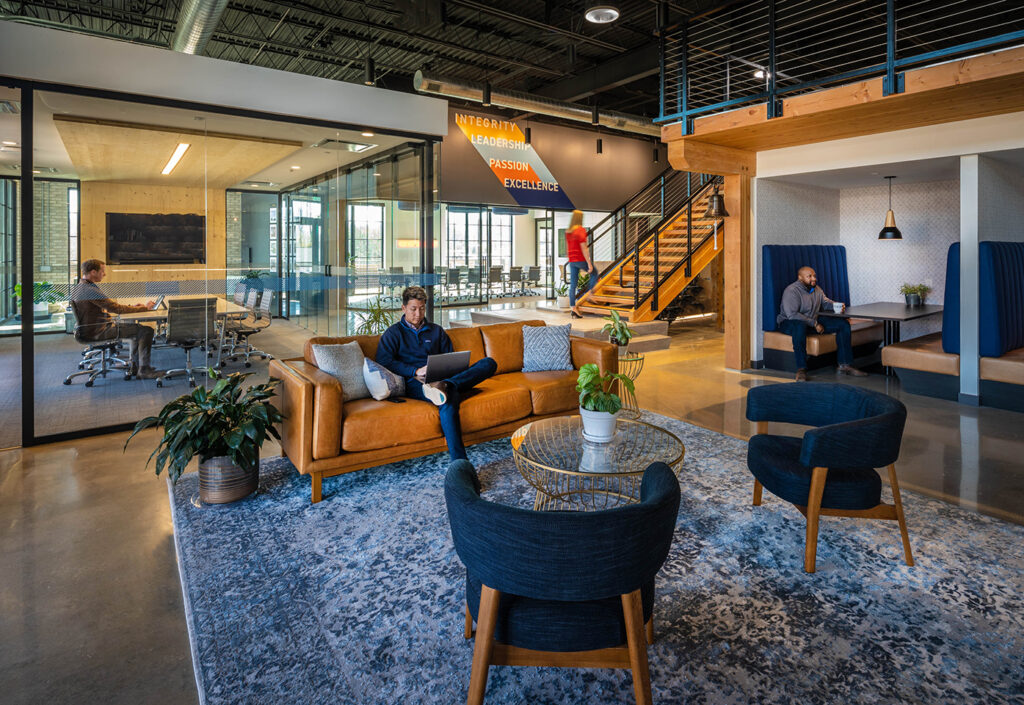 Swinerton's investment in its team extends beyond superior workspace. Since its inception, the company has remained dedicated to the stability and longevity of its workforce at all levels.
Labor issues are nothing new to the construction industry, but Swinerton's employee-owned model plays a critical role in its ability to attract, develop and retain employees. For Smith, this ownership structure creates an unmatched sense of community and dedication throughout the company. "To me, it's not just the financial incentive, but also the ability to make decisions as if it is our own company. It creates an entrepreneurial spirit and promotes decision-making to every level of the company."
"Locally, the construction firm supports ABC Carolinas with its apprenticeship program."
As part of its commitment to filling the construction pipeline, Swinerton offers workforce development beginning with a hands-on internship program that creates a learning environment equipping students and young professionals with the necessary skills to enter the workforce. Locally, the construction firm supports ABC Carolinas with its apprenticeship program. Swinerton's carpentry apprenticeship offers in-depth training that is key to alleviating some of the industry's labor shortages, while also imparting invaluable first-hand knowledge from in-house, skilled tradesmen. Nationally, well over 100 "Swinterns," as they are affectionately referred to, participate in the firm's summer internship and year-round co-op programs. In fact, on average, 90 percent of these young professionals join the Swinerton team.
Andy Abrams, Superintendent at Swinerton, believes in the importance of this program and has seen firsthand its benefits of attracting and retaining potential staff. "It's pretty amazing. If a program like this existed when I graduated 16 years ago, I would have jumped on it. We ensure the program's success by bringing in the right people who have that same determination and desire to learn," he said. "And, one of the things that I'm most proud of is that we treat our craft professionals as we treat our administrative staff. They get health benefits. They're part of the employee ownership program. They have opportunities to engage."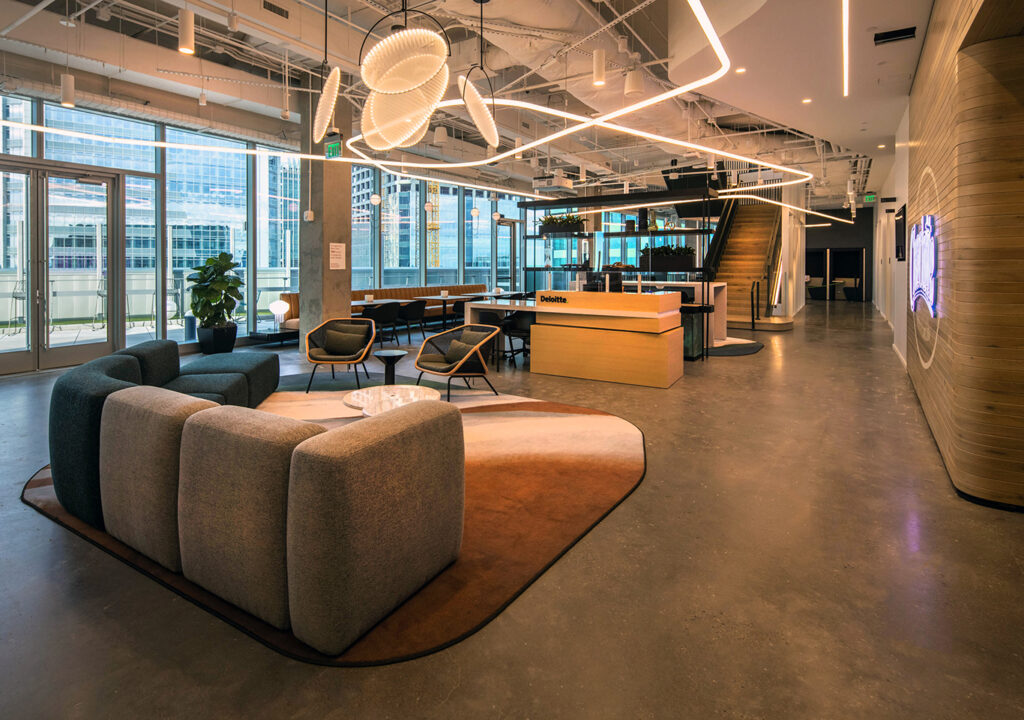 Through this program, Swinerton is changing the narrative around working in construction. Abrams believes, "Traditionally in the U.S., we push people towards higher education, but an apprenticeship program is a viable and valuable alternative. Our four-year program is very structured. Skilled workers start as a paid carpenter apprentice, joining the workforce while attending school one day a week. Every six months, they are assessed and, if they're progressing in the apprenticeship program, they get a raise or promotion."
With innovation and excellence as its standard, Swinerton continues its forward trajectory of growth with its sights set on building on its recent successes in the Carolinas. Lonni Grattan, Swinerton Regional Marketing Director, points to projects such as The Joinery and its Charlotte Office as testament to the quality this company can produce. For Grattan, the company is just getting started. "In the Carolinas, we're heavily focused on commercial interiors in terms of a growth model. These are typically shorter jobs, so we have had great success in earning our client's trust and parlaying that into repeat clients and opportunities with larger, sometimes more complicated, footprints."
To support its forward momentum, Swinerton's executives and leadership team launched its 'March to 2030" campaign designed to intentionally drive the company's growth plans. Through diversification and an unwavering dedication to innovation, Swinerton is poised to stave off the impact of recession, navigate the industry's post-pandemic hurdles, and emerge stronger than ever by embracing and learning from some of the industry's most complex challenges.