Talking to Mike Leathers, CEO of Pipeline Plastics, (PLP), on the occasion of their tenth anniversary, it's clear that the organization has come a long way in its decade of existence. Mike became CEO this summer after three years with the company and is an enthusiastic champion of both the product offering and the role that PLP plays in the industry. In short, he says: "We are providing a product that can make a difference."
Pipeline Plastics is a Westlake-based manufacturer of HDPE (high-density polyethylene) pipe, used primarily for water infrastructure, but is often used in oil and gas, mining, industrial and municipal applications. The end uses for the product involve drinking water, irrigation, mining, industrial, sewer and in the gathering and distribution of oil and gas. Its qualities are well known throughout the industry but, in addition to reliability, it has some great sustainability credentials too. These qualities and reputation prove to be an excellent resource, particularly when backed up and supported by an ISO 9001-certified company dedicated to continuous improvement. Simply put, the people at Pipeline Plastics are passionate about what they do. The result of all this means – as they are quick to point out: You can depend on it. And like the company itself, it continues to surpass expectations.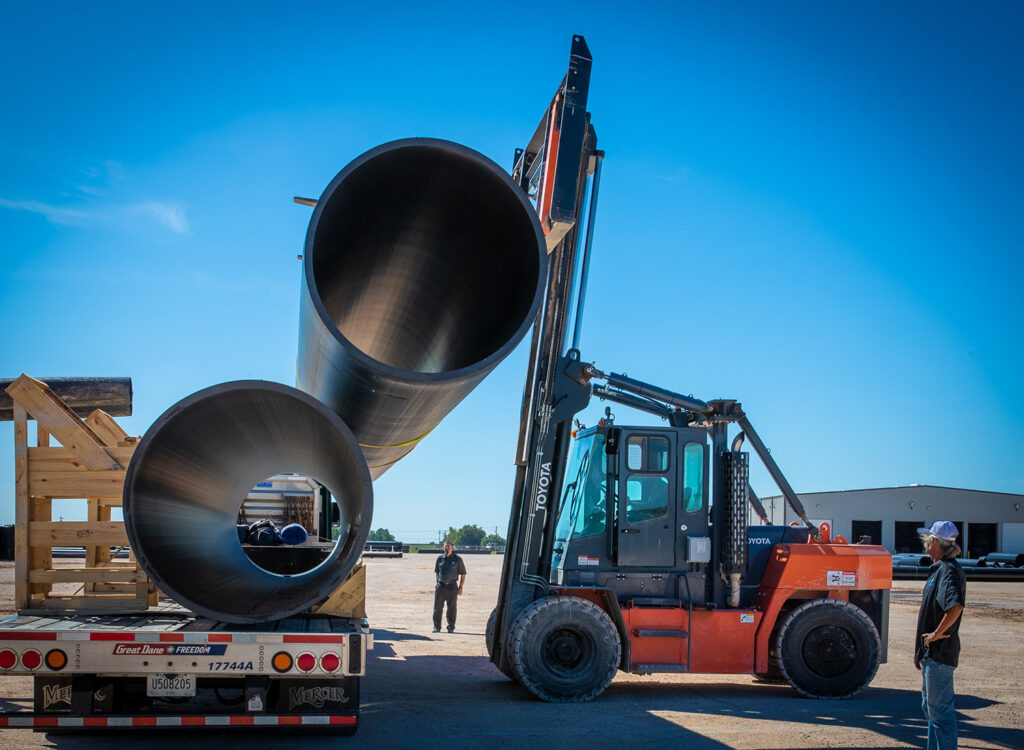 The pipe is joined by heat fusion. This results in a continuous product – without any joints, grouting, or gaskets. It "excels anywhere where jointless application is ideal," says Mike. "So, anything where you don't want leaks or infiltrations." HDPE pipe is not only "ideal for open cut installation but is the predominate choice for trenchless installation methods which significantly reduces the carbon footprint of pipeline rehabilitation and replacement," is the message from PLP. It can also go into existing lines and if there is an old, corroding line, for example, it is possible to take the HDPE pipe and slip it through. It is of course corrosion-proof and can run extremely long lengths. In fact, it is possible to run two thousand feet without having to make another connection, points out Mike.
As a company that prides itself on being easy to do business with, Pipeline Plastics' goal is to be able to meet needs where they arise. Says Mike Leathers: "Our design is to have footprints so we can move capacity around, getting closer to the market. To be able to shift our extrusion lines when we need to." Again, not bad for an organization that is ten years in existence and started as a single plant in Decatur Texas, growing from there to Belle Fourche, South Dakota. Then, in 2014 to Levelland, in West Texas.
"The pipe is joined by heat fusion. This results in a continuous product – without any joints, grouting, or gaskets."
"The majority of our early business was energy-related," explains Mike. "Then we started trying to diversify and one of these diversifications was to have larger diameters. In 2017 we started a sixty-five inch line. In 2019 we sold part of the company to private equity so now we have a combination of private equity and employee ownership. This year we expanded into Fair Bluff, North Carolina. That is specifically aimed at municipal and mining. In the same time we have expanded into natural gas." The recent opening of that fourth plant in Fair Bluff will again expand their capacity and geographic footprint and size range, again with the ability to manufacture up to sixty-five inch HDPE pipe. Meanwhile, they are transforming their Decatur plant to do all sizes and have some CTS lines. "And the all the requirements for yellow gas pipe," adds Mike.
Each plant, while all retaining their individual values and features, have some crucial things in common; they are state-of-the-art facilities where an emphasis is placed on producing high quality products from proven raw materials. The goal, according to Mike, is to achieve high output while using the latest technology and the best equipment that is available for the job. "We are ISO 9000-certified and our people have great experience," says Mike. "As to our processes, we always have a very good visual on where we are with our production and it is all extremely automated," he adds. "The nice thing is we keep all the data and there is traceability. And we check and double-check everything. We have never had a product related failure." However, Mike adds that, if there is ever an issue, "we will come and help you figure out what happened and how to fix it."
As for the future, it is unsurprising to learn that PLP is looking at each and every possible development, or, "how you take a great product and expand its end uses," as Mike puts it. For those at Pipeline Plastics, this means looking into areas such as wind and solar, among others. And, speaking of the future, whatever expansion and development does take place, what is certain is that sustainability will continue to be more than just a buzzword. Sustainability is at the center of what they do and, according to Mike, is certain to remain so – from producing pipes that conserve water right through to the plants that are purpose-built to recycle process water and maximize energy-efficient use of equipment and facilities. Furthermore, any pipe material that might otherwise be considered "scrap" can be reworked, Mike points out. "We have no waste offsite." Meanwhile, since Pipeline Plastics HDPE has a lifecycle of 100 years in many applications, its use is even more earth friendly.
Getting these sorts of messages across is something of a priority for PLP and, furthermore, it is something that they excel at. They believe that education is an extremely important aspect when it comes to achieving greater awareness. In this regard they are very much involved with organizations like major trade associations The Plastic Pipe Institute (PPI) and the Alliance for PE Pipe.
Part of their work involves changing perceptions. According to Mike, this is a necessary investment, especially when faced with misinformation throughout the industry. One instance of this is the mistaken belief that using HDPE pipe is expensive. Simply put, that is not necessarily the case. Here, Mike gives a great example of how perceptions may form and how they need to be addressed through education: "HDPE became associated with working in critical areas like crossings etc. – of say, a highway or river where they can't do open cut and can't afford a leak. So, one reason people feel the per foot cost for HDPE is expensive can be to do with having to have crew on site to bore that particular 500-foot crossing or whatever it is where they are using the HDPE product." According to Mike it seems this can skew the impression of the normal cost of running HDPE pipe. "It gives an impression of being more expensive per foot when you take the total cost of that," he says. "As regards attaching it back to ductile iron or PVC," he says, continuing the example, "we ask: 'why not just run all HDPE?' You may think you can't afford it but actually you could be surprised."
And it comes back to surpassing expectations. Back to making a difference. And being passionate about all that. "The key for us," says Mike, "is we love what we do. And we love what our product does." It seems a growing number of others does too.