The construction industry is one that is borne from necessity; a simple equation that has served its customers and the wider world very well indeed. If something is needed, a solution is provided. While this may seem like a reductive way of viewing the vast contributions that construction has provided around the world, it has an element of truth to it. Simply put, innovation and progression within construction invariably comes from challenging situations and projects. This is itself is certainly not a negative thing, however. Historically, civilizations have grown and fallen through their ability to meet emerging challenges successfully. The modern age is different. The interconnected nature of our world should now ensure that the rising tide does indeed lift all boats. Our success is theirs, our innovation is shared. It is surprising then, that a very severe gap still exists around the world in terms of infrastructure. Not only that, without the most basic infrastructure tools in place such as buildings and roads, certain societies are not only limited in the industrial advancements they can make, they are eliminated from experiencing success or growth at all.
Residents of the United States are eagerly awaiting the commencement of infrastructure work that could potentially amount to trillions of dollars. Given the precarious condition of certain aspects of the U.S. infrastructure network, this is work that will undoubtedly improve the standard of living for millions. If we take a step back from this macro view however, we can see a different picture emerging. Similarly, it can be easy to overlook the standard of living that North Americans currently enjoy. While cracks have undoubtedly appeared as roads and pipes age, the quality that we have access to is hard to dispute. Despite the concerns that Americans currently have, from a relative point of view, we are the lucky ones.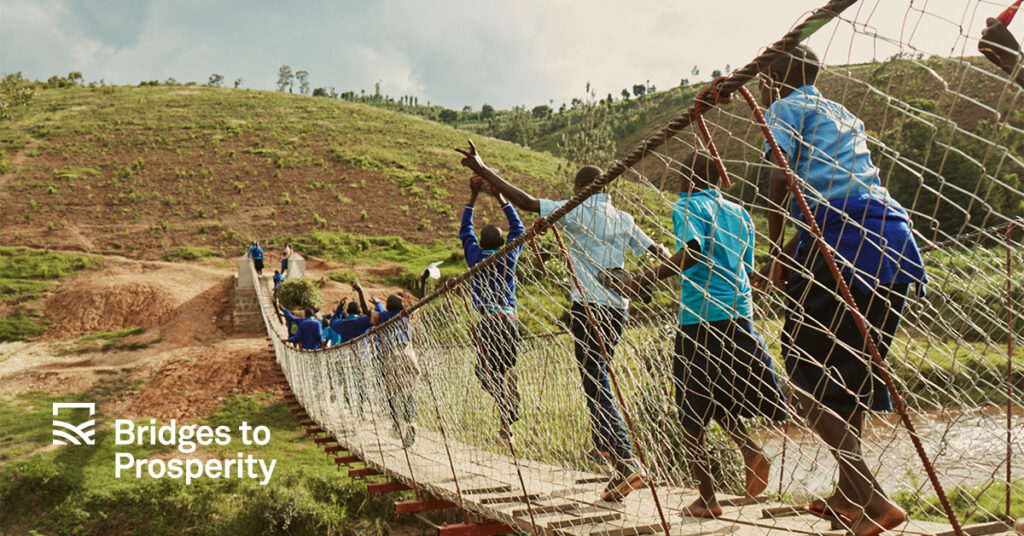 Looking at the global picture, however, makes for staggering reading. Numerous studies have shown the detrimental effects, both socially and financially, that rural isolation has on communities around the world. While it may not be possible to bring infrastructure levels up to the levels seen across North America and Europe in the short term, there are certain challenges that can be addressed which will instantly assist rural communities in ways that many of us might find unfathomable. To contextualize this, we are not talking about high-speed internet or even underground electricity; the issues that people in remote, rural villages face are on a far more basic level. According to Bridges to Prosperity, a Colorado based company that works with communities in the most remote areas around the developing world, ''Almost one billion people around the world don't have access to critical resources like health care, education, or employment due to an impassable river.'' This geographical quirk, the route that a river can take, leaves massive numbers of people isolated, sick and poor. Thankfully, skills and knowledge that have been acquired by U.S. construction workers are now being redirected to give people living in these locations a fighting chance. Bridges to Prosperity aims to "work with isolated communities to create access to essential health care, education and economic opportunities by building trail bridges over impassable rivers."
When something is needed, a solution is provided and, interestingly, it was a photograph published by National Geographic in March 2001 that proved to be the impetus for Bridges to Prosperity. The image, men hanging precariously from a rope as others tried to assist them in crossing a collapsed bridge over the Blue Nile River in Ethiopia, led company founder Ken Frantz to take action. Ken, who owned a construction company at the time, brought together a team of supporters full of enthusiasm and skill. The inaugural project to repair this bridge was only the beginning of a story that has changed the lived experiences of many people in areas such as this. The burgeoning group worked with Helvetas (now HELVETAS Swiss Intercooperation), an independent organization that is "committed to a just world in which all men and women determine the course of their lives in dignity and security, using environmental resources in a sustainable manner" to develop the bridge design and to develop a community training program. This partnership ensured that B2P has expert perspective and input to ensure it would get off on the right footing.
"Solutions only work if people can access them."
While it may seem that these communities have needs greater than bridges, the logic behind this work is simple. All the supports in the world mean nothing if people cannot access them. It is acknowledged that governments, charities and individuals are working tirelessly to provide a multitude of programs for isolated communities in the areas of healthcare, education and employment. However, according to B2P, this only solves half the problem and, through the continued omission of this one key component, their focus and work is as necessary as ever. "Solutions only work if people can access them. A community health worker cannot be effective if she cannot reach the community. A new school cannot be effective if children can't cross the river to get there. Agricultural programs cannot be effective if farmers can't sell their crops at a market. Connection leverages the potential of these solutions to create opportunity."
The benefits of a bridge to an isolated community is incalculable. It is one small change that spreads far and wide, leading to enormous opportunity, development and more positive outcomes. Two areas in which this is most evident is through healthcare and economic opportunity. According to B2P, easier access to healthcare has a positive knock-on effect on the behaviors in a community. Better access leads to increased care-seeking behavior. Their figures show that "when a community has safe access to a clinic, there is an 18% increase in visits. In an emergency, easier access means a more likely positive outcome. A healthier individual is better able to work or attend school." Additionally, the benefits of safe access outside their own community are far reaching. By ensuring that people can travel safely, the benefits are enormous. "Safe access unlocks economic opportunity for a community. Farmers are able to sell their crops at outside markets or access agricultural inputs like fertilizer or seed. Bridges ensure consistent access to non-agricultural jobs. Women save time on household activities, spurring an increase in women entering the work force. Last mile connectivity goes beyond transforming local economies. When a rural community is networked to the world around them, they participate in the national and global economy, bringing transformation to the greater population as well as to their local community." While the work is just getting started, successful projects have been completed in Rwanda, Nicaragua, Bolivia and numerous other countries. Workers in these areas are experiencing a general increase in wages of 35.8% and farmers have reported 75% higher rates of profitability. In addition to this, over 60% more women are entering the labor market. When looking at the need for infrastructure around the world, it is clear that we are not dealing with a level playing field. Yes, the U.S. has a failing infrastructure network in need of rejuvenation and investment and also yes, we are in a privileged position because of what we already have in place. These two things can simultaneously be true. Either way, it is unconscionable for us to ignore the positive effects that basic infrastructure can have on isolated communities. Clearly, this is not a magic bullet however. There is a huge body of work to be completed in these countries in addition to bridges. That is not to be disputed. Evidently however, the work being done by Bridges to Prosperity in providing this simple piece of infrastructure is having transformative effects on local communities and is, both figuratively and literally, a link towards more positive life experiences for people with the greatest levels of need.