In North America, where trees are plentiful and lumber remains the dominant material used in new-builds throughout the nation, the construction industry depends heavily on good quality wood framing services. It's the wood framing, as Tom English says, that "everything else goes off; the electrical, the plumbing, the hardware, the bricks and the shingles. If it's not framed and up, nobody else can do their work." Tom is the owner of US Framing, a Kentucky-born company following a simple ethos: that every great piece of art needs its frame.
US Framing began in the early nineties with an idea, a family-driven determination and a slab of good quality wood. What started out as a small home-framing operation has grown in both company size and project scale and is now primarily focused on large-scale framing projects such as apartments, student housing, hotels, and urban infill. Backed now by over forty years of industry experience and a portfolio exhibiting almost every kind of wood framing project imaginable, US Framing have become the leading experts in the business. They have a license to work in every state, and with that they frame more square feet annually than anyone else in the country. And by a long shot, according to Tom, who talks about framing "sixteen or seventeen million square feet last year, more than anybody else in the country times two or three." With steady growth, good people, and leading innovation at their core, US Framing exemplifies in all that they do a 'better way to frame.'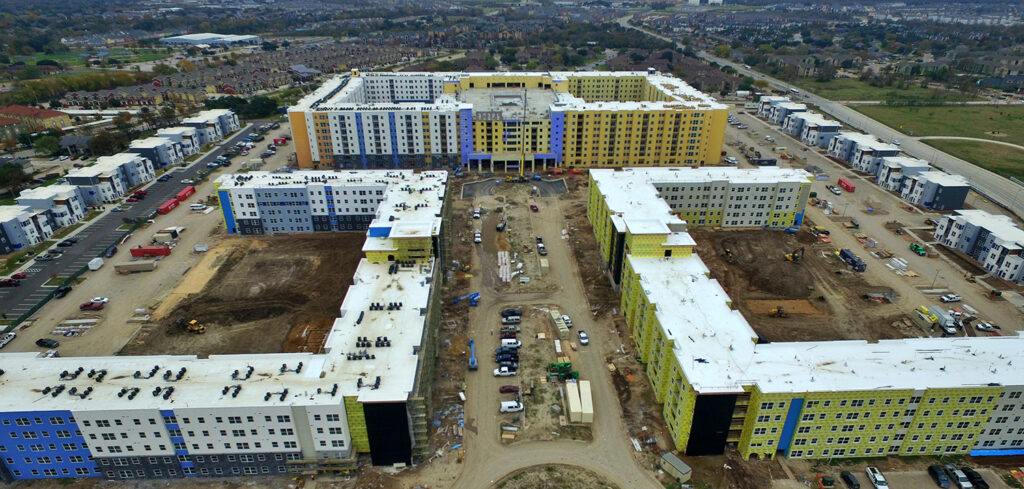 As the nation's largest multi-family wood framing group working border to border and coast to coast, you could say that when it comes to their craft US Framing have seen it all. As such they are no strangers to keeping their heads above water in difficult times. In 2008, when the great recession hit and no industry seemed fit enough to make it through unscathed, they continued to onboard the right people, build the right relationships, secure the right projects, and get the work done. "A lot of framers went out of business at that time," says Tom. "We hired and hired and continued to grow, so we are a collection of five or six big contractors. We had the opportunity to hire a lot of really good people and ninety percent of those people are still with us today." By any standards, and particularly when the environment around you is abuzz with talks of pay cuts and layoffs, that kind of staff retention is a clear indicator of a company that's doing something right.
Their proven strength and resilience during such a turbulent time was a positive turning point for US Framing and the thing that kicked their steady growth into gear while everyone else seemed to be slowing down. To the wide community of carpenters who found themselves in vulnerable positions, US Framing became a safety net to fall back on. And to their valued clients and suppliers, they became a much-needed source of trust and stability amidst an otherwise challenging and uncertain landscape.
In the same way that lumber is the foundation of a successful construction project, good people are the foundation of US Framing. When it comes to their clients and suppliers, US Framing work on the basis of "good partnerships with good people." As a company predominantly focused on labor they work hand in hand with some of the biggest lumber, truss and hardware suppliers in the United States. "They help us sell business, we help them sell business, and we work together to get the job done." This mutually beneficial relationship carries over to the general contractors they work with too, with trust and high-quality service always at the forefront. "The first job we do for new clients is always the hardest," says Tom. "We get to know them, they get to know us, and then we grow into a relationship where they rely and depend on us. Because framing is a difficult industry, and if they can count on us to get the buildings up and done – that's the most important thing for them." Hiring and partnering with the right people to represent the company is something that US Framing have mastered over the years, and this is what ensures consistency of service across the large-scale wood framing, design and construction projects they lead.
"When it comes to their clients and suppliers, US Framing work on the basis of 'good partnerships with good people.'"
Working on such a monumental volume of projects, all of which are completed on time and to the highest of standards, makes it difficult for a company to look back on their portfolio and pinpoint the ones that standout. "We just finished Gardendale Apartments for Capstone Properties, whom we have a great relationship with," says Tom in relation to an impressive 205,000 square feet apartment block recently framed by US Framing in Alabama. Noteworthy too among the company's many success stories is a "tremendous number of successful projects completed in Florida recently for a bunch of different contractors." US Framing also work on several large-scale jobs for Carmel Partners, one of which was a staggering one million square feet. "A size you don't see a lot of for a single project," Tom points out. "Maybe three or four projects together that might make a million, but not one alone. Some of the pictures are amazing. If you see an overall view, it's almost like a whole city." And no better people for the job; true to their track record it was finished ahead of schedule and laid those all-important foundations for what resulted in a very successful project. It is projects of such size and scale, and the success stories that stem from them, that prove no project is too big for US Framing.
With an unwavering growth mindset and a keen eye for opportunity, US Framing continue to move forward despite the challenges facing the industry today. When asked about such challenges, Tom talks about the recent lumber shortage, or "lumber pandemic" as industry experts have come to know it. Lumber allows for speedy building, great sound and thermal insulation, cost efficiency, and a lower carbon footprint than other construction methods, hence why it is still so widely used across North America and beyond. Recent trends in the market have caused an increase in demand for housing and remodeling, sending lumber prices soaring and supply plummeting. Simply getting lumber and trusses to job sites so that framers can continue to work has been a struggle. But Tom and his team, having overcome and outsmarted many industry challenges in the past, look at this as only temporary and "expect things to be pretty bright for the future."
Through their hard work, steady growth and determination, US Framing have landed themselves in a rare position; to be able to say, as Tom did, that "we can't really expand anymore geographically because we work nationwide." Improvements and growth for US Framing in the future, therefore, will continue to work hard, be innovative, and build relationships with clients and suppliers. In Tom's words, "we will continue to be on the forefront in framing." With years of experience in the industry, US Framing comes equipped with manpower, vision, and the know-how to make all of their projects a success. US Framing will continue to make improvements in every area of framing for many years to come.