There is no substitute for experience. Communication is key. Excellence comes with innovation. Cost, quality, and time efficiency must be achieved in tandem.
It is the ability to learn and embrace these truths that is often the driving force behind a successful construction company, and such is the case for CCS Building Group. A commercial construction company based in Pennsylvania, CCS Building Group has established itself as a leader in its field when it comes to delivering innovative projects and forming honest partnerships. It started in 2007 with a wealth of knowledge already behind it through the collective experience of working with large construction companies in the region. Today, it stands strong with over sixty employees and is set to celebrate its 15th year in business.
CCS Building Group specializes in the design-build delivery method and is therefore highly engaged in the development of the design as well as the construction of the project. It is a method that is growing in popularity, simply because it makes for more efficient finished products. "Our preference is performing work via design-build, where we lead the project from the inception," says Bill Koch Senior, Founder and President of CCS Building Group. Throughout his career Bill has been involved in the design and construction of projects that represent more than $1.5 billion and 10 million square feet of building construction. He joins me, alongside Preconstruction and Estimating Manager, Bill Koch Junior, and Business Manager, Todd Shertzer, to share some insights into the company. "A fair amount of our business is performed in that particular capacity whereby we don't solely rely on architects and engineers to develop the project. We input a lot of our experience particularly into costs associated with different building systems as well as the long-term benefits and efficiencies that certain systems bring to the table." The design-build philosophy is embraced by CCS Building Group, and this allows the company to deliver a high-quality service that is efficient in both cost and time, while fulfilling the vision of its clients.
CCS Building Group works within a two-hour driving time radius of its office in Lancaster Pennsylvania, which includes Central, Southeastern, Northern Maryland, and Delaware. CCS Building Group has contributed significantly to the Senior Living industry within this zone. The team at CCS Building Group has a depth of experience with designing and constructing Life Plan Communities, Independent Living, Assisted Living, and Personal Care facilities. It specializes in renovating and preparing existing living spaces for new residents, and it is this type of work that makes up for a significant bulk of its portfolio. As well as delivering projects through the design-build method, CCS Building Group also offers preconstruction management, operational consulting, general contracting, residence turnover management, residential renovations, and in-house skilled trades.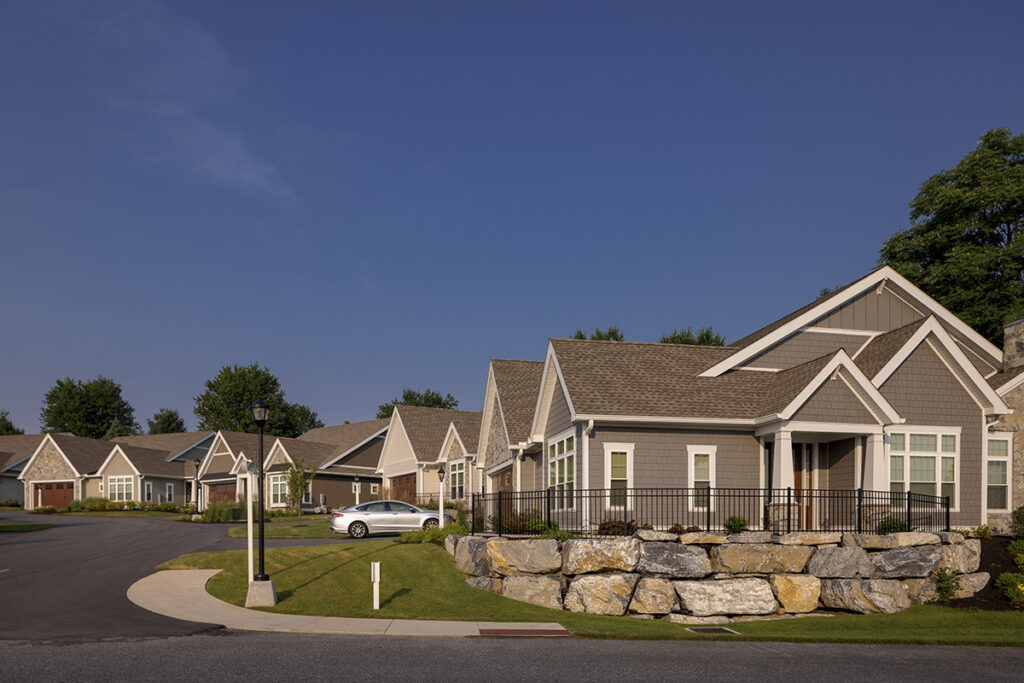 To provide an insight into the standard example of the work CCS Building Group does as part of the retirement community expansion, Bill talks about Southpointe Villas. "It's a 45-acre property and so far, we've built 88 villas," he says. "We're also constructing five 24-unit apartment buildings, of which one is complete, one is in process and three will be in the future." The first step in a multi-phase development, the Southpointe Villas project also includes a Memory Care Facility with programming and residential units directed purely towards memory support. "The Memory Support Campus is state-of-the-art," says Bill, "and one of the more interesting components of the Southpointe Villas project."
Bill talks about how it is often the amenity buildings within these retirement communities that make for the most interesting projects. Chautauqua Hall, for example, is a 20,000 square feet events pavilion and performance stage that was developed and constructed by CCS Building Group in partnership with Willow Valley Communities. "Chautauqua Hall is a timber-framed music entertainment venue that seats three hundred people," says Bill. The venue was developed to enable Willow Valley Communities to provide its residents with rich cultural experiences, as is its longstanding tradition.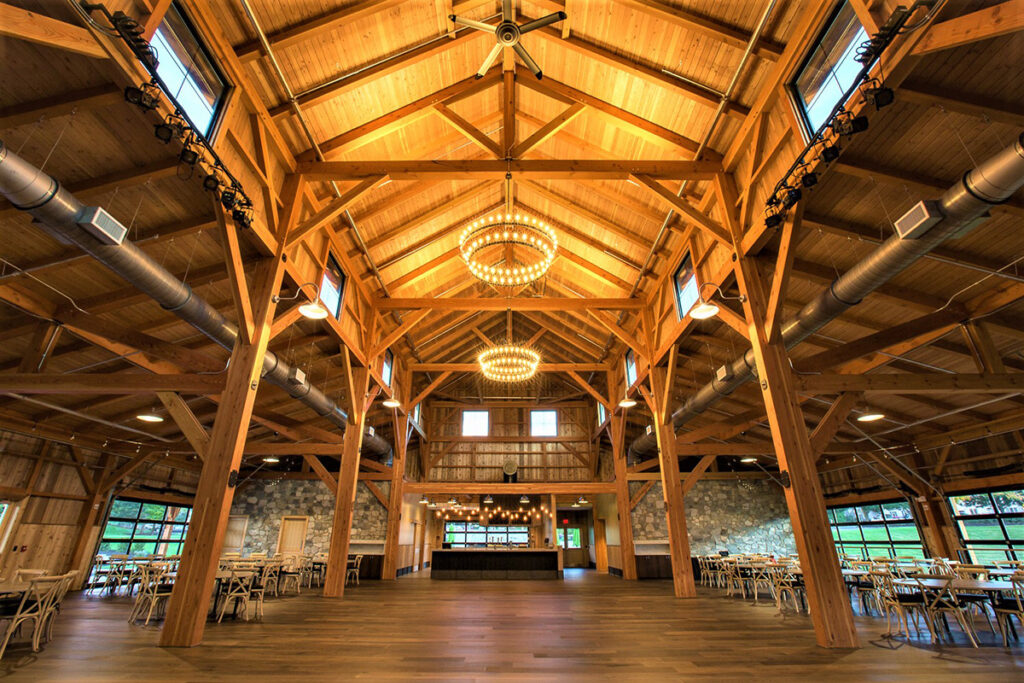 CCS Building Group is heavily involved in the renovation sector and as such the overall revitalization of the zone in which it operates. Bill talks about Southern Market, a recent standout renovation project in Lancaster City. "Southern Market is one of our more unique projects. We renovated the interior and facade of a building that was built in 1888. Originally it was a farmers' market and then over the years it transitioned into office space. It sat vacant for several years until our client got hold of it with a vision to change it into a food hall along with co-working offices. This was a completely different from the building's prior uses, so it changed a lot structurally from a fit-and-finish standpoint. It looks very different inside. We couldn't do a lot of changes on the exterior, only some upgrades and improvements, because the building is listed in the National Historic Register."
"CCS Building Group specializes in the design-build delivery method."
Another interesting project in the works is Mosaic, a design-build contract for a senior living provider. "We've been working on that one for a few years now," says Bill. "It's a 20- story independent living building with 146 apartments and lots of amenity space, all within what is part of a city block here in Lancaster City. It's kind of an urban and more modern design, while still offering all the same services that the client would enjoy on their suburban campuses. It's been an interesting and exciting process, going through the approvals, and planning to get closer to a construction start date." Bill goes on to talk about CCS Building Group's role on the project. "As a design-build firm, all of the design is handled through us," he says. "We've been involved day to day with the whole sales team, the development team, and the design team. Another unique aspect of it is that we're also creating a model apartment and a sales center offsite. The model depicts an apartment on the sixteenth floor, so we're using some tricks in the windows to give the sense that you're looking out your window on the sixteenth floor and not the ground floor. We're involved in a lot of the technology, as well as the marketing components associated with creating that project." What Bill describes here is that CCS Building Group is not just constructors, they're innovators, and that is another driving force behind its success.
Reflecting on the company's upcoming 15th year anniversary, Bill talks about how quickly time has gone by. "It seems like just a couple of years ago that we were planning a party for our 10th anniversary," he says. "That came and went, and then covid came into play. I didn't even realize it was our 15th year in business! But it's been a great tour. In that time, we've done what I feel is a significant amount of impactful projects with our own people." It is the ethos of CCS Building Group that the art of building starts with a great team, and as such, they are just as committed to building a solid foundation of workers as they are to time and cost efficiency. The built environment is expanding at a rapid pace and there is an expectation for construction companies to fulfill the demand without sacrificing quality. This commitment is what sets CCS Building Group apart.
"We have growth opportunities," Bill says when I ask him about his vision for the future, "but the biggest challenge is accumulating staff and keeping them, whether that be management or tradespeople. It's a challenge for us and for the industry, but we're managing it by trying to work smarter instead of harder." With a nice backlog of work in the pipeline and a clear vision for growth, it seems that despite the challenges, CCS Building Group can look forward to another fifteen years of success in the Pennsylvanian construction market.