At CH+N SITE Construction, its priority is its customers. As company President Matt Eshelman says, it is about 'solving problems'. The variety of services that CH+N SITE Construction provides is of course its main attraction, but it's the CH+N SITE Construction promise, "Count on Us", that really sets this company apart from its competitors. According to Eshelman, the company promise is a huge factor in creating ongoing relationships with its customers. "Our customers choose to work with us because meeting a schedule, doing work right, managing cost, and keeping people safe matters. When we consistency deliver our promise, we build long lasting relationships with our customers."
Its physical services include, crushing/recycling, mass earth moving, utility installation, storm and sanitary sewer, water main installation, clearing, demolition, emergency repairs, concrete walks/curb, erosion control, and there's a special projects team tasked with answering the call for last minute jobs. As a company, CH + N SITE Construction has learned that the wider its capabilities, and the more it is able to do, the more problems it can solve for its customers.
Amongst its many offerings, CH+N SITE Construction provides full-service site development and construction services. This means that the company can accept a job and "take care of it all'. As a result of having such a high level of in-house skill, the company unsurprisingly has a large customer base to work with. Evidently, this is something it revels in. As Eshelman mentions at the beginning of our interview, CH+N SITE Construction's goal is to solve problems for its customers as easily and as cost-effective as possible. "We want the jobs that no one else wants."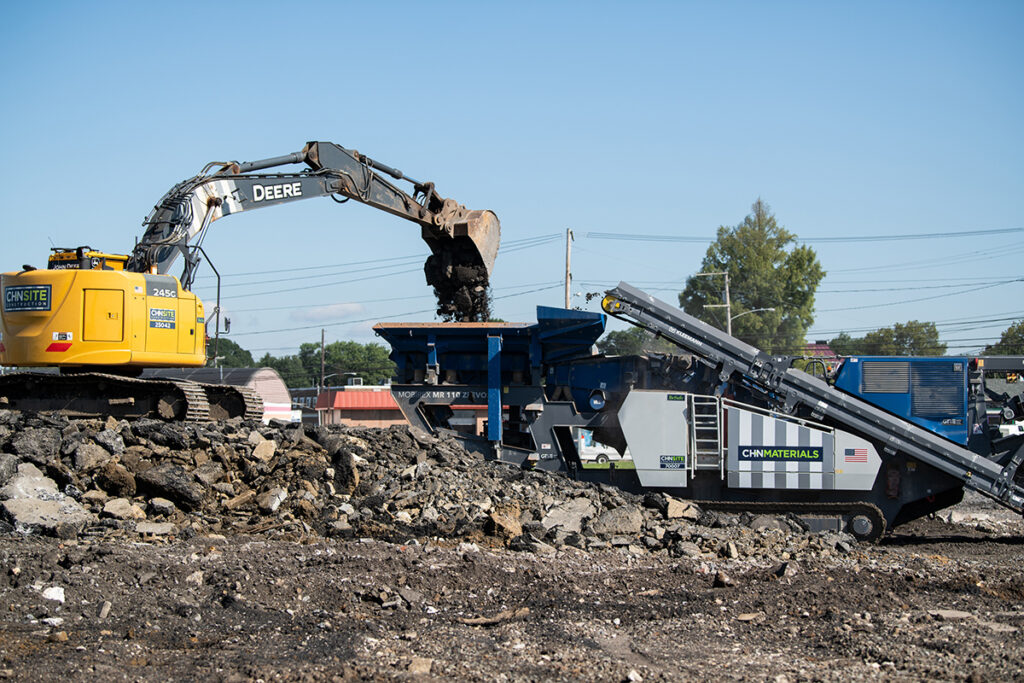 The CH+N SITE Construction promise is not, however, merely lip service. The company has been recognized as being the fourth largest site-work business in its local region. When comparing the size of CH+N SITE Construction's team, relative to its volume of work, the evidence is clear. This is a company that maximizes its capabilities and brings the most to its customers. For their team, the goals are evident; projects are always more than just accomplishing the job at hand. For CH+N SITE Construction, equal importance is given to keeping people safe, completing the job on time, and always getting the work done right. Managing costs are a major part of keeping the business efficient as well, and as Eshelman assures me, the goal is to be the first customer's choice and best value, not the low-cost provider. For CH+N SITE Construction it is about cost-efficiency for both client and company, which is positively reflected in the statistic that ninety percent of its business is from repeat customers.
Being positively represented locally is also very important to CH+N SITE Construction, which is why it is part of the Associated Builders and Contractors Keystone in its locality. The ABC Keystone offers local businesses training and teaching opportunities, as well as the option to network with other businesses in the same industry. The safety committee program offered by ABC Keystone is also a highly valued benefit. The ABC Keystone will often speak for private companies like CH+N SITE Construction, representing it at a national level on the company's behalf. CH+N SITE Construction prides itself in being a part of something so beneficial.
"It's the CH+N SITE Construction promise, 'Count on Us', that really sets this company apart from its competitors."
One project that the company is particularly proud of is its work on the Messick's warehouse and store. With 100,000 cy of dirt to move, lots of rock to be drilled and shot, a very aggressive schedule, and starting the job in the dead of winter, the company was given lots of problems to solve. The company worked closely with the owner and General Contractor to come up with cost effective solutions that kept the job on schedule through the tough winter months. For Eshelman, the project showcased the problem-solving skills that are inherent in the company. "One solution was lime stabilization. This allowed it to place and compact fill that would have otherwise been too wet to support the future building and infrastructure. Another was bringing in our crushers to turn the oversized blasted rock into stone that could be used for access roads and staging areas to keep the job and all the other subcontractors out of the mud through the winter. Our team showed up every day and delivered results. Making sure that things happened because of them, not to them." The Messick's project was a success for all involved.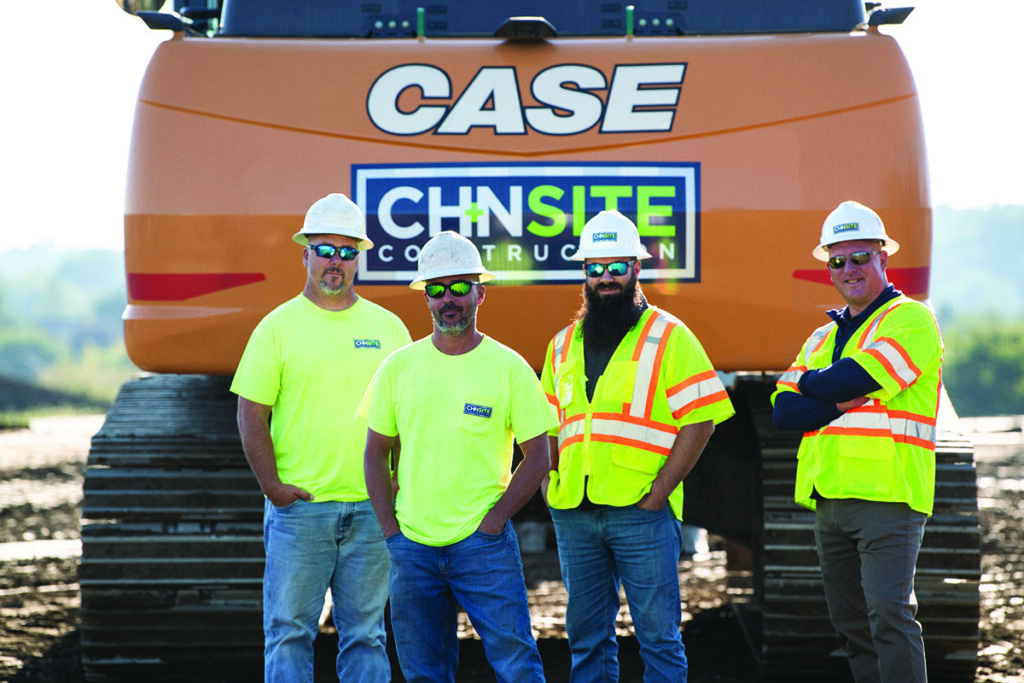 The knock-on effect of this work was that, through its excellent reputation, an opportunity arose "at a project right next door." Amazon purchased an existing warehouse and CH+N SITE Construction was asked to bid the sitework package to the GC managing the job for them. The project included the addition of 29,000 sy of paving. A large amount of storm sewer and water system upgrades. Again, this project presented its fair share of problems to solve such as rock removal, an aggressive schedule, and existing utility conflicts not shown on the plans. According to Eshelman, the project is an example of how CH+N SITE Construction can use its deep knowledge and experience to lower costs for its clients. "We worked closely with the general contractor and engineer to come up with cost effective solutions which avoided costly relocation of the existing utilities, we used our crushers to size the oversized rock and create subbase for the new paving. Avoiding hauling the unusable material off site. All while doing whatever it took to deliver on time and keep our people safe."
CH+N SITE Construction is proud of is its work and the services it offers to the local market. In particular, the company has excelled in recent time working on new schools, building new athletic fields, and working on local housing developments. In the past few years housing development in CH+N SITE Construction's market has been growing exponentially and so there is an influx of work in the area. By way of example, Eshelman points to the ARCONA project, which the company has been working on since 2014. Because it has consistently delivered its promise, the company has worked its way into phase eight of the project. CH+N SITE Construction has guaranteed itself repeat customers and continued work on large scale projects because they pride themselves on delivering every time.
It also continues to innovate, not only in terms of its planning but also its technologies. In CH+N SITE Construction's line of business, technologies like GPS are integral as they contribute to productivity and efficiency, but Eshelman also assures me that they are able to deliver even when the technology doesn't or isn't able perform, 'never forgetting where we came from, having an educated, experienced, and trained team is the key to delivering consistently no matter what problem is thrown at us'. This adaptability ensures that CH+N SITE Construction can guarantee that its team will get the work done on time.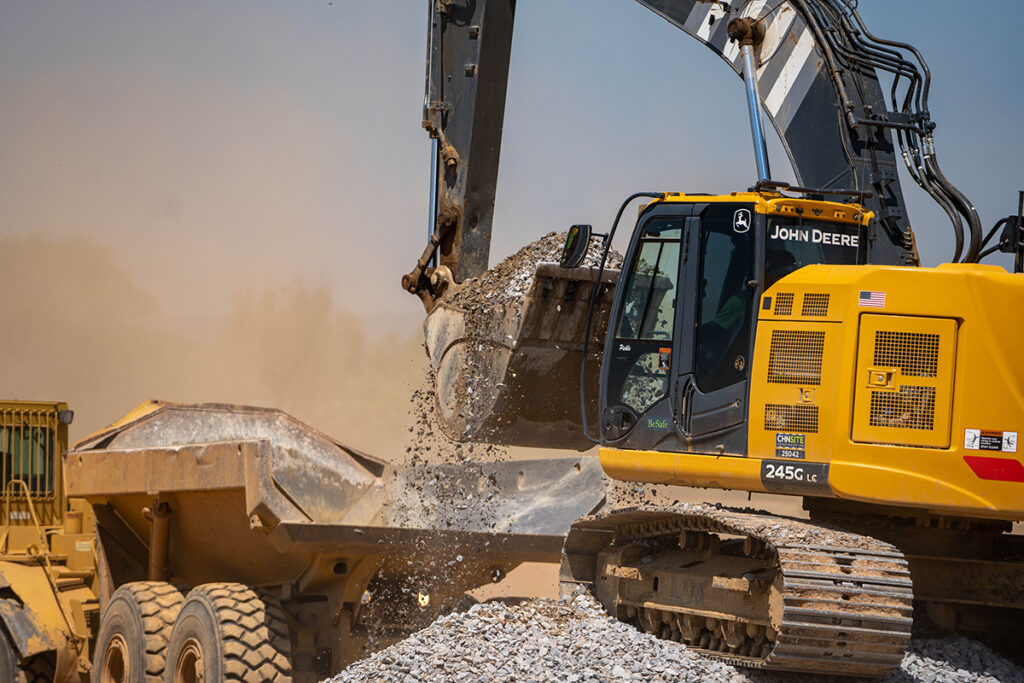 Recently, CH+N SITE Construction has given more attention to the materials it uses on site. This commitment stems from the company's inherent problem-solving ethos. It was finding that tons of rock and excess topsoil were being uprooted on its projects. In a display of critical thinking and problem-solving, CH+N SITE Construction now recycles these materials to use on site or for other projects it has, reducing waste, trucking, and materials purchased from quarries. This niche aspect of its work offers an innovative byproduct for its customers; the knowledge that anything unearthed in their projects will not go to waste, but be re-used in another environmentally friendly context.
This kind of problem solving has led to many glowing reviews from CH+N SITE Construction's customers, many of which are displayed proudly on its website. Positive feedback is invaluable to the team and business. Eshelman says with every job comes new variables, new challenges, and lots of opportunity to tackle and solve them. "For the team on the ground, when they receive recognition for the effort they expand and the problems they solve it is incredibly rewarding."
Looking into the future, CH+N SITE Construction is seeking further growth. Eshelman tells me that growth isn't all about revenue, it is about providing opportunities for team members to grow in their careers. "We need to make sure that our staff who show up every day and always give their best can move up financially and in the organization." For a company that keeps its promise, it is clear that this continued diversity and the ability to solve even more problems is key. As Eshelman says, "if you're not growing, you're dying."