One great partnership can elevate a business to the next level. Imagine what a collection of partnerships can do.
While the characteristics of each partnership vary, one thing remains constant: the arrangement is mutually beneficial. In the case of Sterling Ridge Group Inc., successful partnerships are the backbone of the company. However, while creating a group of successful construction companies is a goal, what is most important to Sterling Ridge Group Inc. is what lies behind the great partnership, great people. Sterling Ridge is a family owned and operated company based in Ontario, Canada, which has been in existence for over four decades. The Group has grown each year to create a premiere collection of construction companies able to provide all services necessary for a turnkey project.
The Group is a partnership of seasoned construction-based companies working collaboratively with a primary focus of achieving client expectations and delivering quality projects. Essentially, Sterling Ridge Group has created a one-stop-shop for contractors by accumulating an extensive catalogue of skills and creating definitive sectors to best highlight each company. The companies listed under the umbrella of Sterling Ridge Group Inc. include Sterling Ridge Infrastructure Inc., Sterling Ridge General Contracting Inc., Sterling Ridge Architectural Systems Inc., Sterling Ridge Logistics Inc. and Sterling Ridge Utilities Inc.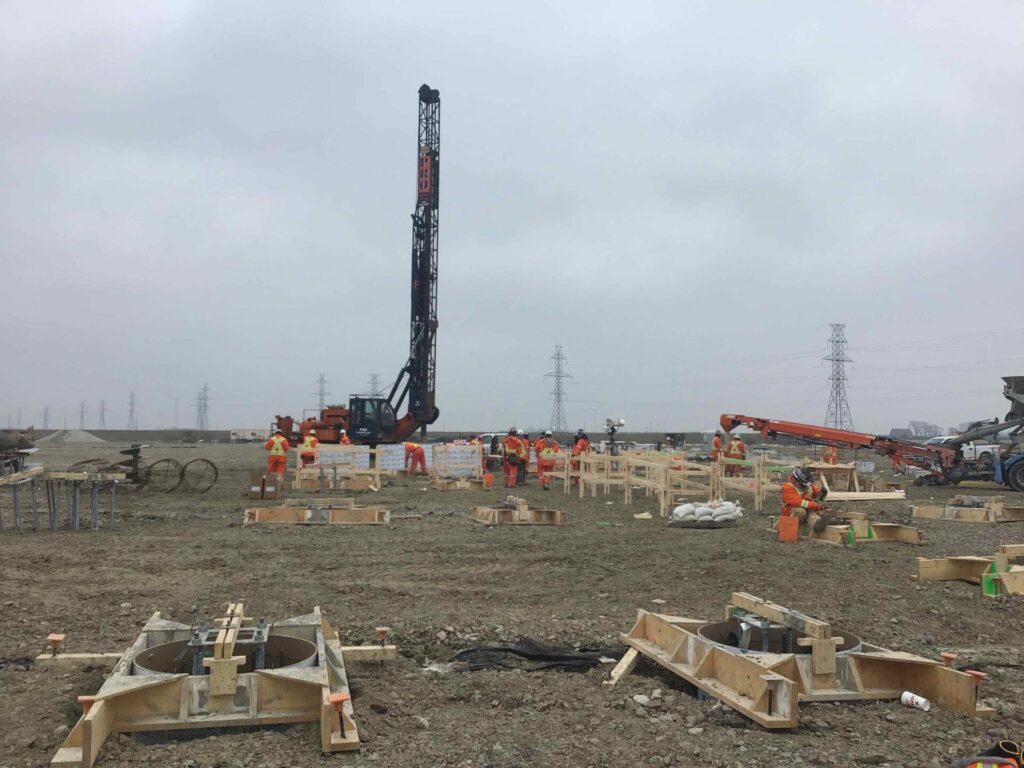 The business model offered by Sterling Ridge creates a cohesive workflow that is more convenient for customers. Lucas Agosta, Project Manager at Sterling Ridge Infrastructure Inc., has worked with the company for over seven years. On a daily basis, he realizes the importance of developing successful partnerships. "We want to be able tell the client we can do everything. For all intents and purposes, we'd like to go in and use our own people to go from A to Z in all these projects. I could start a job off and it might just be a simple job, then the client mentions they need to do some directional drilling — well, okay. We offer that too. Then they may need a hydro-vac, well you don't need to go outside because we already have it in-house. We can do it all here."
The projects undertaken by Sterling Ridge Group vary in scope and size and include standout projects of substantial size. One of these jobs Lucas refers to as The Lakeshore Program. This project was awarded to Sterling Ridge Infrastructure Inc. by General Contractor EPTCON Ltd. via Canadian electricity transmission and distribution service provider, Hydro One. Sterling Ridge is/was responsible for all site preparation, clearing and grubbing removal, along with topsoil erosion and sediment control around the station.
"These types of business partnerships have successfully led to numerous other jobs being awarded to Sterling Ridge Group, a testament to their standard of work."
The Lakeshore Program began in August 2020 and required extensive civil work including installing 14 kilometers of drainage, with the majority of work completed in the winter of 2020/2021. This job was not an easy task as the workers had to develop kilometers of access roads — both paved asphalt and granular — and construct over 1200 foundations being a mix between augured and conventional form type. Sterling Ridge General Contracting Inc. also built two power and control buildings for the station. "It was a challenging but rewarding project. The job was through the wintertime, and we were pouring concrete through the winter, drilling foundations through the winter. Again, tight timeline, lots of coordination between us and the electrical crews of our general contractor. And that kind of led into a couple other projects that stemmed from that. From there we moved on and we were awarded the Lakeshore Line Relocation Project and South Middle Road Transformer Station. And just on that project alone we poured over 4000 cubic meters of concrete." These types of business partnerships have successfully led to numerous other jobs being awarded to Sterling Ridge Group, a testament to their standard of work.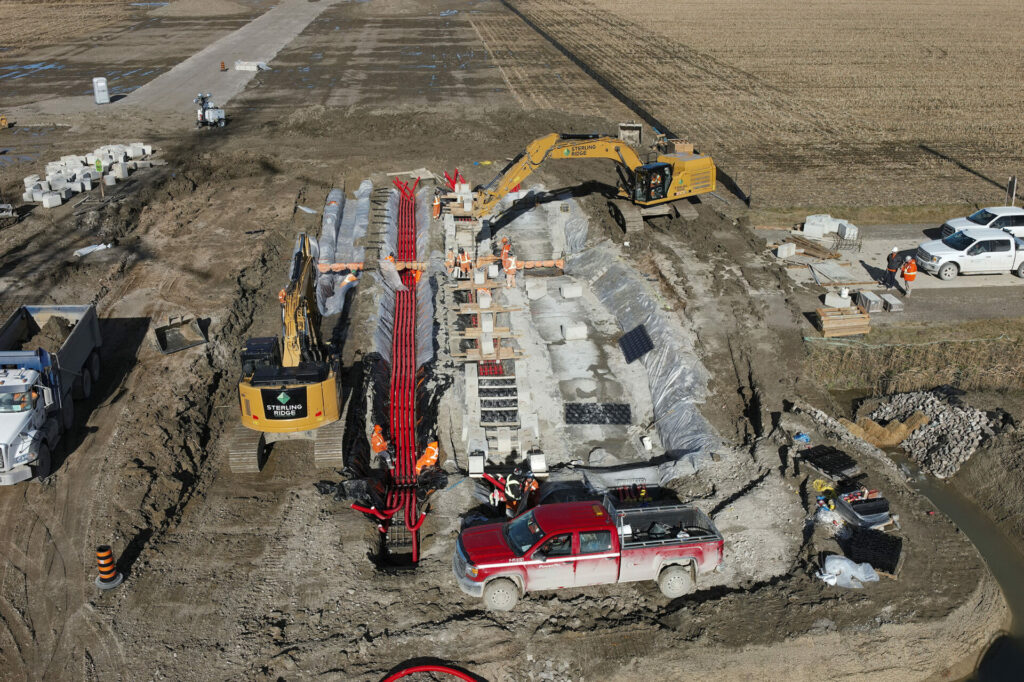 Sterling Ridge believes that the people are what drives the success of the project, and therefore finding the right people is necessary to complete great work. To guarantee that everything runs like a well-oiled machine, Sterling Ridge encourages the divisions to communicate with each other. This may result in manpower being shifted from one job to another, or ensuring the relevant skilled people are all assigned to the correct jobs. "We truly do have a great group of employees. All different walks of life are employed here and across various positions. There's no biases or anything like that in our company. It comes down to can you do the job right, and that's all it should come down to. We want the right people doing the right job. If they're not motivated, well then, we're not going to be in business, and that stems from the ground level right up to executive management. We are nothing without our people."
The work employees carry out ultimately leads to the successful completion of a job. Upon the successful completion, Sterling Ridge Group is then able to strengthen relationships and partnerships with contractors first by allowing the work to speak for itself. These partnerships are invested in and nourished to create healthy business relationships. It is these experiences and fostering relationships that help Sterling Ridge in their quest to expand further east into the Toronto market.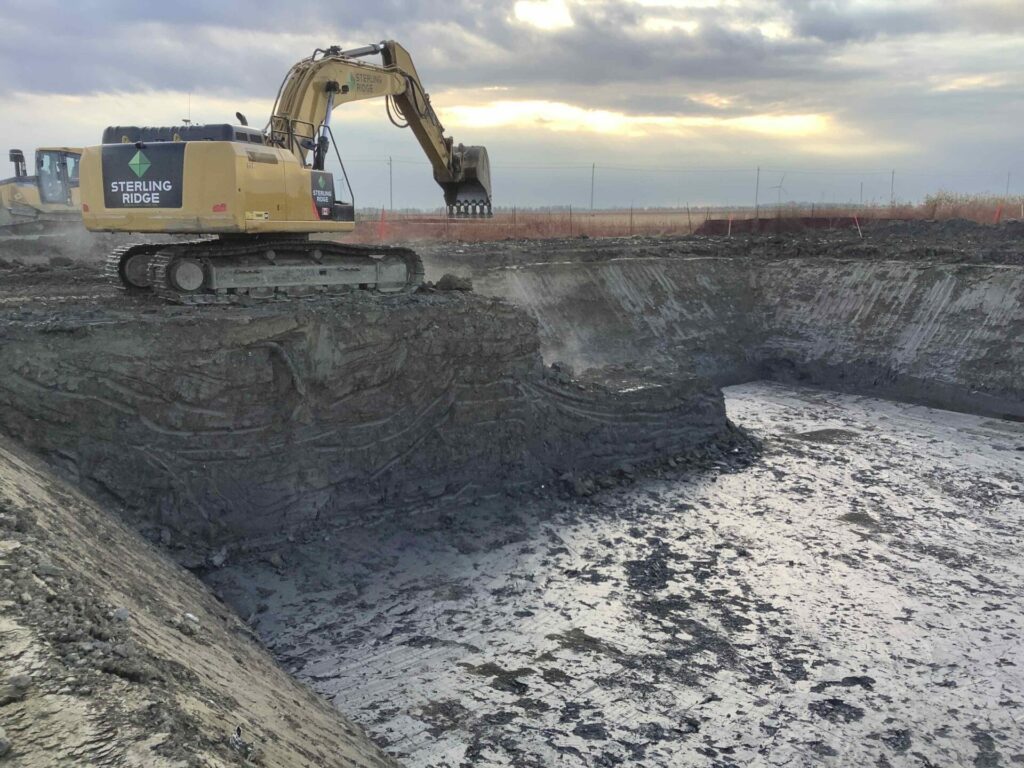 Sterling Ridge Group successfully purchased a small electrical maintenance company — Global Electric & Lighting Inc. — to kickstart their expansion into the Greater Toronto Area. A Director of Business has been appointed for the GTA whose mandate is to develop work opportunities in the area. Previous customer Hydro One has plans to initiate work across Ontario and within the GTA over the next five to ten years. Sterling Ridge Group hopes to be awarded some of this work.
Having completed multiple large-scale projects, Sterling Ridge Group is confident in their ability to perform complex projects. Sterling Ridge Group is committed to developing projects from their start to finish. The Company has successfully carried out projects awarded to them always with a can-do attitude. This allows for partnerships to flourish. Lucas assures that no request is too difficult for the people at Sterling Ridge; they will find a way to make it work.
"My mentor always told me that if a client asks you, can you build a house out of marshmallows on the moon? You tell them, yes. We'll figure it out." Although it may take a while before Sterling Ridge Group conquers the moon, they already seem on track to conquer The Greater Toronto Area.