When you read the word basement, what feeling comes to mind? The usual connotations are not necessarily positive. For some, it is nothing more than a dark room in a house; a place for storing unwanted items. But a basement — like a business — can be whatever you make of it. For father and son duo, Ian and Andrew Burns, the basement provided the opportunity to create the successful construction business that is today known as BRICON Construction Management.
BRICON Construction Management Inc. was created in 2007 and is currently celebrating its 15-year anniversary. BRICON provides all of the material, labor, equipment, and services necessary for the construction of a project. In order to ensure the highest standards are continuously being met and to provide the services that are expected of a General Contractor, the company has a network of specialized subcontractors stretching right across Canada. The company has carried out hundreds of successful projects over the years and offers a range of services including General Contracting, Construction Management, Design/Build and Pre-Construction Services.
President/Owner, Ian Burns, brings more than 30 years' experience to the business having worked for several well-known general contractors previously and is responsible for the company's ongoing business development, operations, growth, and performance efforts. Ian is joined by Vice President and son, Andrew Burns, who has worked in construction roles since 2001 before establishing BRICON Construction Management with his father and becoming responsible for estimating and project management.
Andrew still recalls the moment BRICON began to take off. He was holidaying in Cuba with friends when his dad excitedly informed him that the company had secured its first project. While the job was cause for a huge celebration, it was also a learning experience for the company. In addition to working in the office each day, Andrew and Ian were also tasked with being on-site during the evening completing various aspects of the project themselves. The project was ultimately a success, but it also brought with it the realization that the company needed to expand its workforce. For Andrew, this was a turning point. "It was a little wine store, but it allowed us to get our first paycheck which was certainly a major standout. Eventually we were able to move out of my parent's basement after starting the business in the spare room there. There was three of us in that tiny little bedroom, and maybe five or six years into working in the basement we bought a property in Grimsby, Ontario. So, we got jumped up to 5000 square feet with the shop and that really kick started us into being a little bit more professional."
Since the little wine store, BRICON has gone on to complete countless projects including constructing a number of retail outlets across Canada, converting a vacant grocery store into a 23,800 square feet fitness center, a facade renovation/restoration to over 500 linear feet of storefronts and much more. With the number of projects BRICON has carried out it is rare to come across a job that is unfamiliar, but their latest project is something the company has never done before.
The new endeavor for BRICON Construction Management is a highly exciting project that Andrew is incredibly passionate about. The company will be responsible for building a lab belonging to a bio tech company in Burlington. What makes this project stand out is that the lab requires a number of different tasks including emergency power systems, complex heating and ventilation systems for the offices and a negative air pressure room. The biotech company will be using flammable/combustible and hazardous materials to complete their processes. For BRICON, this meant an additional layer of paperwork, including Fire Code Consultants working closely with our mechanical/electrical engineers. As Andrew described, trying to get a permit proved difficult which made it almost impossible to start the job. However, since the permits were granted and work with the architect was agreed, the project is now running smoothly and almost at the occupancy stage.
"BRICON has gone on to complete countless projects including constructing a number of retail outlets across Canada, converting a vacant grocery store into a 23,800 square feet fitness center, a facade renovation/restoration to over 500 linear feet of storefronts and much more."
Andrew has taken on the role of project manager and estimator for the biotech project, but there are other aspects to his job. An important part of Andrews role is managing client expectations, which wasn't easy during the early days of COVID, as many projects were put on hold. BRICON tried to remain open when possible, in order to keep business afloat. One of the projects BRICON undertook during lockdown was a full fit up of an ophthalmology clinic in Hamilton, and a number of supply chain projects so they were able to keep several projects running during lockdowns.
Ever ones to do things with determination and honestly, BRICON did not want to leave its employees without certainty. This meant that some workers were called on for the jobs the company could undertake, while others were still kept on the payroll.
In a post-pandemic environment, the construction world is one where adaptability is key. Now that the world is adapting to life after lockdown, BRICON is too. "We've got a core group of clients, so, while we still see room for growth it is good to be getting back to normal. We've also got a great team in the office, and everybody is like a real family — aside from the actual blood family members. The people that we hire to work in the office are great and have a great time doing whatever we need to do to get the job done. We've had people with us for over 13 years and for us, that is a sign that we are doing a great job."
While Andrew mentions above that the team are like family, another member of the team is also part of the Burns family. Andrew's sister, Helen, works for BRICON, managing the books, which means it is no longer just a father and son affair. While being involved with the company for a number of years, Helen's astute leadership skills has resulted in her joining the ownership team this year.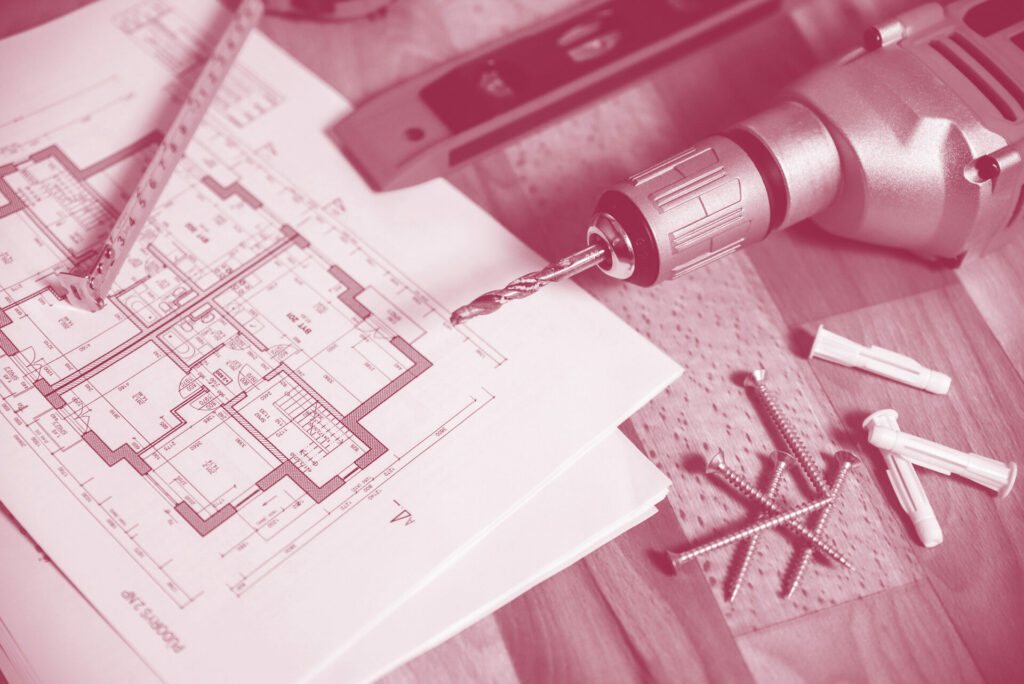 Throughout our interview it is clear to see that Andrew places a strong emphasis on work culture and BRICON's approach to training employees. To put it simply, BRICON's aim is trying to avoid micromanaging. Extensive training is provided to employees, but there is also a certain level of autonomy provided which allows workers to run their own projects. Allowing people the freedom to do their own jobs is an important part of management at BRICON.
With projects flowing in at a steady pace and new areas of work being discovered, BRICON is flourishing. However, the people at BRICON Construction Management are making sure to remain careful when it comes to one aspect of the business: Don't go too big too fast. Andrew has seen plenty of companies attempting to grow too quickly which ultimately turns their success into failure.
BRICON would like to endeavor into greenfield and ground up construction projects in the future. The company has been slowly moving into the area of large structural projects which can be seen in its project history by looking at a recent project from 2019 involving the conversion of a vacant department store into a 47,500 square foot Tepperman's Furniture store, and more recently Landlord work to re-demise a space for an incoming Mandarin Restaurant, which had several aspects of larger civil construction.
BRICON Construction Management's journey over the last 15 years has been impressive to say the least. The company has survived an economic downturn in 2008, and a worldwide pandemic and continuously pushed itself to change and grow while diversifying their list of projects. All this has been done while promoting a healthy work culture and creating a family feel to the office that allows workers to develop. With the addition of Helen, who Andrew states has been "instrumental in the success of our company," it is great to see that at the core of BRICON Construction Management it is still the same family unit who took a risk and began a business from their basement.
And the great thing about starting in the basement is the only way you can go is up… looks like that risk certainly paid off.