Highbury Concrete is a concrete superstructure company based in New York City. They have worked on the skeletons of many buildings visible in the New York City skyline. George Villalobos, Highbury Concrete's Director of Safety, explained, "We are the first ones there. There's no ceiling above us, we're going up and creating that for everyone else." Many of their projects involve architectural concrete, 80 Adams Street being a prime example of this which won an award for its design. Greenpoint Landing, another recent Highbury Concrete project, proved to be a massive success. With the use of post-tensioning, they created a 'stairway to heaven' appearance by creating Cantilevers, something that had not been done on that scale before in Brooklyn.
For Highbury Concrete, safety is their number one priority. The company follows federal and state requirements for safety but takes them a step further, going above and beyond. Daniel Oswald, Highbury Concretes Health and Safety Manager, describes their job as being "to ensure that not only are all those regulations met, but we exceed them."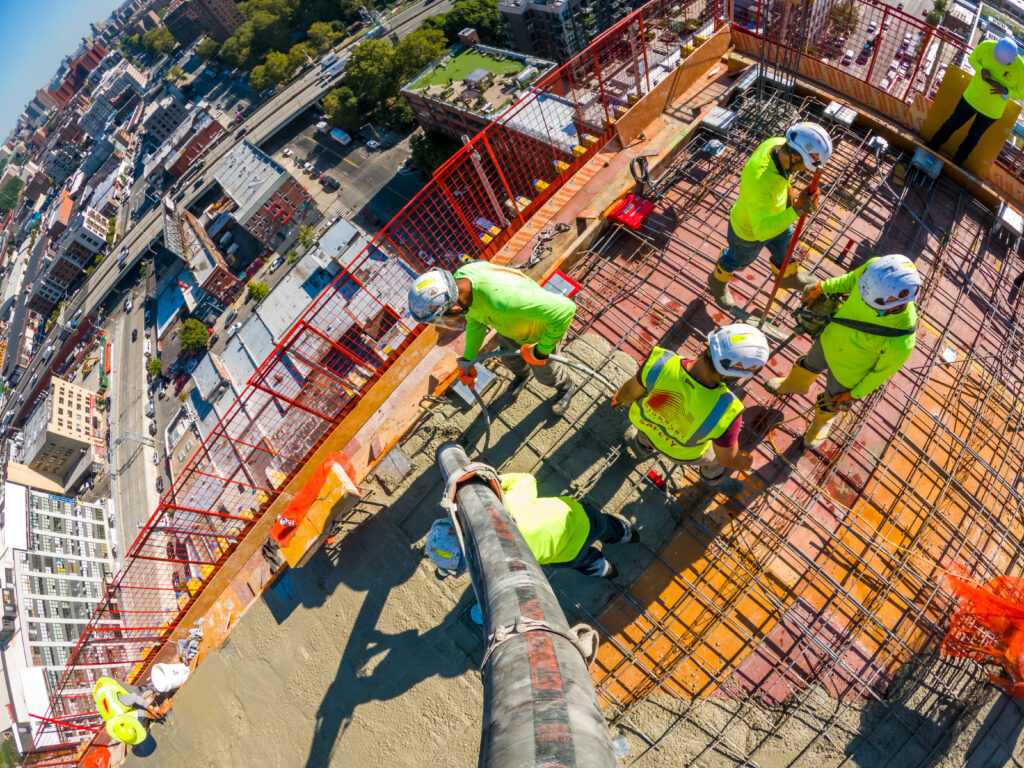 Highbury Concrete is recognized as a leader of safety in the construction industry in New York City. It is their approach to safety that has brought them this reputation. Highbury Concrete is markedly different to any other company in the industry; while many just do what needs to be done to meet standard requirements, Highbury Concrete goes further than the bare minimum, setting trends across the city with everything they do. The company was the first to make the switch from hard hats to helmets to counteract the chance of them falling off when working at high altitudes with heavy winds. Their rule ensures that helmets are always secured, an initiative that Highbury Concrete started but one that was quickly adapted by many companies across the city. Alongside this, the company also uses a color-coding system, with helmets and vests coded to distinguish different workers, from laborers to carpenters, new hires to foreman.
While looking deeper into the company, Highbury differs from its competitors on almost every level. It has a hiring process that goes beyond the norm. In an industry where potential staff could approach jobsites in search of work, Highbury Concrete adopts a full hiring procedure through their website, where prospective applicants fill in an application and take an exam. If they pass this, they are then brought in for an interview and undergo multiple trainings before being placed. Furthermore, the majority of Safety Managers at Highbury Concrete are members of The Board of Certified Safety Professionals, and OSHA Outreach Instructors with George explaining, "That's what we want to be known for – people who come to work for us have a safe environment to work." Further evidence of this approach to safety and staff wellbeing is the lengths the company goes to in ensuring its workers are best equipped to handle the physical demands of the jobsite. From their analytics, Highbury can conclude which incidents are the most common in the workplace. According to the Bureau of Labor Statistics, there are more than 53,000 foot injuries per year in the workplace. In response to this they partnered with Redwing – a boots manufacturer and distributor across the US. Through this partnership, employees receive a discount to purchase top quality boots that abide by ASTM and Highbury standards and are equipped with all the safety features needed.
"The majority of Safety Managers at Highbury Concrete are members of The Board of Certified Safety Professionals."
Highbury Concrete has developed their own app called HICON (Highbury Interactive Concrete Operations Network.) The app, available for Apple and Android, gives their employees access to a library of safety/equipment manuals, employee handbooks, safety training through the app, allowing employees to call in sick and make a complaint or suggestion. George explained that through this app, he wants their employees to feel connected to management with a direct line of contact, giving each employee a voice. They explained that daily reports and daily logs can be uploaded through the app, along with safety data sheets. It is a requirement for every employee to have access to safety data sheets on the site – before, it was kept in a massive binder which made it difficult to find a singular sheet. Safety data sheets are of extreme importance as they contain information regarding what needs to be done in case of an incident involving certain chemicals, so it was especially important to make these more accessible.
Safety managers on site are required to do daily reports for the New York City Department of Buildings, but Highbury Concrete also use these reports to gather their own data, allowing them to see trends and safety protocols they can improve on. By utilizing the safety software, Highbury Concrete is able to take reports and add numerical values to each question, generating a daily score. Doing this digitally also allows for visual evidence by attaching media and allows management to see what is happening on the field in real time.
During the pandemic, the company also used the HICON app to show employees the nearest vaccination center to their location, allow them to upload proof of vaccination, give them access to their company vaccination policy and their Pandemic Preparedness Plan. Highbury Concrete's Pandemic Preparedness Plan is a template to help themselves and others get through the COVID-19 pandemic. Through a period that Danny described as "one with many sleepless nights", the company studied the events unfolding internationally, allowing them to prepare a plan for when it hit the United States. The company had already started to order gallons of sanitizer and masks, and had trained employees in the use of electrostatic sprayers for disinfection. According to George, their preparedness allowed them to, "educate the workforce on the seriousness of COVID-19", while giving employees, "the opportunity to stay at home with their families and have their job waiting for them when they felt comfortable enough to return". This also gave employees the option to go to work in a safe environment. During the pandemic, Highbury Concrete ensured that material coming in was sprayed with disinfectant by trained employees before it touched anyone's hands. Surfaces were cleaned daily, and sanitizing stations were set up throughout worksites, with social distancing being adhered to – starting from the moment COVID-19 hit US shores. This allowed Highbury Concrete to continue working throughout the pandemic, allowing them to complete their West 38th Street project in the Hudson Yards as well as their project on 125th street in Manhattan.
Many of Highbury Concretes employees have been there since the company started eight years ago, with Danny explaining that, "they've worked their way up" through the company. Highbury Concrete encourage employees to obtain more certifications, through training programs, paid for by the company with Danny stating, "if someone wants to take the initiative, we're there to support them 100%. George describes Highbury Concrete as, "One big family, from ownership to laborer," with every employee receiving a new jacket each Christmas, monthly incentives and a care package on their first day.
As part of their efforts to go green, Highbury Concrete is piloting the Milwaukee MX fuel line. Equipment which would typically run off gas is now powered by MX Fuel Batteries, cutting down gas emissions. Highbury Concrete has begun pre-fabricating materials instead of using lumber (with millions of dollars' worth of lumber wasted during projects). They have taken the initiative to manufacture their own reusable materials made of aluminum and steel and brought to life by their team of engineers and mechanics such as Ronan McLaughlin and Raul Lucero.
Recently, the city of New York selected one project from each of the five boroughs to host a lunch –three of them were Highbury Concrete projects. The company continues to expand at an exponential rate, the buildings they take on continue to become more challenging and complex.
The ownership at Highbury is not scared to take a leap and are always looking for the "latest and greatest in safety and concrete". As Danny put it, "We are supported 110%, giving us the backing to explore new and better methods of safety. Most companies are comfortable with just doing enough as long as the money is coming in – it's not enough for us… we want to be known for something more."