Any company that's been around for the past three decades knows a thing or two about major industry shifts, from the economic crash of 2008 to the more recent global pandemic. Champion Site Prep is a Texas-based earthwork, site preparation and excavation company who have been navigating the construction industry since 1985 with a proactive approach to its ever-changing demands. "We started out as a small shoestring company working on projects as small as gas stations and fast-food restaurants," says President and CEO Trey Taparauskas. "We perform earthwork and paving now for projects large and small, specifically focused on the private commercial industry including offices, high rise, restaurants, banks, retail, industrial, and municipal." In a catch-all phrase that cleverly captures both their scope of work and their commitment to quality service, Champion uses the slogan 'We'll move the earth for you.'
During their first twenty year period in business Champion grew slowly to approximately 100 employees and expanded their customer base but they stayed relatively small into the 90's and early 00's. Then, in 2003, Trey was hired with the task of taking the company to the next level in terms of growth. Champion experienced marginal growth during that time despite the industry struggles that came with 2008 but it wasn't until some years later that the company rose to the height it stands at today. That growth, as Trey explains, was largely down to Champion's ESOP buyout of the original owner in 2014. "That's when we lit the fuse and the rocket really started heading up," Trey says. "That, along with the exceptional Texas market and Champion's renewed commitment to our customers and employees, has allowed us to over double in number of employees and triple in annual revenue. We were successful before the buyout but now we are a top tier company."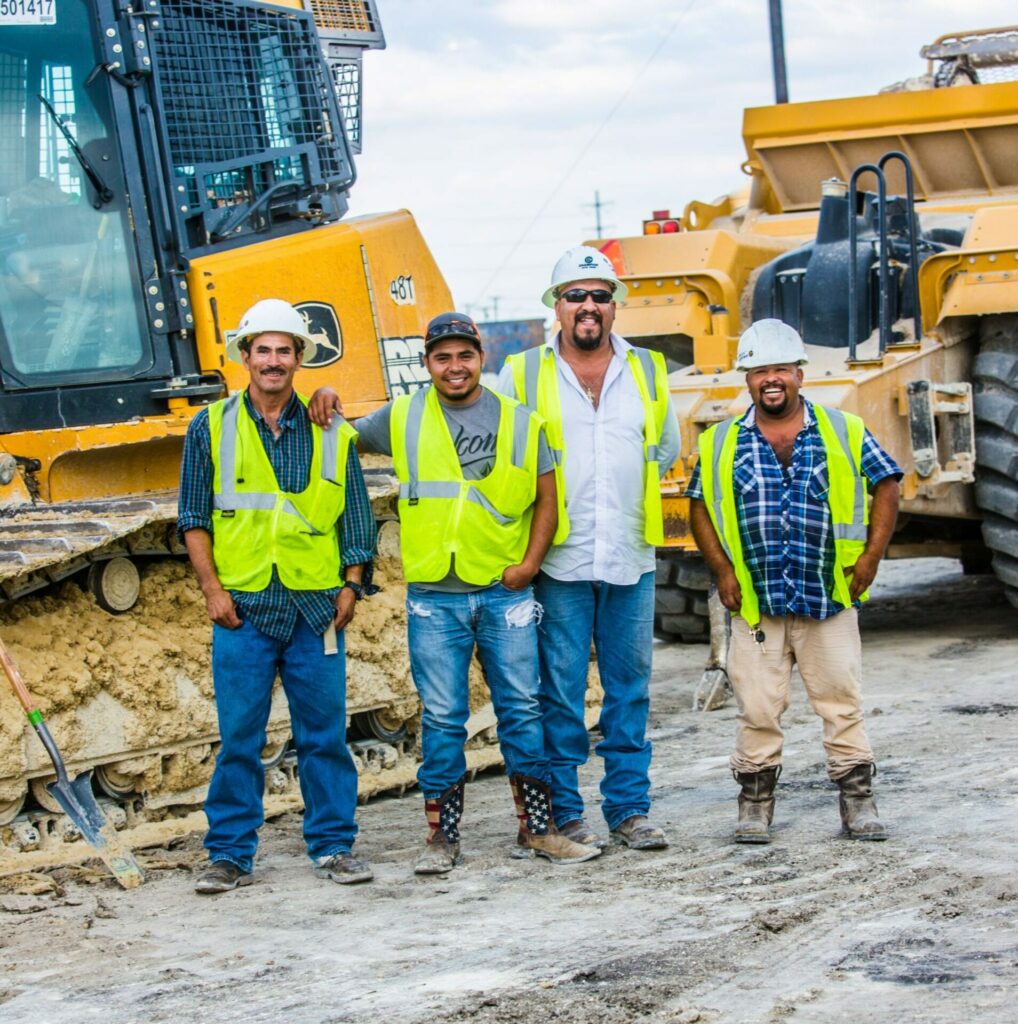 ESOP is an Employee Stock Ownership Plan that offers workers interest in the company in the form of stock shares. It's a 'grow together' approach that goes further than making employees simply feel like they are part of the company's overall success by offering them tangible proof that they truly are. "It was definitely unique to me, the management team, and our employees, but over time it's become the fabric of who we are," says Trey of the business model. "We were the little guy for many years at the beginning which kept us out of the market for bigger work, but the ESOP helped us establish a more personal atmosphere which has had a positive impact on our bottom line. Our margins and company culture have both benefited from the involvement of a full team and areas of safety, work engagement, teams, and productivity have all seen the positive effect of the program." Champion believes that each individuals success leads to positive results for the company as a whole, and the ESOP is what helps them set up their employees for that success. "Each employee can become a stock owner within one year of employment. It allows employees to feel like they've got skin in the game because they actually do – they get a stock report of their shares every year. We've grown the value of our stock by 500% since the buyout and every individual has a little piece of that. Some of those stock accounts have grown rapidly." The program blurs the lines of hierarchy between owner and employee to make for a more fair, balanced, and opportunistic environment. Trey also says that being able to add some long-term benefits to compensation packages for each individual employee has helped Champion retain the best people, which is more than half the battle in the construction industry today.
Speaking of the success Champion has experienced since 2014, Trey mentions some of the standout projects that have kept them busy over the years. Texas is one of Northern America's fastest growing educational hubs, and often it is Champion who are first on the ground to make that happen. "We're very proud of our association with the largest universities in the region," he says. "We're a huge part of the school and university building that's going on here. We've performed work for the University of Texas for over twenty years including stadium projects, new buildings, roadways, arenas, and sports fields. We've also got three projects at Baylor University in Waco including their new premier basketball arena, dormitory, and football practice facility. Additionally, we've got many projects at Texas State University, the University of Mary Hardin-Baylor, Saint Edward's University and Southwestern University. Having performed well for these organizations in the past does get us in the driver's seat for their big projects when we are competitively bidding for them."
"Big enough to undertake the largest projects, yet small enough to maintain the loyalty, quality, and teamwork that has made us successful."
Trey goes on to talk about Champion's work for H-E-B, the premier grocery company who are rapidly expanding throughout the Texas region. "We work as a large subcontractor on many of their new grocery projects which are a big deal in the Austin, San Antonio, and Waco areas. We've done over $25 million on H-E-B projects alone. We're currently working in Temple, Texas on a $90 million plus freezer and processing center, the largest industrial investment H-E-B has ever made. It's a 350,000 sq ft facility, like what you'd have in your kitchen or garage except with fully automated robotics and packaging. It's a really exciting project and we won it on a competitive bid proposal along with the previous relationships we've built."
It is these kinds of projects that represent the scale Champion has grown to since their humble beginnings in the mid-eighties. They plan, humbly, to continue in that direction. "We are very fortunate to be in this region that is experiencing growth," Trey says speaking of the Austin construction market and the wider Central Texas area, "but we're also in a particular space and market that is affected by regional, economic and world events. We try to balance growth with a conservative outlook so that we don't get out over our skis, as we say. We take all the good we can get when the market is growing without putting ourselves in a position to go under if things slow down."
Champion's successful ESOP buyout in 2014 and the steady growth that's come with it has placed the company in a position that is fully aligned with their very philosophy: to be big enough to undertake the largest projects, yet small enough to maintain the loyalty, quality, and teamwork that has made us successful. "We don't want to be the biggest contractor performing earthwork and excavation in our region, but we do want to be the best," says Trey. "We try to just take it as it comes and expand along with the market without having to branch out into other regions or lower prices to gain market share. We're just riding the wave at the moment. Currently were in the top tier of premier earthwork contractors in our region and we plan to grow while also working hard to maintain our service level and our employee work environment, which we believe is what sets us apart." The future of Champion Site Prep is all about steady growth, cautious optimism, and a lifelong commitment to always putting the employees first. The unique business model they have built over time has put them on the path to achieving all of their goals, together.