Bladensburg, Maryland is a charming little town with a big personality. It has a population of just ten thousand inhabitants, located a stone's throw away from the nation's capital. The towns claim to fame was a pivotal role in the War of 1812. A loss to the British army opened the door to the burning of Washington DC.
Almost a century later in 1926, Bladensburg became the home to Ernest Maier. Ernest Maier, Sr. started Ernest Maier & Sons, a small block business. He was 26 at the time. An immigrant originally from Germany, Maier turned his attention to building blocks having been forced to sell his farm to the government. This proved fortuitous as he spotted a gap in the market and was soon churning out 72 blocks a day – by hand—with the help of a Sears block machine. Not long after this, the company expanded for the first, and certainly not the last, time. Ernest Maier quickly became an important fixture in the local business environment, surviving tough times and natural disasters along the way.
This period of sustained growth led to exciting developments. In 1995, a new era of leadership was heralded. Brendan Quinn assumed the role as interim CEO and brought with him an expertise in construction turnaround. Along with this, Mr. Quinn brought a can-do approach to the building sector. Unsurprisingly, this proved successful, and Mr. Quinn subsequently bought the company. With a vision to turn Ernest Maier into a full-service company, incorporating production, sales and logistics, the company has grown in revenue at an incredible rate. Over this period, Ernest Maier has gone from strength to strength, adding services and products such as insulation, natural stone, pavers, steel, and brick masonry to its arsenal. Part of this success is down to a number of astute acquisitions along the way with companies such as Parker Block, Bay Ready Mix, and Concrete Building Systems now being part of the company's portfolio.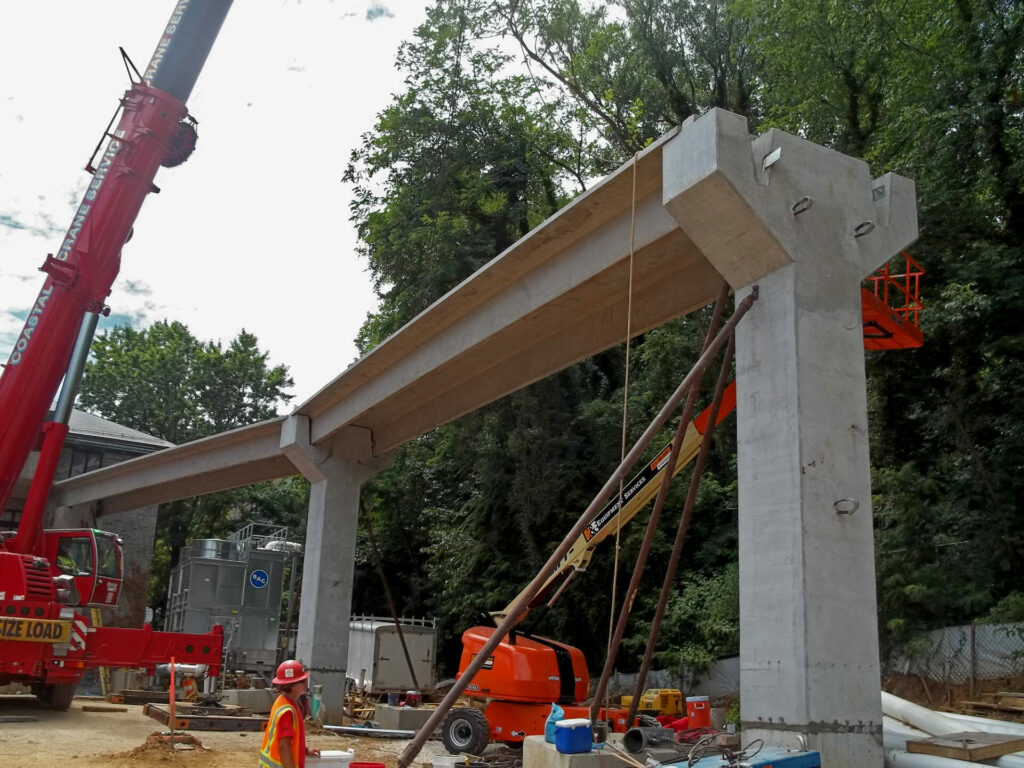 Concrete Building Systems, located on the Delaware / Maryland border, is a company that has a deep knowledge in structural precast and prestressed concrete. According to Ernest Maier's Vice President of Development, Dr. Aaron Fisher, the acquisition of Concrete Building Systems was a logical step in the company's growth. Ernest Maier had deep concrete technical knowledge in-house including direct precast experience across its senior leadership. "The appeal of Concrete Building Systems was being able to truly be able to be an all-of-the-above concrete company by adding an organization that had carved out a nice niche around the Chesapeake Bay."
In a construction environment where escalating costs and labor shortages have now become the norm, the ability to utilize the faster construction times and reduced labor costs associated with precast concrete are a huge benefit. Clients now benefit from a manufacturing process that can proceed simultaneously with site preparation and other construction activities. Additionally, for Dr, Fisher and those at Ernest Maier, minimal waste and improved sustainability allow the company to work quickly and cleanly. The beauty with precast is that buildings can be completed very quickly yet they don't leave much of a footprint," continued Dr. Fisher.
When bidding for a job the team at Ernest Maier offer prospective clients a bespoke experience. The project is broken down into precast elements. This approach allows the engineers and builders the opportunity to make decisions on how they want the finished product to come together. Dr. Fisher himself has worked in an array of industries, from driving buses to being involved in a start-up. His approach to business seems to mirror that of his employers. "If a job needs to be done, it is about finding a way to get that job done."
"Fiberglass rebar is a lightweight, high-strength alternative to traditional steel rebar."
Another product embraced by the Ernest Maier team is PaveDrain permeable pavement — a durable, sustainable, and a highly effective solution for addressing stormwater in urban areas. A big plus of PaveDrain, that as a heavy-duty product it is durable enough to withstand heavy vehicular traffic. While the benefits are clear, Dr. Fisher acknowledges implementation in a heavily regulated market is not always straightforward. Despite the obvious advantages, it can be a struggle to change traditional mindsets. "The guy who invented this product started with an erosion control system, and then turned it into a pavement. This is opposed to other market offerings, which began life as pavements and were forced into a marriage with water. It's a refreshing take on a decades old problem of trying to get pavement and water to cooperate."
Despite headwinds, the company has a track record of overcoming challenges. The key to this success: perseverance. This means a dedication to bringing new products to its clients. Perhaps the most innovative of these, is a replacement for steel reinforcement bars in concrete, fiberglass rebar. Fiberglass rebar is a lightweight, high-strength alternative to traditional steel rebar. Its advantages speak for themselves, and for Dr. Fisher, the benefit of one-to-one substitute to the tried and tested method is an exciting one. "Fiberglass rebar is two or three times stronger than a steel bar. Due to this, you can use smaller bars. It is 1/4 the weight which means you save on labor, it doesn't corrode which is a huge problem with the steel bar, and it is actually cheaper."
Recent changes in the industry knowledge base, coupled with updated codes and guidelines, have meant that the product is gaining traction. However, Dr. Fisher believes that traditional and historical viewpoints are slowing its success. "Some potential clients will take a lesser product for a higher price because it was what their dad used, or maybe because that was the way things were always done. I am confident that will change over time and this product will breakthrough."
Ernest Maier was a man ahead of his time when it came to the world of concrete. That much is clear. Mr. Maier was known for pushing the boundaries and changing the narrative across the industry. The company has continued this tradition, and its commitment to progression and growth is a testament to this.
The company continues to have ongoing successful relationships with a variety of loyal customers, as well as a growing collection of new ones. All this drives home the philosophy that there is nothing that cannot be done for the client. For Dr. Fisher, this outlook is simple, yet effective. "We look to address our clients' challenges. If they stay in business, we stay in business." While nothing is ever fully set in stone, the future looks good for Ernest Maier and Concrete Building Systems. By staying focused on our customers throughout the Mid-Atlantic, its legacy as an integral business in the local community is assured.