Success in the construction industry hinges on a company's reputation. Experience, skill, and history all contribute towards ensuring the customer base can place its trust in a company. Unsurprisingly, this trust is hard won and, once it has been achieved, a company rarely looks back. However, the reality is that a reputation comes with the most simple of things, a company name. Changing the name of a successful business is not something done lightly and, only when there is certainty will a company move forward. Concrete Construction Systems Inc. is an outlier in this regard. Formerly Concrete Safety Systems Inc., the company has been serving the industry for over 40 years. Its reputation, developed carefully over this time, is one of high-quality service and dependable professionalism.
However, in business, change is inevitable. When the company was taken over, a name change was required to accurately reflect the broadening range of services it now offers. For Alex Gelsinger, Operations Manager at CCS, the name serves as a detailed description of all the company has to offer. "The name itself didn't change very much. It changed from Concrete Safety Systems to Concrete Construction Systems. The change is that now we don't only fabricate pieces. Our parent company also owns MS Park Construction who then build the pieces themselves. Now, everything is done in-house. By adding the word 'Construction', we are expanding on the capabilities of this company, the parent companies, and the sister companies."
CCS is a precast contracting company that works on many different architectural projects, alongside structural projects such as parking garages, warehouses, noise walls and substation projects. With the recent purchase now complete, however, the company will be broadening its focus to incorporate both warehouse and industrial construction. Huzaifi Hasan, Project Manager at CCS explains: "That's what we are starting with because we have a lot of jobs. The owners are in real estate and their business is more towards industrial construction. We will be producing the warehouses and then we will either sell or rent it out to different companies, so right now the focus is more towards industrial." For Gelsinger, this focus will be offering a streamlined approach to processes within the company. By focusing on warehouses for the foreseeable future, the team at CCS will benefit from straightforward projects. "Each warehouse might be different, but the base idea of the structure, the columns, the beams, and panels, it is all very cookie cutter. This will allow us to keep our inventory relatively small and more organized." This approach is at odds with previous projects the company would have worked on. Previously, Gelsinger explained, it could have been working simultaneously on six different projects for six different clients, and three different states' DOTs. Each of these would have different specifications and mixed designs. Now, however, the company will be working with the same specs and same pieces, which Gelsinger says "simplifies our job. The standardization of our products and projects also means more production in the long run. Our long-term goal is standardization."
While the processes may be becoming more simplified, the purchase of the company was undoubtedly a significant step for the team at CCS. Through the additional funding and with its parent company also recently acquiring a metal fabrication plant in Georgia, the pieces are being moved into place to support the rapid expansion of the company and its partners. As Gelsinger explains, the company is also intending on purchasing a fleet of trucks to start its own trucking operation. He believes that these acquisitions will help develop and expand the wider network of companies. "Our strategic plan is to further grow all aspects of the operation. This means that our team will be working to develop in terms of hardware, embedments, shipping and logistics. It kind of simplifies our job down the line. We won't be required to outsource shipping. We are currently not outsourcing as much fabrication. So, it keeps these processes in-house and keeps accountability better for all parties."
Despite name changes and the accompanying shift in focus, the company continues to benefit from the vast wealth of experience that can only be gained through forty years in business. For Gelsinger, this experience is invaluable. He explains that, incredibly, many employees have been with the company for much of this time. While this continuity is a huge positive the recent name change also offers an exciting new direction for many of the employees. "A lot of people have been working here 30 plus years, and they've gone through 3,4,5 different owners over that time, but never a name change. So, it's definitely opening a whole new door for our staff. It is a positive new step in terms of how they view the company, how they view their career, and where they can take it. It's a big deal to completely change the name after 40 years of business. However, changing our outlook and how we produce and move into the future, shifting how we utilize technology and utilize all the aspects of our sister companies that we work with and own – it's definitely going to make a difference in our product going forward and the amount that we can produce."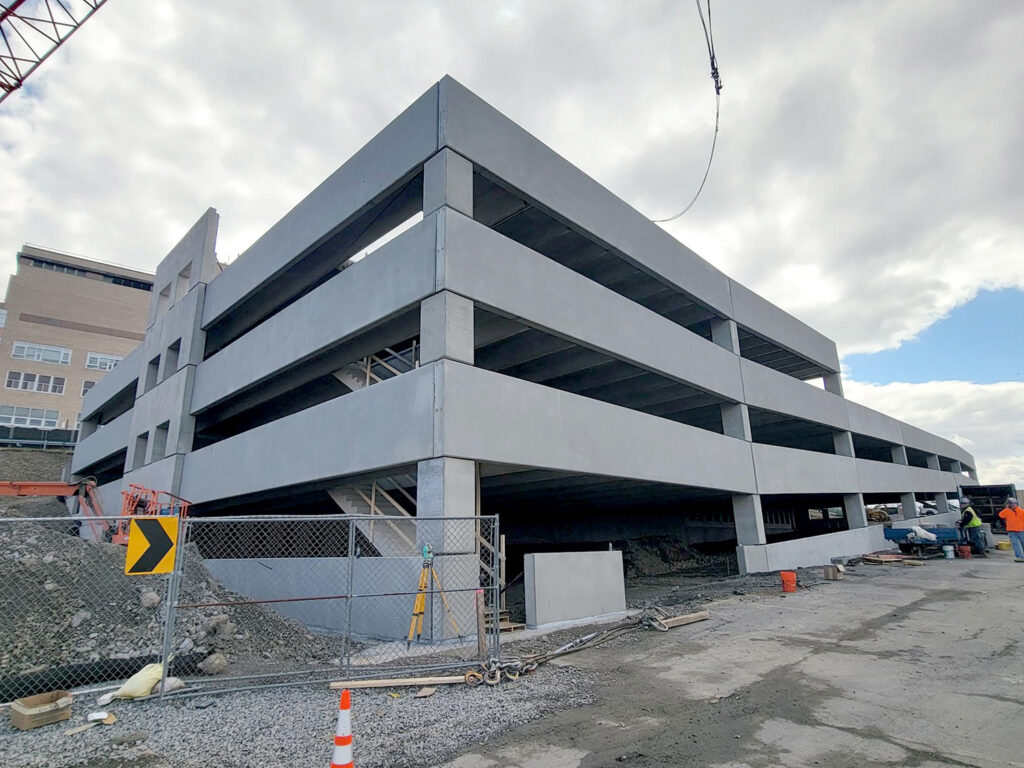 The company has had multiple standout projects during recent years, with one being the Wilkes-Barre Parking Lot for the Veterans Affairs Medical Center. The property is comprised of 325 parking spaces and was just recently completed. Another project of note is for ARCO. The client is Turn Bridge, and CCS is developing a warehouse with adjoining parking lots on the first and second floors. This project has 178 pieces including some double T's and columns, is in the erection phase currently and the team expects it to be completed within the next month.
With successful projects ongoing, the future is shaping up to be an incredibly positive one. However, currently, the company remains in a transitional period. While this is still ongoing for the company, the expectation is that it will be a lengthy process in order to receive new certifications, including PCI, PCA and DOTs. Despite this, the company is using this time wisely by ensuring that it has the right team onboard for future challenges. According to Gelsinger, pivoting into new markets allows the company to adapt its staffing and training programs to ensure it can offer the highest quality service in new markets with new machinery. "We will be hiring new staff and providing better training. The new company's European plants, which they are intending to get in the US, are very technologically advanced. Everything is automated. This means that exciting changes are coming up. We will be implementing new procedures and rolling out a higher standard of training along with better equipment and additional investments in the property, the plant, and our employees. There are basically no limits with what we have, in the backing we have and the companies that we work with – we have no limits other than ourselves."