Several years ago, Conewago Manufacturing, LLC provided custom precast panels and steel for Ag-Com's new 3-story, state-of-the-art milling operation in New Oxford, Pennsylvania. On completion of the project the client was able to see their vision come to life in the form of a real, tangible building that had previously only lived in their minds. When the client shared their satisfaction with Conewago Manufacturing in an email, they captured the essence of what the company has been doing all along and what it continues to do today – help their clients turn visions into reality.
Conewago is a manufacturing company based out of Hanover, PA, specializing in precast concrete, steel fabrication and erection along with ready mix concrete. The company approaches its work with clients with commitment, creativity, and a can-do attitude that has placed it at the forefront of the precast concrete industry in Pennsylvania, Maryland and throughout the mid-Atlantic region. Representing Conewago today in a conversation that takes me through over six decades of service is President Jason Blasé and VP of Operations Eric Smith.
"There was a small stretch of time in the seventies where our sister company, Conewago Enterprises, started in precast concrete, making septic tanks and stormwater culverts," says Smith of Conewago Manufacturing's beginnings into the world of precast. "We ventured out from our general contractor side into our own company, Conewago Manufacturing, LLC to offer ready-mix, steel fabrication and erection, and then finally precast concrete."
Interestingly, many of Conewago Manufacturing's clients are general contractors who are competitors of its sister company. Those GC clients have come to value Conewago Manufacturing for not only the quality of their work, but also the fact they can purchase precast and steel from a single vendor, which offers numerous efficiencies.
"Our clients know that managing two different subs in the steel and precast trades can present numerous challenges and cause administrative and production delays," says Smith. "Our model offers them a one-stop-shop and helps control the critical path of the project, and helps our GC clients keep projects on time and on budget."
"We are AISC-certified fabricators and erectors," Blase says with regard to the steel side of Conewago's offering. "We make our own columns and beams, and we also do some miscellaneous metals like stairs, dock angles, items like that. We also have a small group that makes retaining walls."
When it comes to precast concrete, insulated wall panels are, as Blase explains, "our bread and butter." He continues: "One of our specialties is cold storage facilities. Instead of traditional cold storage buildings that are fragile and easily damaged, we can provide a concrete alternative where wear and tear on the structure is a lot less. If a worker accidentally backs into the wall with a forklift, they are going to hit concrete, it's not going to be a metal panel that they're gonna blow out."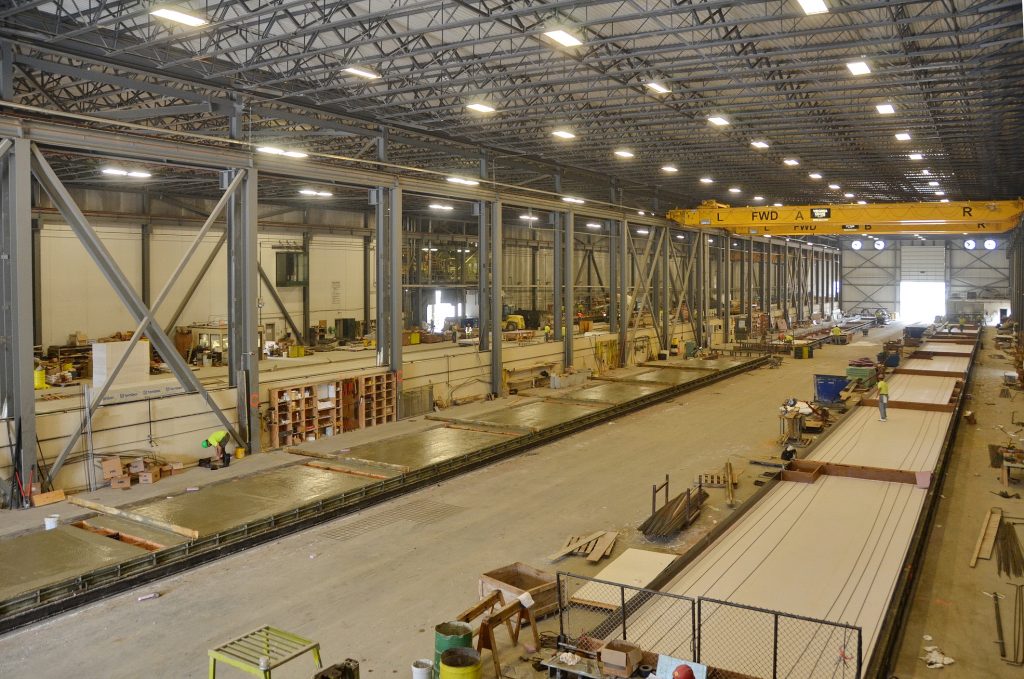 It goes without saying that the company has accrued a vast amount of experience in the sector. With a rich general contracting history from its sister company, Conewago Enterprises, behind it and with a keen eye on industry developments, it is no surprise that Conewago Manufacturing has experienced significant growth in the precast side of its business. "We produced 3 million square feet of wall panel last year. It was one of our shining moments where we produced in some months more than what we produced in previous years," adds Smith. "That was exciting for us, and we're very fortunate for that tremendous growth."
While the company clearly maintains a forward-thinking approach to growth, it is perhaps more significant that this translates to a commitment to safeguarding the environment in which it operates. For example, Conewago has adopted innovative technologies that reduce environmental impacts and applied them to its processes. The result is to take a carbon-heavy material like cement and transform it into a sustainable building solution. "For our ready mix and precast operations, we have a system in place called Carbon Cure. We replace 5% of the cement in the concrete with carbon so that we can reduce how much carbon we are putting into the air," adds Smith. Throughout Conewago Manufacturing's usage of Carbon Cure to date, which is just over 3 years, the company has saved 16,000 tons of CO2, which equates to the amount of CO2 1,900 acres of forest can absorb in a year. In keeping with its innovative reputation, Conewago was the first company in Pennsylvania to implement Carbon Cure, a move which solidifies the commitment to sustainability that underlies its service. In addition to this, the company uses a technology that allows for 12% limestone replacement in the cement from its producer, and it has recently purchased a new reclamation process system that will enable it to take excess concrete and put it back into new concrete. "If there's an environmentally friendly technology that makes sense, we are either on board, or we're on the leading edge of trying to experiment with it and see if we can incorporate it into our process," says Blasé.
Today, precast concrete is so much more than a grey and carbon-heavy cement fit strictly for big distribution centers and industrial warehouses. As a material it has evolved over time, rapidly in recent years, to become a building solution that is not just cost-effective and durable, but also aesthetically pleasing and easily maintained.
"Conewago was the first company in Pennsylvania to implement Carbon Cure, a move which solidifies the commitment to sustainability that underlies its service."
"We are able to incorporate more attractive form liners and different patterns into the concrete, so they don't just look like big plain boxes," Smith says. "We can do all different colors, finishes and applications."
The benefits of using precast materials have been proven over time and as such are widely known and accepted throughout the construction industry. There is further benefit, as Smith explains, to buying those materials from Conewago. "We're AISC certified on the steel side and PCI certified on the precast side. They're the two gold standards when it comes to certification in those respective industries. Whether we are working with our sister GC company or another GC on a project, we don't want to just work one time for a customer, we want to make sure that every customer is a repeat customer, and we want to build a relationship with them. What that means is we are going to produce products with the utmost quality, we're going to stand behind them with integrity, and we are going to do our best to be part of your vision and turn it into reality. When you buy the Conewago brand that's what you get."
To back up Smith's comment on quality, Blase tells me how it has invested substantially into the automation of its process. "We have a plotter that takes our CAD files and lays everything out for precast production workers. There's very little measuring going on, it's all automated, and we have CNC machines for our insulation as well."
Conewago strives more than ever for efficiency of service and the streamlining of processes. This is true of the construction industry in particular, where deadlines are often tight and where the involvement of too many parties can result in delays. Talking about Conewago's 'one-stop-shop' approach, Blase says that it has a unique combination of services that it can offer its clients and contractors.
"All under one roof we can produce the structural steel and fabricate and erect the wall panels, so for large distribution and industrial manufacturing facilities we can truly be a one-stop-shop. When you walk away you basically have a full structure waiting for all your MEP subs and all the finishing trades. Depending on the size of the project we also have mobile concrete plants that we can put out for ready-mix concrete slabs and foundations."
The unique quality and level of service that comes with the Conewago brand can be better understood through its project portfolio, of which Smith takes me through some of the highlights. "Bell and Evans is one of the flagship projects we have worked on recently. That had over 1,000 wall panels – just about every wall in the facility was precast concrete." Smith explains how the owner of Bell and Evans, a visionary named Scott Sechler, Sr., toured different agricultural processing facilities around Europe and returned with a vision. "The facility, which is based in Fredericksburg PA, has a very unique, high-quality look and feel to it.
It has a very attractive façade and it's all precast with different form liners and different color brick. Inside, the walls are poured with white concrete so they never need to be painted again, they can just be washed down. In other food production facilities that's a big maintenance headache. All of these white concrete panels have reflective properties that increase the lighting in the building, you walk in and its extremely bright and a good working environment for their employees. The project had everything from traditional warehouse storage, freezers and coolers. It is one of three projects we've done for them and we have another one in the works." As such, Bell and Evans are now repeat customers who have come to really value Conewago's work. "They are quality driven, and they really appreciate the fact that we can be consistent with our quality," says Smith.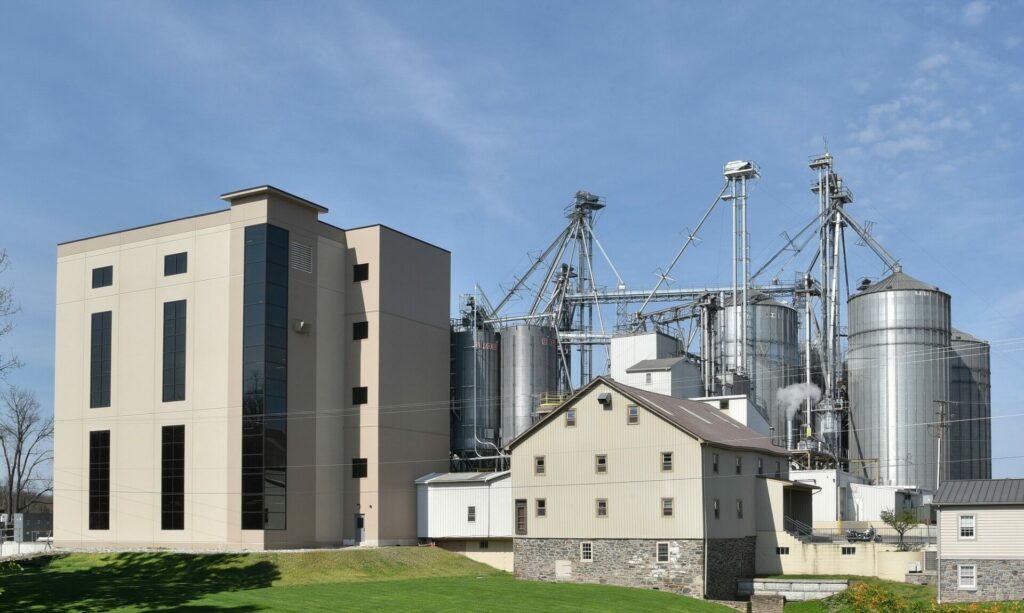 Next in the spotlight is a project for local agricultural company, Ag-Com. Ag-Com is a family-owned mill located about ten minutes north of the Conewago Manufacturing facilities. "We toured their existing facility, and they had this historic traditional mill off the creek that used to be water driven. We built a 3-story tall precast structure with concrete floors, roofs, and wall panels. It stands seventy-foot tall, so we actually had to stack wall panels on top of each other. At the time, we went in and did this project with them they were working towards the future of a top-of-the line world-class milling operation. In an agriculture setting it really stands out and pushes Ag-Com into the future.
In fact, it was Matt Sharrer, General Manager of Ag-Com who famously inspired Conewago's core purpose when explaining that the company had turned his team's vision into reality. "Matt initially wanted to try and match the old historic look of the original mill, so we were going down a path of trying to make it look more historical. Then he came to see our office and decided he wanted to make it look more modern instead, so that's what we strived to achieve."
Like Scott Sechler, Sr. of Bell and Evans, Matt Sharrer of Ag-Com had also toured and explored facilities of similar companies throughout the U.S. and Europe to fine tune their vision for their new buildings. As Smith explains, these projects, while different on the face of it, share one common theme. "There you've got two totally different companies who travelled the globe to find the best international practices from a design and aesthetics perspective, and Conewago Manufacturing was able to provide the materials and services needed to translate those top-level standards and design requirements into a final finished building that meets their needs."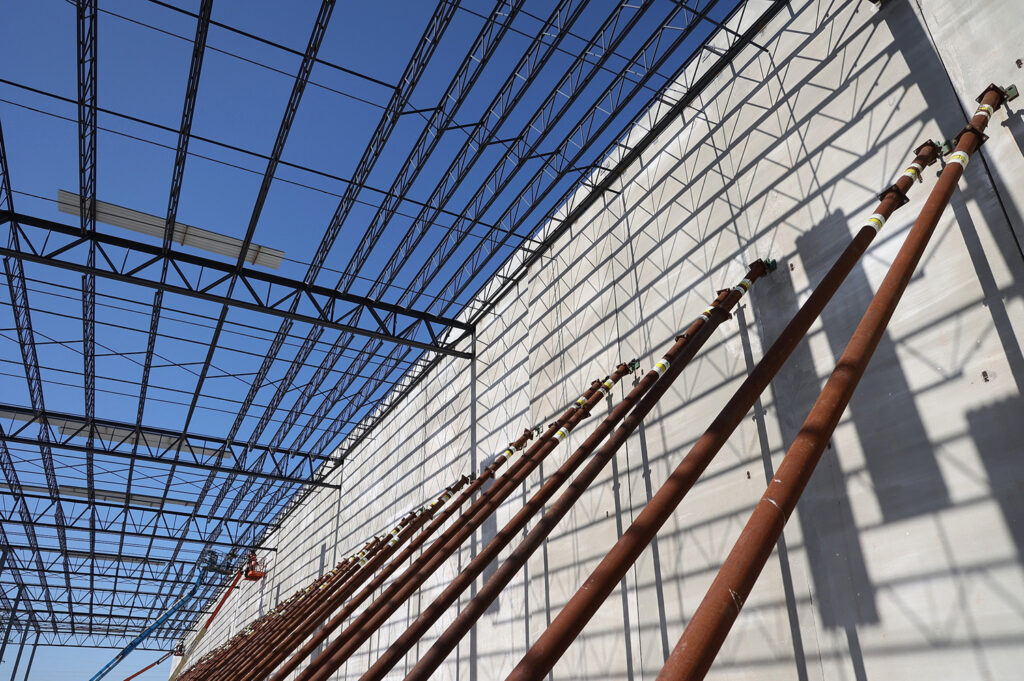 The wide range of products and services Conewago offers and their diverse applications exemplifies the far-reaching potential of precast concrete. While already offering much to the industry, those working with the material feel that this is only the beginning. There is agreement industry-wide that precast concrete can reach much further than the large distribution centers and industrial facilities it typically serves. Along with PCI and based on its first-hand experience in the industry, Conewago is pushing for the use of precast concrete in smaller buildings too. "We've done schools in the past and a lot of churches, data centers, and healthcare facilities," says Smith. We do everything from 1.2 million square foot warehouses to something that's 20,000 square feet. It's a really scalable product. And sometimes precast is incorporated into certain sections only. We've built lots of garages for car dealerships, for example, where the showroom is built using a different type of construction. We understand that people utilize our products differently."
Looking to the future, Conewago remains focused on growth, albeit in the different business landscape that comes with new challenges and market segments. "As the needs of our clients and the industry in general shift and change," says Smith, "we need to remain nimble company to take on smaller projects or look to different market segments to serve. We're very cost-effective at large distribution and online retail facilities, those big boxes have dominated the industry for decades." Blase adds, "We want to continually diversify our portfolio and what we offer. Customers are changing as we are, but we feel we are pretty agile when it comes to meeting their requirements and exceeding them. The one thing that we know won't change is that we're not going to sacrifice our quality, our integrity, and the name that we built in the industry. We will continue, no matter where the market takes us, to turn visions into reality."