For almost all businesses, innovation is key to being successful. This is especially important for Ewing Fabricators, who have continuously pushed themselves to not only be a relevant player in today's market, but to remain at the forefront of their industry. With over 150 years of experience in the fabrication of steel mill and foundry products, Ewing has proven its ability to adapt and respond to market needs. Starting out as a blacksmith company in 1845, the company moved into the modern steel industry in the 1900s. Fast forward to today, and they have fabricated a broad catalogue of work in Toronto across many industries including: tunneling, oil & gas, mining, and power generation; to name a few.
Ewing Fabricators developed exceptional client relationships throughout their many years of business, which ultimately allowed them to sell the company in 2012 to current President, Tony DiMillo. That does not tell the full story, however. DiMillo explains that it was never simply about a purchase. "We were chosen to move Ewing forward. I say it that way because we were actually chosen, it's not that we just went in and bought the company. We had worked with the company for many years prior to the purchase and they felt that we were the ones that could move Ewing forward."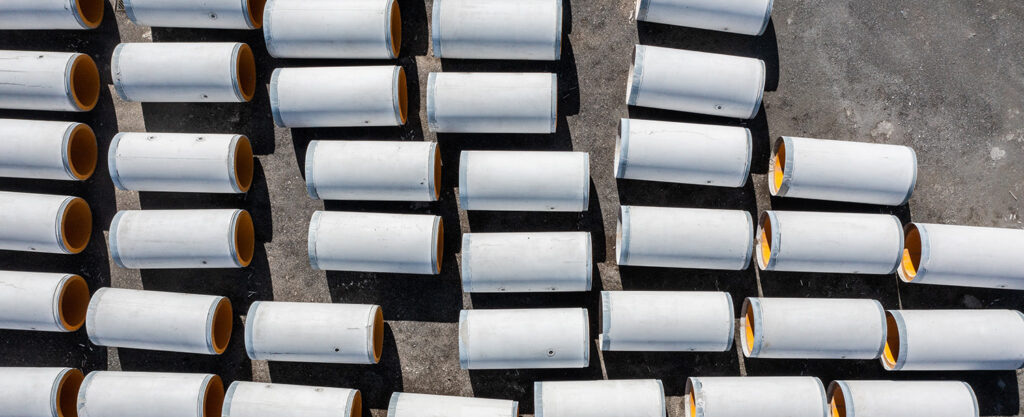 The purchase allowed for the Ewing legacy to continue, while also expanding its broad catalogue of manufacturing companies. It was this symbiotic relationship that also allowed for Ewing Fabricators to expand its potential and flourish with innovative techniques. By developing an impressive array of products such as Precast pressure pipe and watermain, steel watermain and Precast tunnel liners, Ewing Fabricators has the distinct advantage of building excellent working relationships with its partners, including its sister company, Technicore. By positioning themselves on both sides of the market, this has allowed them to assess the interests of both providers and consumers. With DiMillo having worked with Ewing previously, he has experienced this first-hand. "It comes down to the wish list. What do we need? What would you like? How do we make the product work better for the customer? Continuing with that in mind, it's easy because we're a good tight group. We can make changes that the customer needs and the requirements that the customer has in in the world of jack pipe."
"We looked at Ewing's past experience with steel manufacturing and we then combined that with TechMix, which was focused on producing concrete."
With exports and imports of steel products running slow in recent times, DiMillo switched over to something that could be built and used in the local marketplace. This required both the experience of steel fabrication and concrete, but this was only achievable by integrating another company under the Technicore brand, TexMix. Business Development Manager, Venessa DiMillo, explained that by using the extensive experience of both companies, new products were created that provided fantastic results. "We looked at Ewing's past experience with steel manufacturing and we then combined that with TechMix, which was focused on producing concrete. Together, now we could produce our precast products, concrete products and steel pipe products as well."
Ewing's mission is to build the best and most affordable product possible by using some imagination and ingenuity. Some of the changes that have been made over time that substantiate this, is Ewing's work with high-density polyethylene pipe (HDPE). A lot of sewers today require a protective liner against sulfide gases that deteriorate the concrete. Ewing was tasked with protecting the pipe formation from gases, and ultimately came up with a HDPE liner that was supplied by AGRU. The liner was used in The Twinning of the West Trunk Sewer Project, which was the first ever use of corrosion protected liners in a precast segmental tunnel. This is only one of many projects that Ewing Fabricators has been involved in. Other standout projects include The Burnhamthorpe Water Project Contracts 1 & 2 (which was voted TAC Canadian Project of the Year award 2021) and The Dixie Road Trunk Sanitary Sewer & Watermain Project. By continuously trying to adapt their products for new projects and customers, innovation was still of the utmost importance to Tony. "The project on West Trunk required a protective liner over the segments, which is somewhat difficult to do, unless it's some sort of cementitious material, epoxy or otherwise. With the AGRU HDPE, we were able to cast it into the pipe so it's permanent, and it's got amazing strength."
Powering on with their revolutionary products, Ewing Fabricators was not finished exploring creative ways to make life easier. "Once the HDPE was cast into the pipe and the contractor installed it, they had to go in and actually weld all the joints, which was a lot of work. We came up with an idea to eliminate the welding and that is with our ball headed face on the spigot side and on the bell side. We started casting in rings and have a process now of actually protecting the faces of the concrete as well as for the joint which now eliminates the welding on site. It is something that we have come up with and were able to patent, and it's been working exceptionally well." The result of this process is that ultimately the customer is provided with a better pipe, and the contractor is able to massively reduce the workload. This is sticking to Ewing's mission of trying to build the best and most affordable product possible by using some imagination and ingenuity.
With all of this in mind, the future is certainly looking bright for Ewing Fabricators. The post pandemic world that is almost in sight provides many new projects, obstacles and challenges for the company. Not only are they continuing to increase their product line by aiming to produce C301 pipe in 2022, they are also in the process of adding an additional building. The new facility will allow accommodation for the equipment of the C301 pipe, but will also allow them to increase their AWWA products to the full line. Ewing's continuous focus on innovation is repeatedly stressed by both Tony and Venessa DiMillo, who have both made it their business for Ewing Fabricators to become a Canadian leader as an infrastructure manufacturer through continued investment in innovation and technology.
Although Ewing Fabricators appears to be right on track in doing this, Tony had some final words for the future for Ewing Fabricators and the manufacturing industry. "I think the future is huge and I honestly believe that we can do a lot for this industry. What It comes down to is that everybody's been building the same thing for many years and nobody wants to change because change is expensive, but we need change. Otherwise, you're going to be behind the eight ball."