As the old saying goes, it's what is inside that counts. To this statement, in the construction industry, the structure of any building is the top priority. Division 5, a full-service steel fabricator based in Winston, GA, has been at the forefront of the industry since its founding in 2001. The company fabricates structural steel for general contractors servicing commercial and private buildings, such as e-commerce distribution centers for Amazon, Target and Walmart, as well as manufacturing companies and food distribution centers. With a rich history and significant in-house experience, Division 5 offers expert services across multiple industries.
Ron Stoffel, President of Division 5, describes the company as one that lets its wide range of skills and expertise do the talking. "We can work on everything from general multistoreys to MOB's (medical office buildings) and other retail commercial offices." While this variety sets the company apart from its competitors, Division 5 also prioritizes investing in training and fabrication technology. For example, the company has recently invested in a Lincoln PythonX, Peddinghaus drill lines, plating machines, and a Dragon – a piece of equipment that fabricates handrails. Alongside the new investment in equipment, Division 5 integrated updated ERP and accounting systems, Tekla and Spectrum, that according to Rhonda Wylie, CFO of Division 5, work "hand in hand."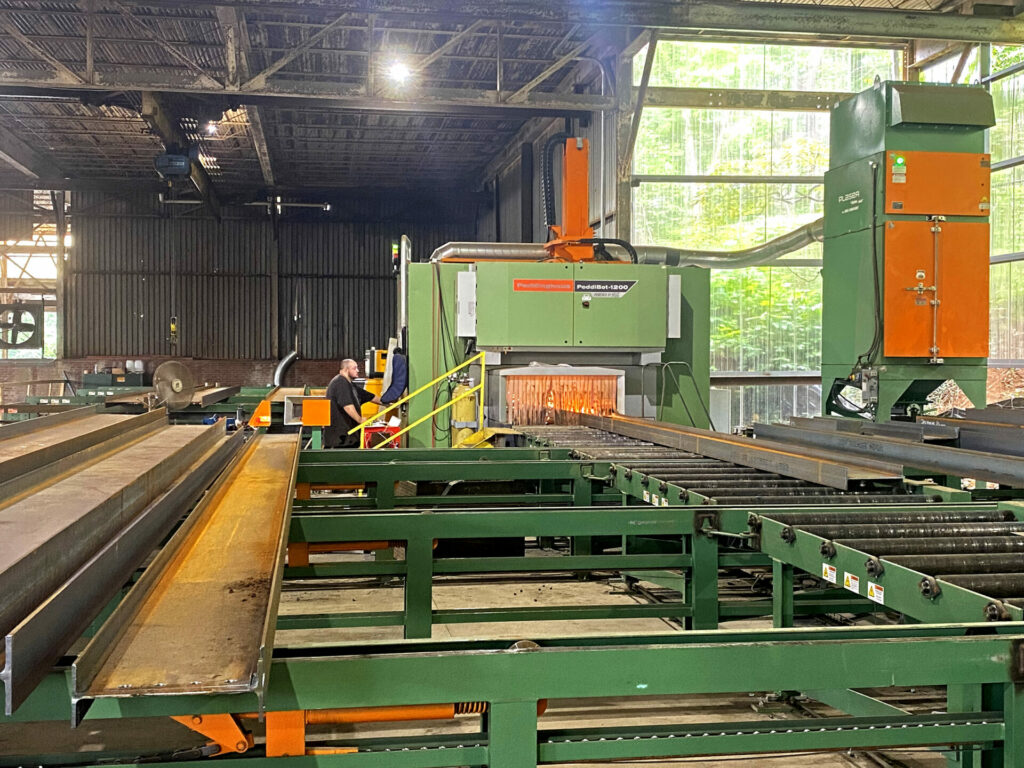 As mentioned, Division 5 recently invested in Peddinghaus machinery. Manufactured in the US, the product range includes large saws, drill lines and coping machines. This investment has resulted in significant benefits for the company. For Wylie, these machines are driving positive developments from both a production and efficiency standpoint. "In addition to giving us the ability to fabricate structural steel more efficiently, the machines have also enabled us to automate the shop."
Alongside Division 5's investment in machinery, the company acquired an AISC-certified steel fabricator in North Carolina in 2020 with over 210,000 square feet of combined space across its two locations. An AISC (American Steel Institute of Construction) certification ensures that fabricators meet the highest industry standards. Bryan Hill, CEO of Division 5, notes, "every year AISC audits you to ensure that your quality control and your processes are following their guidelines. The larger jobs that we work on typically require AISC-certified fabricators. By making acquisitions, it narrows our competition." Also, as Wylie puts it, "these additional locations have increased our production capacity and also allowed us to service our customers in more locations." In addition to the fabricator acquisition in 2020, Division 5 opened an additional 60,000-square-foot building in Tallapoosa, GA in 2019 and a rail shop in Douglasville, GA in 2020 to contribute to its expansion.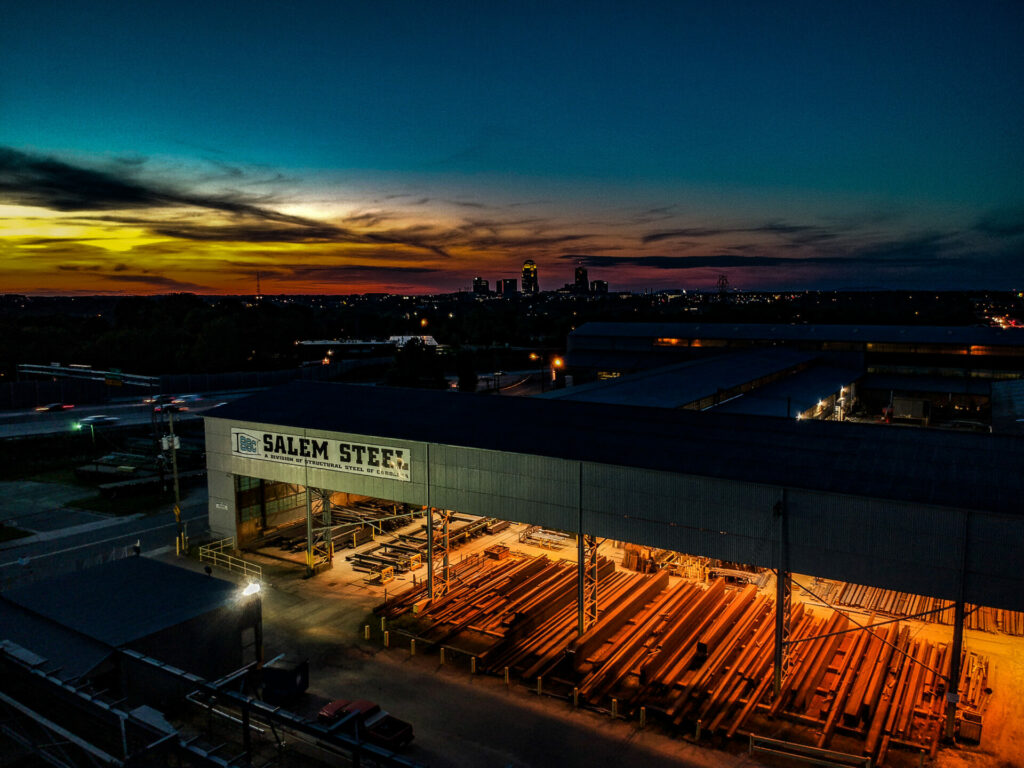 Ron Stoffel recently joined the company as President, bringing with him an arsenal of experience that includes multi-state/region NASCLA contractor licenses. When asked what Stoffel brings to the company, he explains that his experience will allow Division 5 to broaden the scope of services. "Hopefully, I can bring an expanded list of customers. By doing so, we can enter new markets." As Division 5 has shown in the past, the company is capable of expanding quickly when the customer requires it. To this end, Stoffel feels that his experience will benefit the company by offering "full turn-key packages." His goal is clear: "We would like to become a one-stop shop where we can offer any service the client needs. From estimation, right through to installation, we strive to develop the capabilities to cover it all."
The term 'one-stop shop' is used often, but it is clear from speaking to the Division 5 team that the collective goal is to offer clients a comprehensive suite of products and services. To this end, no turn-key package would be complete without detailing, the most critical aspect of the fabrication process. Unlike many of its competitors, the Division 5 detailing team is trained to offer the highest level of automation and design available in 3D modeling with SDS/2 detailing software. According to Wylie, "detailing is the most critical aspect of any job, and its proper execution is the foundation of a successful project. Using advanced detailing software, our trained SDS/2 detailers work to interpret engineered drawings and convert them into shop drawings for our fabricators and erectors. The successful execution of the detailing process sets each project on the proper course and gives our fabricators and project managers confidence behind every weld and connection."
"Importantly, Stoffel has multi-state and regional NASCLA contractor licenses, which will help Division 5 to grow the business in new states."
Of course, every business faces its challenges. To meet strict regulations, Division 5 must maintain specific licenses to offer its comprehensive services. Importantly, Stoffel has multi-state and regional NASCLA contractor licenses, which will help Division 5 to grow the business in new states. As he explains, "to offer turn-key packages, seventeen states require the fabricator and the erectors to be licensed and have general contractors' licenses in those states and with NASCLA. This level of licensing will open doors for us to do more comprehensive packages."
Division 5's dedication to excellence is evident through its increasing portfolio of large and complex projects, such as a recent project on a Target distribution center. Having completed similar distribution centers for Amazon and Walmart, the company is somewhat of a 'go-to' when it comes to buildings of this magnitude. In addition, Hill explains that Division 5 has supported buildings of Fortune 500 companies, such as a pharmaceutical manufacturing facility for Eli Lilly. Not one to rest on its laurels, the company recently completed a project for the Forsyth County Courthouse in Winston Salem, NC, and is currently working with FedEx and Performance Food Group on distribution centers.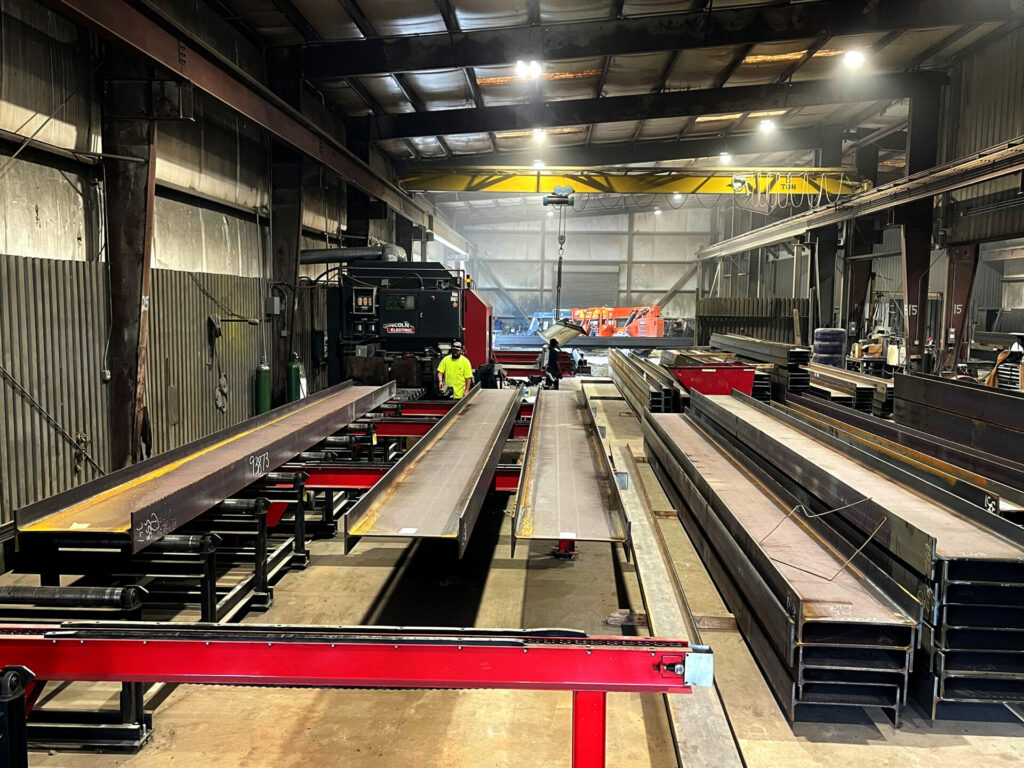 So, what does the future hold for Division 5? The company continued strong during the pandemic due to its loyal customer base and is accelerating forward as it explores new markets. As Wylie explains, "we are actively looking for future acquisitions and see many opportunities in Texas." In addition, Hill is enthusiastic about growth in the 'big box' industry. "Houston is one of the largest big box industrial markets, with a growth rate of over 11% in 2021. Second to that is Phoenix, AZ at 10% growth."
With over twenty years of experience, there are no surprises for the team at Division 5. The company is aware of the need for continuity to maintain its status as an industry leader. For Stoffel, the pathway is clear. "Our goal is to grow internally by maximizing our current production facilities, and at the same time expand externally. We want to continue this growth and build on the success we have achieved so far."