In an ideal scenario, health and safety would not need to be a consideration in a professional setting. The idea of risking your life, or even encountering the possibility of suffering a serious debilitating injury, while attempting to earn an income seems incompatible with how many of us view the world. However, as our professional lives have shimmered and blended into a form of lifestyle synergy, some all-encompassing living experience, there are an ever-increasing number of safety concerns across all industries. Each year, thousands of workers within the construction industry lose their live or suffer serious injury through work-related incidents. It is reported that in the U.S. alone, employers and their staff spend more than $100 billion each year resulting from back injuries sustained while working alone. Despite huge training and funding in the areas of safety and training, construction related jobs account for a large portion of work place fatalities. This is not a recent development either. While health and safety requirements are of a high standard, challenges remain. According to the latest figures from the U.S. Bureau of Labor, fatalities right across construction have risen year-on-year by 5% and the industry is well embedded within the top ten most dangerous workplaces. Even with an increased awareness of safety protocols, statistics show no sign of improvement so the question that needs to be asked is, what can be done to stop this?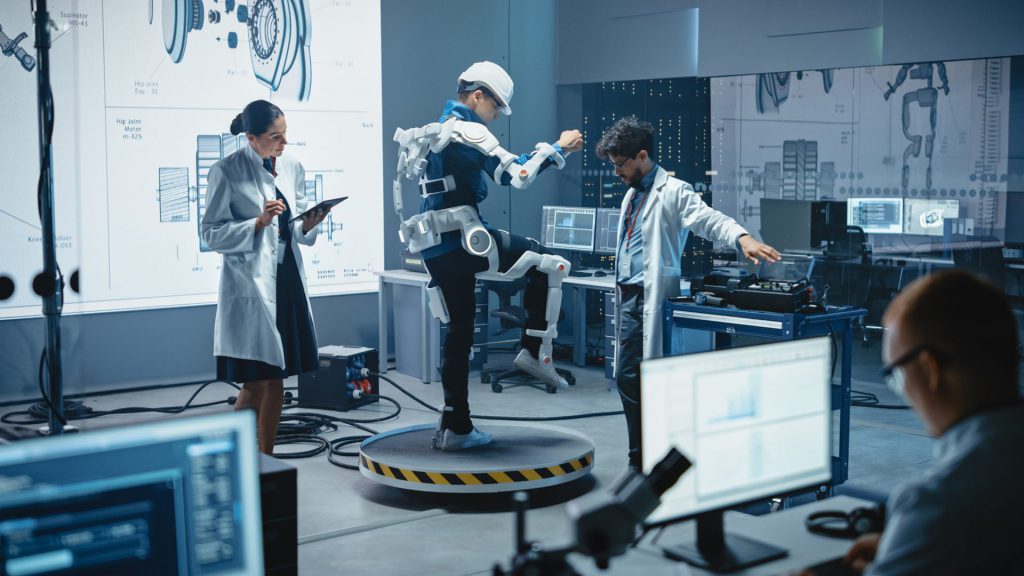 For decades, research in the area of robotics has identified the potential to assist humans by amplifying their strength. As far back as 1965, General Electric spent a number of years designing and trialling a robotic exoskeleton suit that would improve the wearers strength by a factor of 25, thus allowing the user to lift a 1,500 pound object as if it weighed 60 pounds. It was anticipated that this ground-breaking technology, referred to as a "man-augmentation" system at the time, would operate by humans performing the "thinking" while the robot provided the strength. In a 1968 presentation to the Society of Automotive Engineers, Ralph S. Mosher, GE Project Engineer, wrote that "man and machine can be combined into an intimate, symbiotic unit that will perform essentially as one wedded system." Unfortunately however, despite the clear innovation and will to succeed that was on display, the 'Hardiman' was unsuccessful due to many constraints such as its weight, stability and power supply issues. Thankfully, engineers did not give up.
"ABI themselves are now predicting that the market will be worth over $11 billion before the end of the decade."
Many studies have been conducted in the area of robotics and exoskeletons, particularly in terms of their viability. Back in 2015, it was being predicted that the robotic exoskeleton market would reach $1.8 billion by 2025. This growth, which would have represented a market expansion of almost 40%, was being attributed to the opportunity that the technology provided within the construction industry. ABI Research, who has conducted the study, said that "commercial systems that augment or amplify capabilities will exhibit the strongest growth moving forward. This is especially true for industrial tasks requiring heavy lifting, extended standing, squatting, bending or walking in manufacturing facilities, particularly within construction and agriculture industries." More recent research, however, is even more encouraging. ABI themselves are now predicting that the market will be worth over $11 billion before the end of the decade. It seems as though the industry is ready for change.
The Occupational Safety and Health Administration (OSHA), has issued guidelines recommending that two or more people should lift any weights over 50 pounds. So, within this context, does the robotic exoskeleton fit into the modern construction industry? In essence, yes. However, the technology is still in its infancy and is yet to be widely adopted. This in itself, given the level of technology currently available, is remarkable. For example, one such piece of technology is the Guardian XO from Utah based company, Sarcos Robotics. The company is an industry leader in "industrial robotic systems that augment human performance by combining human intelligence, instinct, and judgment with the strength, endurance, and precision of machines to enhance employee safety and productivity." The Guardian XO is the flagship product within the Guardian range and was unveiled last year. The technology is borne from a collaboration with Delta Airlines and has been in the works for a number of years.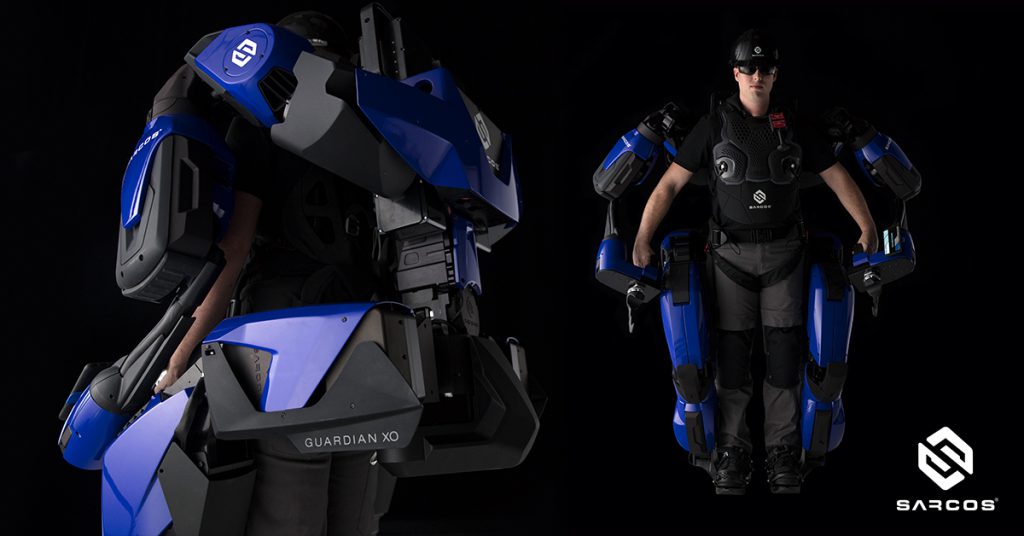 The product was first prototyped back in 2000 and at the time, was based on a hydraulic design. However, issues with an echo of 'The Hardiman' remained. According to Ben Wolff, CEO of Sarcos, "The first prototype used around 6,800 watts of power per hour." Through design tweaks and technological advances, the XO, now battery powered, uses around 500 watts per hour. While this is a welcome advancement from an operational point of view, does the XO work? According to Sarcos themselves, the answer is a resounding yes. The Guardian XO is "a battery-powered, full-body exoskeleton designed to boost human performance and endurance while helping to prevent injury. This robotic suit, designed for employees to wear, does the heavy lifting. By bearing the weight of the suit and the payload, the exoskeleton may enable an employee to lift up to 200 pounds repeatedly for up to eight hours at a time without strain or fatigue." With the XO demonstrating its capabilities last year at the CES trade show, these statements are not simply PR speak.
"The Sarcos team achieved a significant engineering feat last year by completing the R&D phase of the world's first battery-powered, full-body industrial exoskeleton—the Guardian XO."
It is worth noting that there seems to be a strong appetite for this equipment within the industry. Sarcos recently raised $40 million in an oversubscribed Series C round of investor funding. As the funding is to be used to begin commercial production of the XO, it seems as though the market is keen to bring this product to the masses. Speaking at the time, Wolff was keen to recognize both the innovation itself and its potential to revolutionize the industry. "The Sarcos team achieved a significant engineering feat last year by completing the R&D phase of the world's first battery-powered, full-body industrial exoskeleton—the Guardian XO. This new funding will allow us to achieve our next goal of scaling production and shipping commercial units of the Guardian XO exoskeleton. In addition, we will also advance the development of our 'smart' version of the Guardian XO exoskeleton with our Cybernetic Training for Autonomous Robots (CYTAR™) artificial intelligence platform, which will enable the robot to augment the operator's precision and skill to complete specific tasks."

It is tempting to imagine a time when repetitive strain injuries, impact accidents and workplace fatalities are minimized, or eliminated completely. It is also vitally important to recognize that when the statistics are studied, it seems that the construction industry does still have a problem with workplace safety. It is perhaps too early to say that exoskeletons are the answer to these challenges however, strides in the right direction are being taken. In addition to the full-body XO, other companies such as Samsung are working on more targeted, limb specific products that support lifting, carrying or walking. This presumably stems from the acknowledgement that not every construction related use will need a whole body solution. This, again, is something that those at Sarcos are all too aware of also. "Not every task requires lifting 200 pounds," says Wolff. "Maybe a suit only needs to lift 100 pounds. It could be much lighter and more efficient on power." While it is abundantly clear that this technology has clear ergonomic and safety benefits, barriers remain, namely the cost and training for staff. However, it is important to recognize innovation and problem solving when you see it. Sarcos Robotics, along with Samsung and a number of other tech companies, are identifying a clear path towards a safer site, a project with zero fatalities, a workforce that is fit and able for the job. With construction exoskeletons, the future of construction safety, while always a vital consideration for any company, may just get slightly safer.