The world of scaffolding can be a scary one — unless of course you are an experienced worker. Even then, construction work is difficult at the best of times, which means working in the air at immense heights is no easy task. These heights can range anywhere from your average home to 125 feet in the air, or sometimes even higher. With scaffolding planks acting as a form of footing in the air, support is of the utmost importance. No one knows this better than the people at Indian Mill Plank, whose sole focus is aerial safety.
Indian Mill Plank are scaffold specialists based in Houston, Texas, and have been in business for more than 30 years. They supply premier planking to scaffold resellers, rental yards, E&D companies, US Government, and contractors both Foreign and Domestic. The company offers a number of products designed to reduce the risks associated with scaffolding, which include collapsing planks, slips and falls, rotten boards and more.
Patrick Gajewski is general manager at Indian Mill Plank and is extremely knowledgeable when it comes to all things scaffolding, and also all things Indian Mill Plank. He assured me that the driving force behind the creation of their products is always safety and support. With this in mind, Indian Mill Plank have created numerous ways of incorporating safety features into their signature products.
One of the top products at Indian Mill Plank is their PIN-LOK and PIN-LAM boards. These planks provide the ultimate support by giving the worker sufficient time to get off the board in case of an emergency. If the plank were to break — which can happen — the worker can still remain on the plank due to the design of these boards. The structure of the board prevents it from breaking fully, giving the worker ample time to get off the plank. This is a feature which truly has the ability to save lives and prevent serious accidents. "We flip flop the grains to make a butcher block effect, and that will spread the load of the weight across the total face of the board. Another aspect of the PIN-LOK and PIN-LAM is the center part of the boards. They've been interlocked every 22 inches. If you really care about employee safety, this is the board to buy. If you buy solid boards or LVL, when it breaks, there's no coming back from it."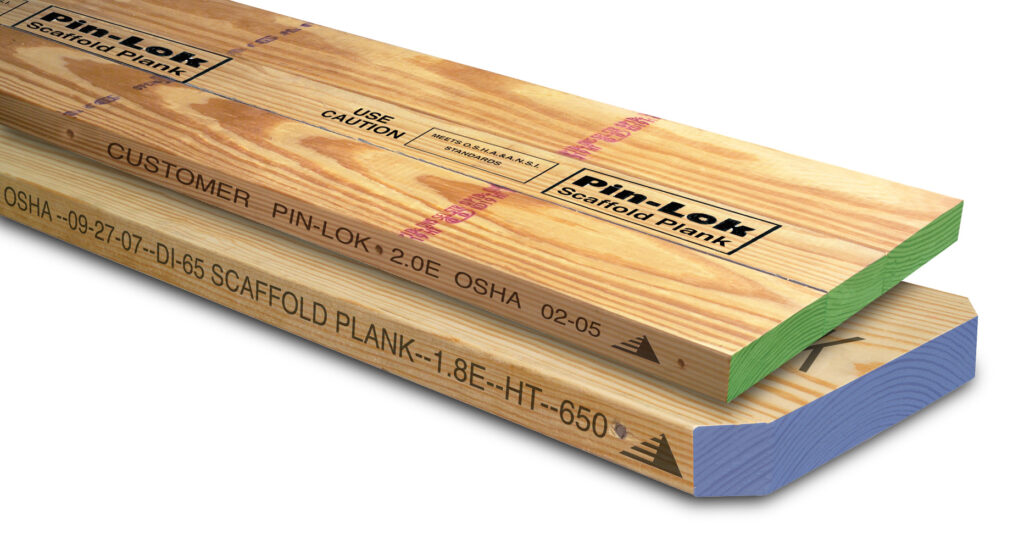 Another feature offered by Indian Mill Plank is their Rhino Skin Sealant. This adds tremendous protection and safety to scaffold work sites by helping to keep planking in OSHA compliant condition and saving the contractor money by expanding the longevity of the product. It's a water retardant that can be rolled on to the board which then locks in the moisture content of the plank. The moisture content is rated and should usually range from 8% to 19%. The higher the moisture content, the more flexible the board becomes. Workers may be unable to walk on it due to water logging, but the Rhino Skin stabilizes the moisture inside, creating a safer board.
Indian Mill Plank not only provides the safest of boards, but they also offer a service to test the strength of boards. This is part of their plank services in which they offer lumber grading skills for customers that want to verify the condition of their boards. "We do inspections of failed boards that are either ours, or other parties, and create a report of what we find. We will then send it to a third-party testing facility to find out what chemicals are on it and if the failure of the board was generated through rot or misuse. They can then tell whether it was a stress break or if it was overloaded."
From a sustainable angle, the PIN-LOK 2.0E & PIN-LAM 2.2E plank is a major step towards a greener system of creating planks. In process, no old growth trees have to be harvested to manufacture the pinned planks as they are created with 90% young growth trees. With most companies looking for ways to try and reduce their carbon footprint and head towards a more sustainable business, this is an admirable quality. And while trying to be sustainable in a business that relies on timber may seem difficult enough, there are more harrowing incidents affecting this industry.
Lumber price volatility has been a continuous issue in the timber industry, but even more so since the pandemic. This constant fluctuation of prices can be linked to numerous factors such as inflation and supply and demand; but Patrick has a few theories of his own. "COVID was the driving force of the volatility over the last two years. Everyone decided to do home projects, build decks, fences, add-ons to our home. That surplus in the pipeline was all sucked out by that, and we had nothing refilling it. If supply is not there and demand is up, it starts driving prices. It is like the stock market the way it goes up and down, but the last two years is the most volatile lumber prices have ever been. We were buying trucks at $10,000 – $12,000 a truck, and this went up between $30,000 to $35,000 at its highest point."
COVID not only interrupted the workforce, but it also changed how people approach work. Indian Mill Plank has noticed this disturbance in job seekers when trying to recruit new people for the busier periods. They are currently using hiring agencies to try to source employees because the abundance of people looking for work is no longer there. However, this does not stop them from fulfilling their business needs and creating a fun work environment while doing so.
Indian Mill Plank currently has over a dozen employees who have been with the company 10 years or longer, and these people are the soul of the business. Thankfully, with the markets adapting to a world where people and COVID can now co-exist, the future is starting to look busier for Indian Mill Plank. After 3 or 4 strong months of work, they are back on track and business is flourishing.
Patrick has fully assured me that the company is in full swing, and after such uncertainty in the world, it is amazing to see businesses thriving again. Thankfully, the worries associated with the breaking economy are over and Indian Mill Plank never collapsed. And just like their boards, the initial break in the economy allowed sufficient time for them to escape danger, and here they are back at work as healthy as ever.