When voters in downtown Kansas City, Missouri, approved funding for a new transportation system involving Phase I, two-mile streetcar track ripping through the city, disruption was both forecast and inevitable; no omelette without breaking eggs. Existing traffic routes would need to change and vital utilities would have to be torn up and dug out if the city's ambitious new vision of a free-to-ride, ergonomic streetcar was going to get off the ground. Logistically, this was a massive undertaking and it might have been chaos if it weren't for IBC (International Builders and Consultants)'s knowledge and expert handling.
The company set to work providing customized drawings and traffic control plans. Working with engineers, they mapped out safe, alternative routes and found solutions to avoid bottlenecks and build-up. From there, they moved on-site, installing hordes of new directional signage, laying miles of temporary traffic (channelizers) "cones" and equipment. They erected electronic arrow and message boards, and in addition to traffic-control infrastructure; they supplied teams of certified flagging personnel, essential for keeping things moving. It's fair to say that IBC literally kept the show on the road. The Kansas City Streetcar has proven so successful that calls for a Phase II expansion to its route were finally green-lighted in 2021 and now IBC is back on the job.
"We have our contract; the underground utilities are prepared and the rail has been delivered on site so now I guess we just wait for them to start laying the track."
Brandy McCombs, Founder and President of IBC, is poised and ready for the second phase of the Kansas City Streetcar project. Sitting next to her is Angie Gavin, long-time friend and IBC's Director of Business Development.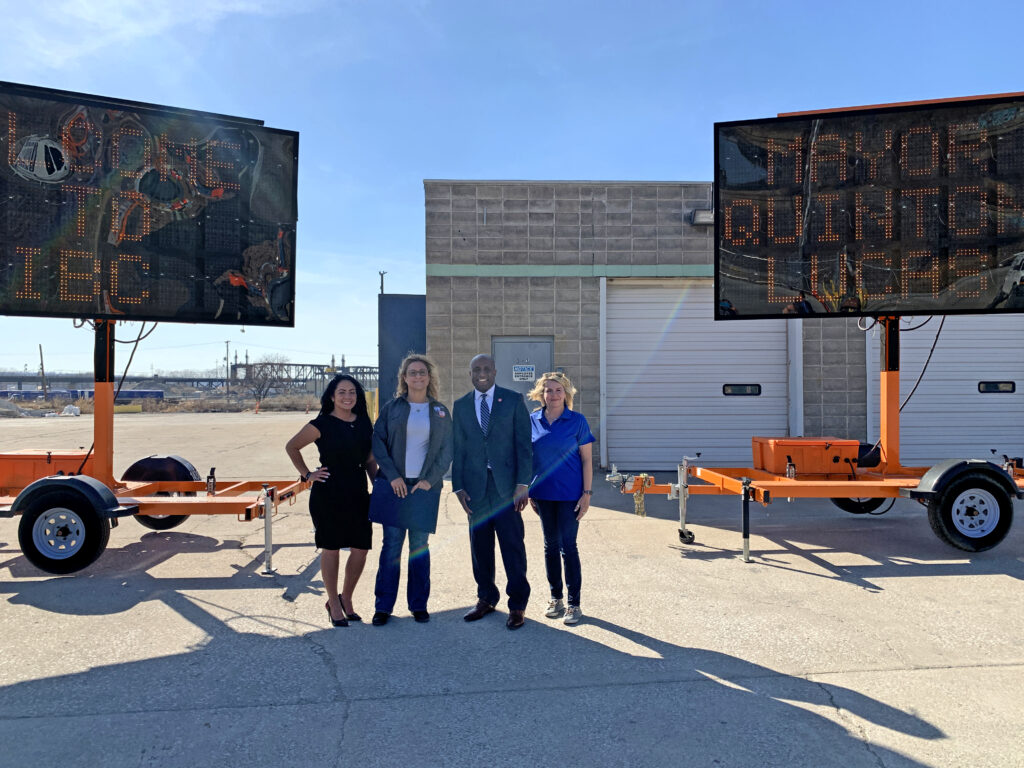 McCombs began her working life in general contracting. Coming from a family of entrepreneurs, going into business for herself was always the goal. People began to take notice of her company when IBC took on the interior finish carpentry of the Hollywood Casino located at the NASCAR track in Kansas City, Kansas, such was the quality and craftsmanship displayed by her team. The job proved pivotal in solidifying IBC's reputation as a key player in the commercial carpentry industry. How she eventually diversified into road-signage and traffic control owes a little to serendipity, and a lot to McCombs' willingness to venture beyond her comfort zone.
"I went to an event where I was given the opportunity to meet the Kansas City Streetcar Constructors who announced that they did not have anyone bidding on several scopes of work and one happened to be traffic controls. I began telling others of my idea to start a separate division of IBC and the response I received was what pushed me to take on the challenge. That and having family and friends who were willing to step up and take on the challenge with me made it all the more easier. In a nutshell that is it; we put a bid together and here we are 8 years later."
Angie jumps in at this point. "The next time I spoke to her, she said: hey, we won that contract. She already knew I'd been looking for new avenues, maybe going back to school or something. I loved my job working in a medical practice but I was so burned out – there was a ceiling and I'd hit it. Brandy said do you want to be a flagger and I said sure, why not. I'll give this new opportunity a go. She always helps out people she knows, especially women."
"We needed to start adding different scopes to keep everybody busy and I think we've achieved that. I think that's a big positive."
Women are integral to McCombs' team. In fact, IBC won an Ingram Magazine award for Top Woman-Owned Business in 2021. How does she feel about his type of special, gender-based category – necessary or not?
"Personally, I like it. You know, I do get that pre-condition, but if I were to be in the same category as all competitors, that would be distorted, 100 percent. Typically, when we go to a business event, I'm the only woman. So yeah, it's a big crowd, and it's kind of funny too, because I never have to introduce myself because obviously, I'm the only woman there, right? So yes, I like it. We would never be on the same playing field otherwise."
After the first phase of the Kansas City Streetcar project was complete, IBC was able to expand its footprint in the road-signage business, as Angie explains. "When the project ended, Brandy was in a position to purchase all of that equipment which went into the daily rental side of the business, for our subcontractors, people who needed road closures on a last-minute basis. So, now we have a 24/7 emergency dispatch service and a daily, weekly, monthly rental services and most recently pavement markings."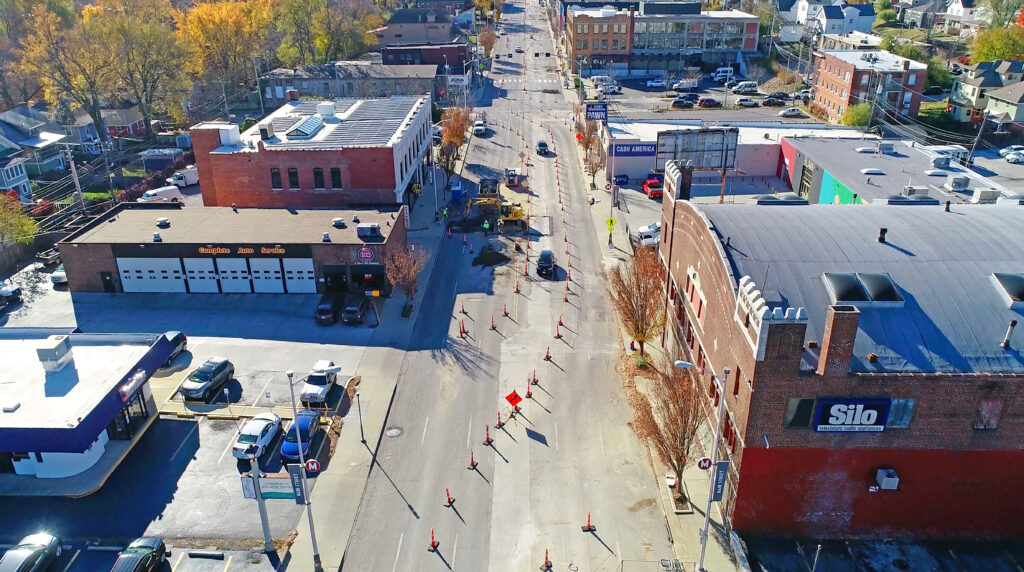 Latest industry trends may indicate a strong economic outlook for the construction industry, but even so, contractors are still experiencing the after-effects of the pandemic, including a lack of materials, especially lumber, and the sharply-rising cost of construction itself. Everything squeezes profits and right now, IBC's biggest problem is finding qualified staff, an increasingly common problem within the industry. Although the pandemic caused delays on a great number of projects, things are beginning to heat up again, putting pressure on the already stretched pool of skilled workers. When asked if she'd like to grow her workforce, McCombs replies with an emphatic yes. "What is happening now is, because of the limited number of workers, we're having to work overtime and that has a knock-on effect with costs."
Now with Biden's $3 trillion Infrastructure Bill, a significant investment in roads, bridges and ports is expected over the next decade. How will this impact IBC?
"Investment in the traffic department is definitely going to help. I would say that in the next couple of years we should see a big uptick in work and in our revenues. It has and will continue to bring a route for growth. In the past, was there was a little bit of revenue for things like the daily rentals, and that's great, but we needed to stay consistent. We needed to start adding different scopes to keep everybody busy and I think we've achieved that. I think that's a big positive."
So, what is the long-term plan for IBC? Keep growing?
"I want to invest in my employees. My philosophy is that all of them should know enough about everything to be dangerous."
Meaning?
"Meaning the training of one person to do a little bit here and there is good but switch it up. Create a new resource; train at least three people to know enough about one specific item that they can pull together, so I wouldn't always have to be involved in the day-to-day running of things. And of course, that's hard, because we have to have enough documentation for it to work. If I pick up this piece of paper, I won't have to call anybody else. I should be able to read it and go through things step by step and then everybody feels empowered."
Time's up. Brandy McCombs has places to go and a very successful company to run. But I can't let her go without complimenting her manicure; natural-looking, subtle but banging all the same. She thanks me. Says she likes my hair, which I appreciate. That's the thing about working with women…good at keeping the show on the road and great at finding time for a spirit-boosting compliment.