Any start-up business will invariably be faced with challenges, many of these are common and expected. Attempting to gain a foothold in the market, sharing your message and establishing a reputation; these are all difficulties that need to be planned for and navigated. When opening your doors for the first time and venturing into a crowded market, they come with the territory. The construction industry is one that can be unforgiving. If you do not hit the ground running, your chances of survival are slim. Knowing how to read the market and anticipate change is essential and, for Brandy McCombs, owner and president of IBC, having these skills ensured her company had the flexibility needed to weather an early storm and become a force to be respected in Kansas City.
Brandy came from a family of entrepreneurs and always felt that running her own business would be where she would excel. Having gained an education over many years in the area of general contracting, the time to finally branch out on her own was initially a fraught one. However, this was not due to any lack of planning, rather it was due to issues that were outside of her control. The global recession was tightening, pushing the construction world to the point of collapse. Florida, Brandy McCombs' home state, was experiencing incredible difficulties. This made it almost impossible for a start-up contracting company to survive, regardless of the skills, contacts and knowledge she had accrued throughout her career. Almost immediately, Brandy made the bold decision to relocate to Kansas City. While this did not prove to be an instant success, the company earned enough in its first few years to gain a small foothold in the market.
"By diversifying the range of services the company offered, it resulted in making IBC a much more rounded provider."
It was in 2011 that things began to take a larger upturn for IBC. The company worked on a project at the famous Hollywood Casino, designing its high quality wooden interior. Brandy explains that, in some way, this marked the true beginning of the company and that it was an accurate showcase of what the company could offer. ''2011 was the biggest increase. At the time we were doing interior finish and construction but only for commercial buildings and we landed that project. Working with Turner construction we installed all the beautiful woodworking that you see in that facility. You walk in and there is wood paneling on the wall, there are acoustical ceilings, crown molding inlay. So it really starts there, in 2011. It just took off from there.
With the success and further business that they were able to acquire from their work on the Hollywood Casino project, the company thrived. IBC grew into a leading contractor in the Kansas City area. However, the need to expand was ever present. By remaining focused on a narrow number of services it could offer its clients, the company was inadvertently leaving itself open to potential challenges if markets took another downturn. ''As the business grew, I thought, what if 2008 happens again? We can't sustain that kind of hit, so what else can we do? That's when an opportunity came to work on the streetcar. KC Streetcars held a meeting and identified the areas that they were not getting any movement on. One of them happened to be what, at the time, we called traffic control.''
It was this realization that led to IBC Traffic being set up. By diversifying the range of services the company offered, it resulted in making IBC a much more rounded provider. When giving an overview of the suite of services the company can now offer, Brandy likens it to a journey to your workplace, from the highway to your desk. ''We became a one stop shop for a lot of construction needs. So the way that I like to explain it is, when you are driving on your way to work and you are detoured or merge into one lane, we work on ensuring that happens safely. Then you get to your office, you park in the garages, we provide the signage. Then as you walk into your office and you open the door we, the interior carpentry department, install your door, your reception desk and the wood work inside too. That is how we touch lives in a way that people don't even realize.''
While this venture into differing fields gave IBC the security that diversity brings, it too came with challenges. The ever-present issue of sourcing and retaining skilled workers is something the company faced. However, Brandy is quick to point to the support the company received from the union. This is something that, she feels, gave her the flexibility to engage with her staff in a meaningful way while still attending to the growing company. ''I actually reached out to the local union, because we are a union contractor. They trained me and my staff and because they did the initial training this allowed me to continue running the business. I could keep doing that while guiding and assisting in the field as needed. To do it all would have been hard so I got my staff from the union, and we all grew together.''
"One project the company is especially proud of, is Build KCI."
It is difficult to view the past year as anything but a challenge. Business aside, the pandemic has wreaked havoc on the world's population, bringing enormous levels of difficulty for people. That being said, the mobilization of employees from one industry to another has been a very real thing and, according to Brandy, it is one aspect of the past year that has somewhat eased the constant challenge of sourcing workers. In addition to that, the need to enforce stringent processes has been a positive for the company, enabling IBC to work methodically through its policies and emerge in a better position. Brandy wants to look for the positive in what has been a devastating time around the world. ''I'm going to attempt to put a positive twist on the whole thing. For myself and my company, the biggest concern over the years have been my people. For such a long time, we have been in growth mode, trying to add services and take care of things. Through COVID time, it has allowed me to step back and get our processes and procedures in order. Also, we have been gaining some momentum because people are now thinking, if this continues and I'm in a restaurant position during COVID, my job is not going to be sustainable. I have truly found that a lot of the restaurant hospitality industry has worked very well in the construction industry.''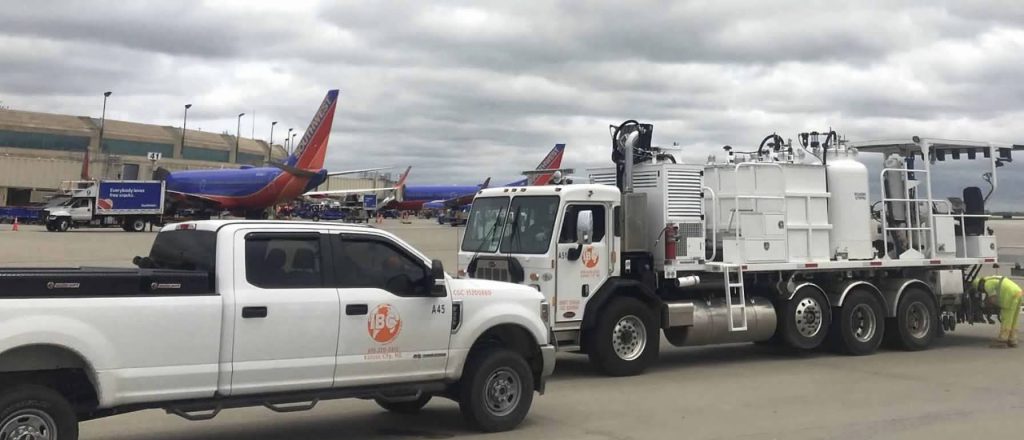 As the company has grown, so too has the enormity of projects it has been working on and associated with. One project the company is especially proud of, is Build KCI. The company has been in the fortunate position to assist on the project at multiple stages, from the beginning work with traffic management and safety, right through to striping the parking garages and fitting out the interior. Brandy feels that it is a hugely positive thing to work on this project, not just from a business point of view, but from ''It's an iconic project and we have been talking about it for years. I have to travel and I use that facility quite often. This project is imperative for KC to grow because, as you probably know, airlines are pulling out of the market.''
IBC has encountered and endured difficult times, from its inception at the height of a recession to its flexibility in diversifying the services it offers. This is a company that thinks on its feet and has the bravery needed to adapt to an ever changing market. While nothing in business is taken for granted anymore and companies are on high alert for any potential pitfalls, IBC sees the range of skills and services it provides as one mechanism for stability and growth long into the future. ''Our advantage over our competitors is that our clients only have one person to go to. We are a one stop shop for traffic, for barricading your project, for doing the interior finishes. We also supply and install on the inside so it's a cheaper price point for the customer. We can be there, right from the beginning to help with the logistics of paperwork because we have been in the government arena for quite a long time. When it comes to all of these things, we know what we're doing. We have the staff and the knowledge to help.''